Come out to the Sticky Lips Juke Joint for live music, four nights a week on the Sticky Stomp Stage!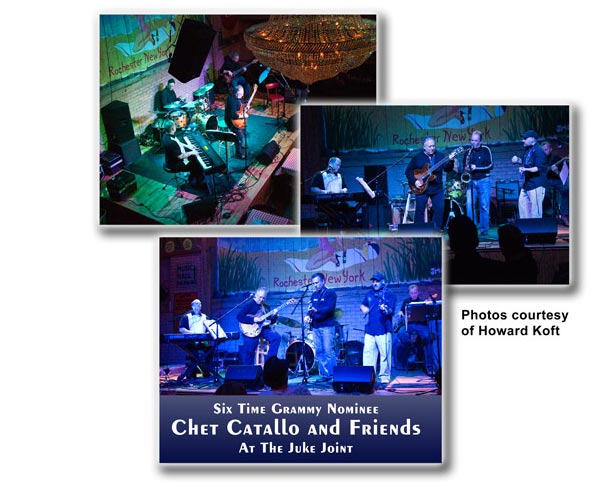 ***
Richie Stearns and Rosie Newton with Hank Roberts
Wednesday, 12/17
DOORS; 7:30
SHOW: 8:30
COVER $10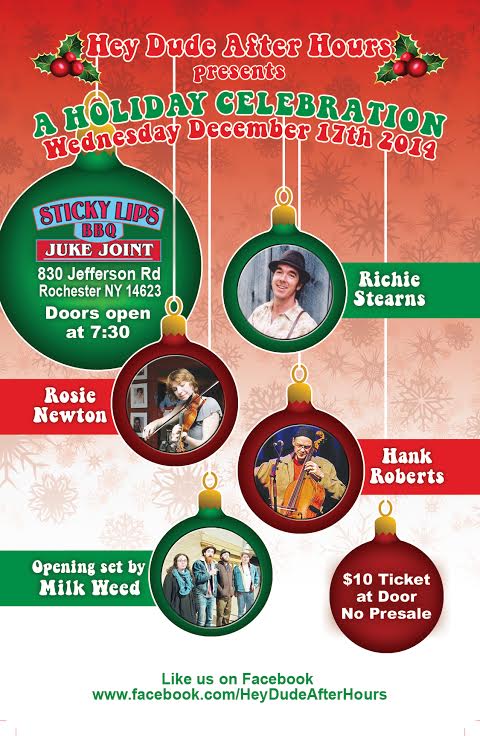 New Americana
WEBSITES:
http://richieandrosie.com
http://www.hankrobertsmusic.com
BIO:
Richie Stearns and Rosie Newton are a dynamic duo performing music rooted in the Americana tradition. Over the past four years they have collaborated in various projects and formed Richie and Rosie after hours of jamming in Stearns' kitchen, experimenting with traditional and original songs.
Stearns is a legendary banjo player and singer, and has led bands including the Horse Flies, and Donna the Buffalo. He has also played with countless others, and tours with Natalie Merchant. He is steeped in the traditions of American old-time music, Appalachian folk, blues, African, rock, and country music. ?Rosie Newton is a talented fiddler and singer at the beginning of her music career. She tours with The Duhks, Louisiana legend Preston Frank, Home Remedy and occasionally The Pearly Snaps. Richie and Rosie are also part of a new project called Red Dog Run. These two take the fiddle, banjo combination to new levels as they continue to expand the boundaries of this tradition.
Hank Roberts: Even in a parallel universe where jazz cellists are as common as tenor madmen and trumpet-blowing boppers, Hank Roberts would be utterly unique. Over his nearly four-decade career, Roberts has forged a compelling original voice on the cello, encompassing abstract improvisation and soulful folk melodies, intricate new-music compositions and vigorous rock songs. The list of names with whom Roberts has shared stages or studios is staggering, including members of U2, Gavin Friday, Sting, Joel Grey, David Sanborn, Lydia Lunch, Mamadou Diabate, Andy Summers, Pat Metheny, Flo and Eddie, Gary Burton, Shane McGowan, and Julius Hemphil, and of course, Richie Stearns.
Opening ACT: MILKWEED
Americana/folk/bluegrass
WEBSITE: http://www.milkweedtheband.com/
https://www.facebook.com/pages/Milkweed/438523719532598
BIO: an Americana string band with a focus on lyrics and group vocal harmony, Milkweed draws inspiration from folk, bluegrass, straight country, blues, world and pretty much anything else you can think of. Their sound is defined by strings, harmony and lyrics that "help give shape to this wonderful and beautiful life that is ours."
"With one foot in the future of world music and the other rooted in American blues and country, Milkweed is known for uplifting shows, complete with foot stomping, sing a longs, and words remembered long after the music stops."
–Shakori Hills Grassroots Festival of Music & Dance–
***
Steve Grills & The Roadmasters
Thursday, 12/18
6-8 pm
no cover
Blues
website: http://www.stevegrills.com/
Bio: For Steve Grills, the Blues has been a life long journey. As a youngster, he heard the music of Big Bill Broonzy, Leadbelly and Lightnin' Hopkins from his father's record collection. Through the Beatles, Steve discovered Chuck Berry and he has not looked back since. He has searched out the roots of Rock and Roll, uncovering many great artists who have influenced and inspired him. Primarily among these are Robert Lockwood Jr., Earl Hooker, Freddie King and Albert Collins. Steve became friends with Robert Lockwood Jr after meeting him in 1978. In 1992, Robert invited Steve and his band to perform at his Legendary Blues Festival near Cleveland , Ohio. Steve later recorded with Robert on Shakin Smith's cd Harmonica Wizard.
Steve and his band the Roadmasters ( named after Earl Hooker's band) draw their repetoire from these and other artists, allowing contemporary audiences the opportunity to discover the vitality of the music of these legendary and influential musicians.
Steve has released a cd of recordings he did with pianist Ernest Lane entitled After Hours on the
Toogaloo label. Steve is very excited to have had the opportunity to record with Ernest. Ernest's musical career reaches back to the late 1940's when he played and recorded with the engimatic delta blues guitarist Robert Nighthawk. Ernest backed Nighthawk on his Aristocrat (later Chess) recordings Black Angel Blues (Sweet Black Angel) and Annie Lee Blues. Blues scholars consider these recordings with Nighthawk to be among the greatest Post war Chicago blues records ever made!
***
Ruddy Well Band
Friday, 12/19
9:30-11:30
$3 cover
Americana/Folk
website: http://ruddywellband.com/
Bio: A homegrown entity from Syracuse, New York, and two time Sammy Award winner for People's Choice and Best Americana, the Ruddy Well Band has roots in Americana folk and rock with strong harmonies and high energy-driving rhythms. Although members of the band have played together in different forms since 2008, officially the Ruddy Well Band was created in 2011 with the release of their self-produced album, Little Blue Marble. Continuing to evolve, they produced their second album, Change of Course, with Subcat Studios in 2013.
Andrew Ruddy – vocals, guitar, banjo, harmonica, upright bass. Self-taught musician and band lyricist/songwriter, Ruddy is the well of inspiration for the majority of original tunes. Monique Ritter – vocals and violin. Classically trained violinist, played with the Greece Symphony Orchestra, studied fiddle under Joe Davoli. Ryan Burdick – vocals, guitar, harmonica, percussion. Self-taught musician, played with the Genesee River Rats, local Syracuse area solo-artist. Steve Scuteri – vocals and lead guitar. Studied classical guitar at Syracuse University, played with the Salt City Ramblers. Mike Sisto – vocals, upright bass, and mandolin. Studied classical bass at Fredonia College, jazz bass at Purchase College, played with fusion band On The Sly.
The Ruddy Well Band
***
Johnny Bauer
Saturday, 12/20
10 pm-Midnight
$5 cover
American/Blues/Country
website: http://www.johnnybauer.com/
Bio: Johnny has been performing music in Western New York for his entire life. His music is a melting pot of his diverse tastes. His covers are remade as his own and include artists from the 70s to present day. Some of his vast repertoire includes songs by Eric Clapton, Dave Mason, Whitesnake, Tom Petty, Keith Urban, Zac Brown Band, Foo Fighters, Mumford & Sons, and Bruno Mars. You can hear him skillfully perform any genre of music from rock to blues to country. A performance by Johnny will never leave you bored, and will have the whole audience singing along.
Johnny has also written over 200 original songs. Diverse yet melodic, his songs have something to appeal to music lovers of all ages. He has recorded two albums and an EP- "Raw," "My Best For You," and "I Would Love to Love You." His first full-length album, "Roads That Lie Ahead" was released May 4, 2014. Whether played acoustically or with his band, Johnny's originals will leave you wanting more.
Johnny has opened for national artists such as Brad Paisley, Craig Morgan, and Restless Heart and also played VIP parties for Meat Loaf, Alice in Chains, Queensryche, Toby Keith and Sheryl Crow to name a few. You can hear original songs like "Son of a Gun," "Lovin' Until the Bitter End," "Roads That Lie Ahead," and "Stick in the Mud" on local radio stations 92.5 WBEE, 103.5 Big Dog Country, and 98.9 The Buzz.
Johnny entertains all over the Rochester area and the surrounding regions at events such as festivals, private parties, corporate events, weddings, restaurants, and even at your favorite bar! He will also spend some weekends touring to nearby states- Contact Johnny by email or Facebook if you'd like to see him at a music venue near you!
***
Chet Catallo & The Cats 8th Annual Holiday Concert
Friday, 12/26
9:30-Midnight
$20 advance, $23 at door
Jazz
website:http://www.chetcatallo.com/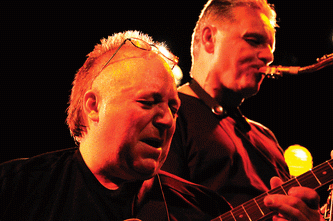 Audio sample:  "Samba d'Loves Me"
Bio: 6 time Grammy Nominee, legendary guitarist extrqordinqire, contemporary jazz pioneer, multi Music Hall of Fame Member, former Spyro Gyra guitarist, composer, recipient of the "2012 Artist of the Year" Award from The Arts & Cultural Council for Greater Rochester
***
Goodness
Saturday, 12/27
10 pm-Midnight
$5 cover
website: http://www.goodnessband.com/

Bio: The Best of Today's Contemporary Country Music!
***
Ringing in 2015 with Quazi*Mojo and Anonymous Willpower
Wednesday, 12/31
Quazi*Mojo
8-10 pm
R&B/Soul/60's & 70's R&B/Rock/Funk
website: http://www.reverbnation.com/quazimojo
Bio: Quazi*Mojo is a Rochester, NY based five piece group of professional, accomplished and dedicated musicians that craft unique versions of classic R&B, Funk, Rock covers and select original tunes. They perform music that's high-energy, audience focused, dynamic, interesting, entertaining and danceable. The band's name reflects their approach in developing their repertoire – as 'quasi' means 'resembling' and 'having characteristics of.' That translates into songs that leave the melody intact, but add new arrangements to make them distinctive, attention grabbing and appealing. 'Mojo' defines a powerful magic quality; their material and stage presence stir their audiences to be excited, energized, engaged and happy.
The band brings a wealth of experience and musical performance with a wide variety of styles. They are committed to shape a product that both musicians and audiences appreciate and that draws positive reactions.
Quazi*Mojo is not just another cover band… they are talented musicians dedicated to bringing something special to their audiences!
and
Anonymous Willpower
10:30 pm – 12:30 am
$10 cover
R&B/Soul/Neo-Soul/Indie
websites: http://www.anonymouswillpower.net/
http://www.reverbnation.com/Anonymouswillpower
Bio: Anonymous Willpower is a neo soul inspired indie rock band based out of Rochester, NY, USA. It consists of the husband and wife duo of Don Anonymous and Suzi Willpower, along with Greg Andrews, Bob Olson, John Payton, and Harry Roberts. Anonymous Willpower came to life when Willpower and Anonymous decided to write soul inspired music. The band plays guitar, drums, bass, piano, synthesizer, 12-string guitar, and an occasional drum machine. Most of the time the band tours together, and sometimes, it's just Willpower & Anonymous together in an intimate setting.
***
Deborah Magone
Friday, 1/2
7-9 pm
no cover
Acoustic Rock and Blues
website: http://deborahmagone.com/
Bio: Singer, guitarist, songwriter, producer from Rochester , New York, USA. A former student of the late jazz guitar great Richard " Dick" Longale. Her newest release " Alternate Realities " on Mirror Records Inc., is an all original 12 song " Rock & Kick Your Ass Blues " cd getting rave reviews. Mastered by Roger Lian @ Masterdisk,NYC & recorded @ GFI Ontario,NY, It can be heard on live radio & the web, (for a complete list see deborahmagone.com) CDBaby, Amazon.com, iTunes etc. Deborah is currently touring regionally in NY & Canada.
Between New York & California she's opened up for Peter Frampton , Talas, Dakota, Shooting Star, JJ Bad Boy Jones , The Campbell Brothers & had the pleasure of playing with ; Tammy Diddley , GRAMMY winner Janice Marie Johnson( A Taste of Honey), Chris Beard , Joe Beard , Campbell Bros., Mitch Mitchell, & Tim Bogert among others. Former member of Wired & Another Taste Of Honey (Janice Marie Johnson). A voting member of The Recording Academy , New York Chapter & union member of American Federation of Musicians Local 66 in Rochester, NY, BMI ,& owner JoMama Music Publishing. Deborah performs solo acoustically or with her blues rock power trio The Deborah Magone band.
***
Eyesalve
Saturday, 1/3
10 pm – 12 am
no cover
Contemporary/Alt Rock
website: www.eyesalveonline.com
Bio: Eyesalve is a contemporary high-energy rock band that delivers powerful original music as well as current covers from The Black Crowes, Tom Petty, and Jon Mayer to name a few. The band consists of: Award-winning Producer/Singer/Songwriter/Guitarist Bryan Price; internationally awarded seasoned bassist, Stephen Rousseau; and, locally based Berklee Music School Alumni drummer, Mike Giugno.