Come out to the Sticky Lips Juke Joint for live music, four nights a week on the Sticky Stomp Stage!

Mike Pappert
Wednesday April 1, 2015
6:30-8:30 p.m.
no cover
Acoustic Rock
Website: https://www.facebook.com/mike.pappert.3
http://youtube.com/watch?v=1BbuZXymwBk
BIO: Plays music to please the crowd, mainly acoustic hits from the 60's to the 90's. Artists include The Beatles, Neil Young, Steely Dan, Oasis, The Doors, The Eagles, Tom Petty, Simon and Garfunkel, ect., just to name a few. Mike had played in many local bands including: The White Ravens, The Chesterfield Kings, Pallini and Pappert, just to name a few… Also works as a local music teacher..
***
Mysterious Jimmy
Thursday, 4/2
6-8 pm
no cover
Variety of rock, blues, pop
website: https://www.facebook.com/pages/Mysterious-Jimmy/1550870808466271
Bio: MYSTERIOUS JIMMY plays all the hits of the past six decades: from the Beatles to Bon Jovi; Aerosmith to Adele; Al Green to Greenday; Def Leppard to Daft Punk; classic rock to classic pop; blues for your soul & modern rock & roll — and so much more a wide variety of tunes that will make you clap, dance & sing-a-long. The perfect acoustic entertainment for your weeknights and happy hours.
The members of MYSTERIOUS JIMMY also perform in bands that include:
Dog House
Rochester Brass and Electric
Out On the Tiles (Led Zeppelin Tribute)
Going For the One (Yes Tribute)
JaCK
Uncle Ralph BBQ Blues Band
Mama Hart
Smooth Talkers
***
The Coupe De' Villes
Friday, 4/3
9:30-11:30 pm
$5 cover
Drivin' Rhythm and Blues
website: http://www.coupedevilles.com/
Bio: As 2015 unfolds, The Coupe De' Villes are celebrating their 32nd year of existence by performing all over the Western New York Region. The Coupe De' Villes, or as known more commonly by their fans as The Coupes, have showed no signs of slowing down. The truth is that The Coupe De' Villes continue to be one of the busiest bands based out of Rochester, NY.
Though The Coupe De' Villes have changed with the times, the commitment to deliver the best entertainment possible remains. The Coupes begin their 3rd decade of making music with original members guitarist Tommy Bianchi, vocalist Lex Byers, and drummer George DeMott leading the way. The Coupes' newest members are bassist Jeff Morrison who has been keeping the pocket tight for the last decade, and keyboardist Lou Spezio has added another dimension to The Coupes' sound with his inventive style.
After 30 years some bands would consider winding down, on the contrary The Coupe De' Villes have kicked it up a notch by adding horns to the mix. With The Westside Horn Section featuring trumpet player Donny Allen, and saxophonist Paul "Junior" Spezio blowing up the sound, The Coupes have emerged a 7 piece powerhouse that has the versatility to perform multiple styles of music, in almost any venue imaginable.
The Coupe De' Villes look forward to our next decade of entertaining the people of Western New York with our unique blend of Blues, Funk, and Classic Rock music. Don't let our age fool you, The Coupe De' Villes are only getting better with age.
***
John Cole Blues Band
Saturday, 4/4
10 pm-12 am
no cover
Blues
website: http://www.johncolebluesband.com/
Bio: John is well known throughout upstate New York; his show features soul ballads and R&B favorites in addition to the blues, delivered with John's trademark smooth vocal style and fiery guitar sound that consistently delights crowds of all ages and backgrounds. No one leaves one of John's sets without having been touched by his music. Consider that, along with the band's repertoire of all the favorite blues tunes, as well as more than just a few ballads and R&B classics, and you know why they almost always close the house with the audience begging for just one more tune.
***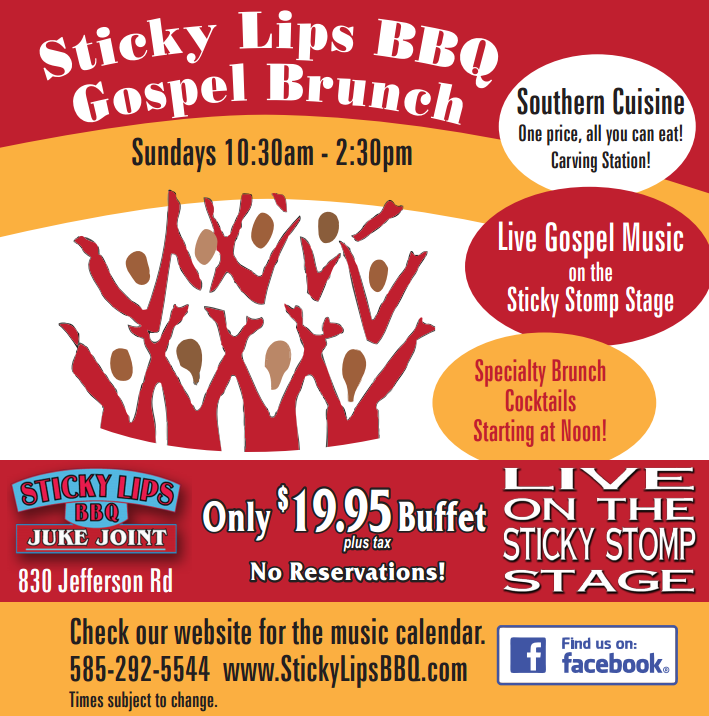 The New Spiritual Jubilators
April 5, 2015
Performing during the Sticky Lips BBQ Gospel Brunch!
***
Diamond and Steele
Wednesday April 8, 2015
6:30-8:30 p.m.
no cover
Acoustic pop mixed with originals and some blues
WEBSITE: http://heyredband.com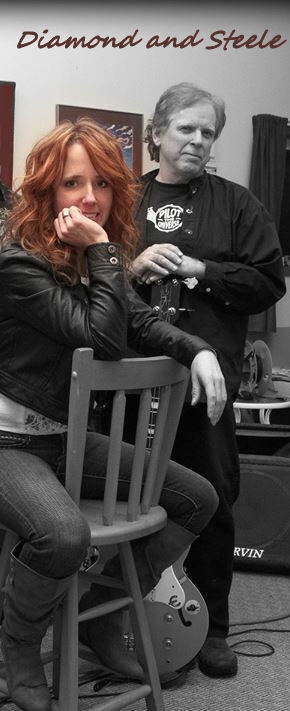 AUDIO SAMPLE — Angel from Montgomery:
BIO: Beth is a top vocalist with flaming red hair who loves the blues, loves to write songs and also plays piano. She's been compared to Bonnie Raitt – and also Susan Tedeschi – as one can easily imagine after hearing her sound. She's played with a number of local bands, including R & B group "Soul On Tap".
A multi talented instrumentalist and vocalist, Bruce Diamond has been playing in bands since age 13 on any of six different musical instruments and on vocals. Tastes include not just blues, rock and pop, but also bluegrass, country, folk and much more…
Together they perform the tunes they love and the tunes they write. Many are gems from the 60's, 70's & beyond. Many are just gems. All are melodic.
***
Dan Schmitt and The Shadows
Thursday, 4/9
7-9 pm
no cover
Blues
***
Revolver
Friday, 4/10
9:30-11:30 pm
no cover
Classic Rock and Roll from the 60s and 70s
website: http://originalrevolver.com/
***
Out of the Blue
Saturday, 4/11
10 pm-12 am
no cover
Blues/Rock & Roll/Swing/ and more
website: www.outoftheblue08.tripod.com/id2.html
Bio: Out of the Blue serves up a gumbo, chock full of rock-and-roll, blues, swing, folk and reggae with a generous portion of jam on the side. Our five-piece band covers tunes from the Allman Brothers to the Zombies and everything in between. We are not your mama's cover band!
***
Nightfall Duo
Wednesday April 15, 2015
6:30-8:30 p.m.
no cover
WEBSITE: http://www.nightfallband.us
FACEBOOK: https://www.facebook.com/pages/Nightfall/
BIO: Since 1994 Steve and Lisa Lowden have been playing music together as a couple and as creative energies that found each other. Combining their love of acoustic oldies, including their originals, they bring great harmonies & melodies to any room. Because of their commitment to each other , they create beautiful music together!
***
Uptown Groove
Thursday, 4/16
7-9pm
no cover
Jazz/Swing/Motown/R&B/Funk/Rock/Soul
website: http://www.theuptowngroove.com/
Bio: The Uptown Groove hails from Rochester, NY. They are a 5-piece group that plays a variety of vocal-based jazz, swing, motown, R&B, Funk, Rock and Soul. The band performs at venues ranging from restaurants to festivals and from weddings to corporate functions (with the addition of an optional 3-piece horn section). Each member's musical background is unique, diverse and extensive, whereby enabling the band to seamlessly span various musical genres. With broad performance experience both individually and collectively, The Uptown Groove is a polished and professional act, making them the perfect choice for your event.
***
Chris Poland
Friday, 4/17
9:30-11:30 pm
$5 cover
Instrumental Rock/Jazz Fusion
website: http://www.chrispoland.com/
Bio: Chris Poland is probably best known as the former lead guitarist for Megadeth, but Chris had been a well known L.A. area fusion player prior to his stint with Mustaine's group. He has since continued to solidify his reputation as an exceptional musician and guitar player, leading such projects as his solo debut, Return to Metalopolis, and as the leader of the now defunct progressive band, Damn the Machine.
Chris' clean, overdriven tone, and legato phrasing make him instantly recognizable. His unique style can be partially attributed to an injury to his index finger on his fret hand. This injury forced him to develop a style that includes smoothly phrased passages and wide intervallic leaps.
Chris now finds himself working with his friend and bandmate from the New Yorkers days, Robby Pagliari. Along with drummer David Eagle, Chris and Robby are now writing and performing as OHM.
***
Violet Mary
Saturday, 4/18
9:30-11:30 pm
no cover
Blues/Rock
website: http://www.violetmary.com/
Bio: "What happens After the Plunge?" Violet Mary answers with Level, its third studio album, released on April 23, 2013. The self-produced album is an honest, dynamic, and hard-hitting collection of nine songs that take the listener on a journey from a challenge to victory to peace. Level is about movement—both the uncertain movement of trying to find one's footing in a difficult situation, and then the righting of the ship, leveling out and charting a steady course.
Tracked over six months at Belly of the Whale Studios in Farmington, New York, Level pushes new boundaries for Violet Mary in both production and performance. The album is an aural depiction of the band's growth over the past year and a half, exploring new aspects of songwriting, arrangement, and vocal harmonies, and experimenting with more elaborate orchestration.
Since forming in 2007, Violet Mary has released two albums (2008'sMarionette and 2010's After the Plunge) and played live at dozens of venues across Western New York. Highlights include the Rochester Lilac Festival and Party in the Park, the Fairport Music and Food Festival, the Utica Music and Arts Festival, and the New York State Fair. In the fall of 2011, Violet Mary was selected from over 130 regional entries to be part of WXXI's third season of OnStage, which aired on February 26, 2012.
In 2013 and 2014, Violet Mary has begun work on its fourth studio album while playing shows across western New York and also making its out-of-state debut in Erie, Pennsylvania. Look for the release of that album in the Spring of 2015.
***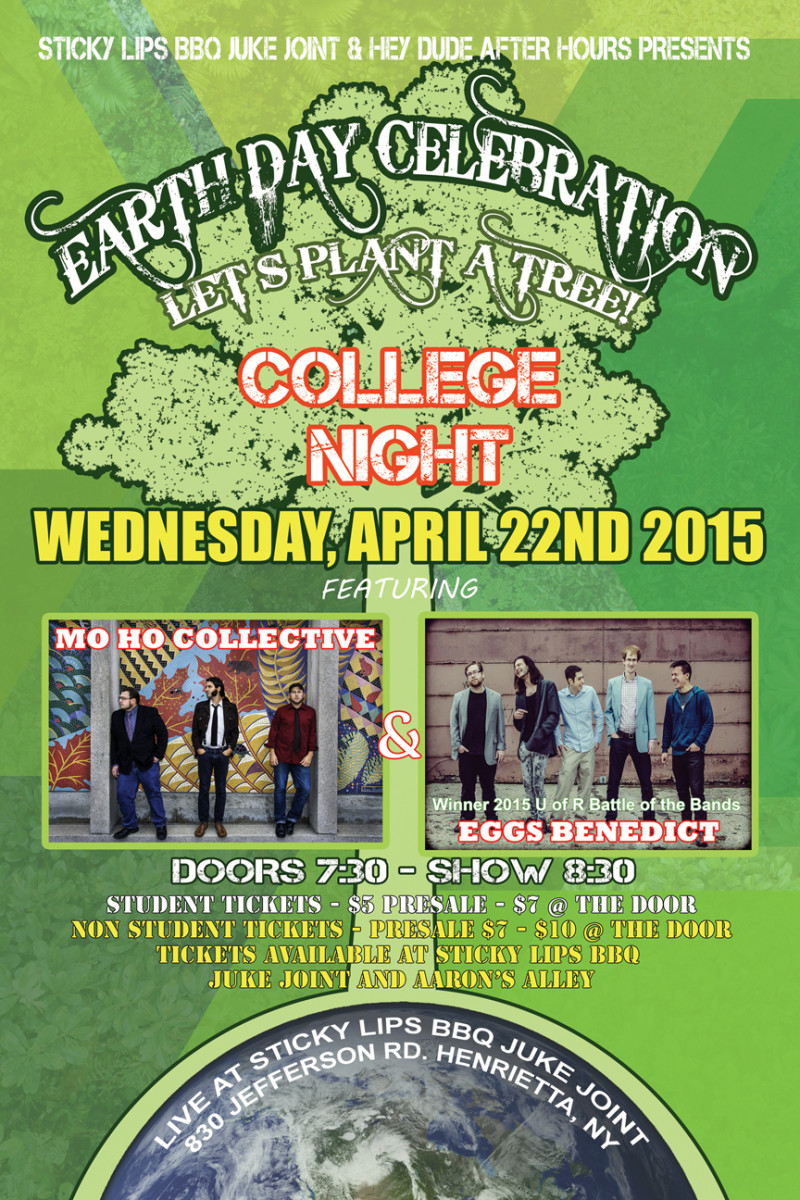 EARTH DAY Celebration
Wednesday, April 22, 2015
HEY DUDE AFTER HOURS PRESENTS:
Eggs Benedict opening for THE MOHO COLLECTIVE
Doors 7:00/Show 8:00-till
$5 advance/$7 at door for Students
$7 advance/$10 at door for Non-Students
THE MOHO COLLECTIVE
Creative Instrumental
WEBSITE: www.themohocollective.com
FACEBOOK: https://www.facebook.com/themohocollective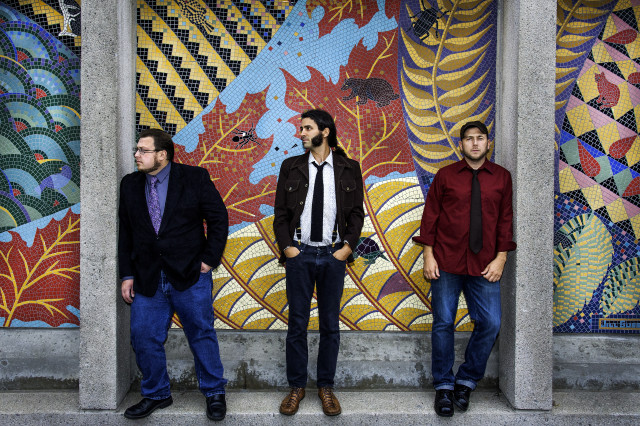 BIO:
–The Moho Collective combines a jazz trio's sophistication, the songwriting savvy of a classic Brill Building production team, the elbow grease of the Muscle Shoals house band, and an arena-rock outfit's vigor — the band even possesses an orchestra's penchant for epic gestures.
What stands out the most about The Moho Collective's music is how seamlessly all these sounds come together. Yes, The Moho Collective has the chops to blast the audience in a flurry of notes, but each of the band's members opts instead to make every note count. —
The Moho Collective is:
Kurt Johnson – Guitar. Steel Guitar. Effects. Found Sounds.
Justin Rister – Electric and Upright Bass and Effects
Ryan Barclay – Drums/Percussion. Found Sounds. Didgeridoo.
Opening band: EGGS BENEDICT
Funk
WEBSITE: http://eggsbenedictband.com
FACEBOOK: https://www.facebook.com/EggsBenedictBand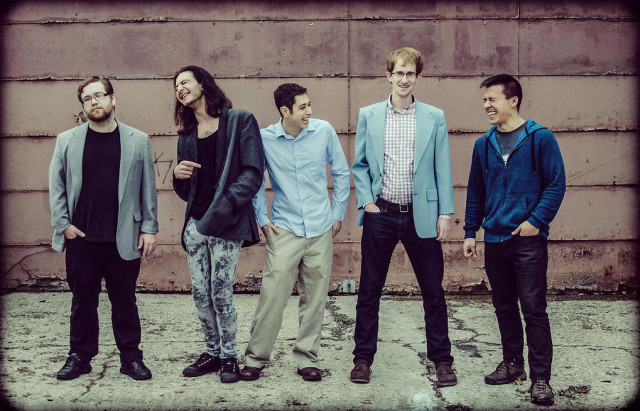 BIO:
Eggs Benedict (Trumpet, Sax, Guitar, Bass, and Drums) Since February 2013, Eggs Benedict has led the offensive in the movement against bland breakfast music. To fight such a crisis, the band performs funky, soulful, yet progressive and experimental instrumental music. Heavily influenced by James Brown, Stevie Wonder and Miles Davis, the band combined forces while students at the Eastman School of Music. With Mike Craig whoopin' his drums, Ethan Chiampas laying down groovy bass lines, Ben Fang strumming his guitar, Evan Burrus wailing on his sax and Gomeh Barak blurring the lines of reality through his trumpet, the group already has an established following. Eggs Benedict performs regularly throughout the Rochester, NY area, including at the 2014 Rochester Fringe Festival. The band currently is working on its EP premiere, Breakfast in Bed ("Don't Gotta Get Up to Get Down"). To be released in July 2015.
***
Son House Night with Genesee Johnny & Guests
Thursday, 4/23
7:30-10:30 pm
no cover
Blues & Roots Performance Jam
Show description: A Blues and Roots performance Jam, in tribute to the 1930's Delta Blues Roots legend Eddie James "Son" House Jr., who was rediscovered living in Rochester, NY in the 1960s.
Opening set by host, Genesee Johnny, followed by a featured artist and concluding with blues jam and open mic style performances. (Sign up sheet for performers.)
All blues and roots music styles are welcome!
***
Big Dog Country Night with Flint Creek
Friday, 4/24
9:30-11:30 pm
$5 cover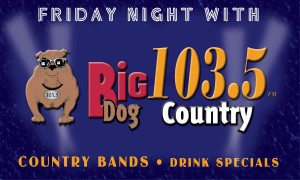 Country
website: http://www.flintcreekband.com/
***
Renee Anderson
Saturday, 4/25
10 pm-12 am
no cover
R&B/Soul
***
Tickle Your Incus
Wednesday April 29, 2015
6:30-8:30 p.m.
no cover
GENRE: Oldies
WEBSITE: http://tickleyourincus.com
BIO: "Tickle Your Incus" brings an evening of interesting, eclectic arrangements of classic rock and roll acoustic style along with their innate ability to entertain and interact with audience member… It is a musical experience.
***
Wisewater
Thursday, 4/30
7:30-9:30 pm
$10 cover
Country Pop
website: http://www.wisewatermusic.com/
Bio: Nashville-based trio WISEWATER has earned praise from the likes of Alison Krauss, Rosanne Cash, Mary Gauthier, and others for their lyrical honesty and clarity, infectious melodies, tight harmonies, instrumental virtuosity, and deep sense of groove. Members Kate Lee, Forrest O'Connor, and Jim Shirey are three young, positive, worldly artists whose songs blend roots, country, rock, and progressive acoustic music in a unique, refreshing way.
Wisewater is currently in the thick of writing material for their debut album, due to be recorded in mid-2015. When they aren't writing, they're performing – in 2014, they toured across the country, hitting venues such as The Grand Ole Opry, The Station Inn (Nashville, TN), The Berklee Performance Center (Boston, MA), and Joe's Pub (New York, NY). They've also shared the stage with Emmylou Harris, John Cowan, Mark O'Connor, Ricky Skaggs, Bill Lloyd (of Foster & Lloyd), and many others.
Their debut EP, The Demonstration, was released in November 2014 and reached #13 on the iTunes singer-songwriter charts. Featuring five original songs, the record was hailed as "beautifully poetic" (The Democrat and Chronicle, Rochester, NY) and prompted legendary singer John Cowan to write: "I love it. Their songwriting is skillful, insightful, and evocative. Kate's voice is both soulful and sweet and blends effortlessly with Forrest's clear, clean tenor. Their music is joyful, beautiful, and intentional. Wisewater, I'm listening, I 'hear you,' and I look forward to hearing your singing, songwriting, and playing for a long, long time to come."