Come out to the Sticky Lips Juke Joint for live music, four nights a week on the Sticky Stomp Stage!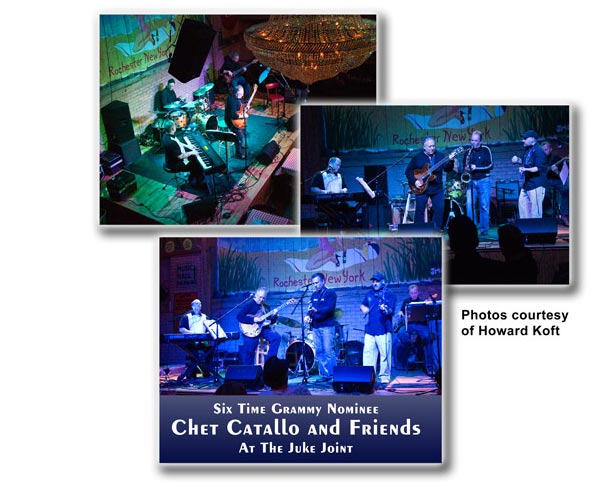 ***
The White Hots Duo
Wednesday, 9/10
6:30-8:30 pm
no cover
Swing and Blues
website: www.TheWhiteHots.com
BIO: The White Hots are a swing and blues band who have been on the Rochester, N.Y. music scene for the past fifteen years. The White Hots' guitarists, Steve Greene and Aleks Disjlenkovic will be playing at Sticky Lips for a special duo performance. Their combined styles bring early blues and swing together to form a sound that features deep groove and humor.
***
The Mighty Stef (from IRELAND)
Thursday, 9/11
9-11 pm
no cover
Alternative Rock
website: http://themightystef.net/
Bio: The Mighty Stef are an alternative rock group from Dublin, Ireland. Their new album 'Year Of The Horse' is coming soon via Burning Sands Records / Rough Trade Distribution. Formed originally by songwriter Stefan Murphy as a solo-project and drawing influence from 60 Years worth of creative, artistic and alternative rock n roll culture TMS have the knack of always seeming like a cult band that have been around for decades and always seeming brand-new simultaneously.
***
Big Dog Country night with J.D. and Rollin' South
Friday, 9/12
9:30-11:30 pm
$3 cover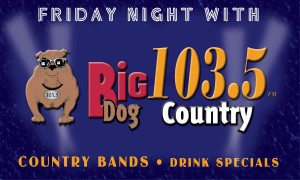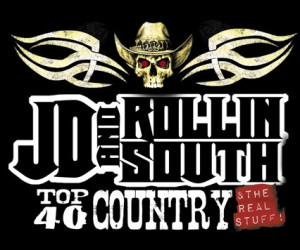 Country
website: http://www.jdrollinsouthcountry.com/
Bio: J.D. & Rollin South is a touring TOP 40-COUNTRY BAND that performs at local clubs, venues, – parks – camp grounds fairs – field days, casinos and large arena concerts. They bring the ROCKIN' COUNTRY good time!
***
Jon Lewis – CD Release
Saturday, 9/13
10 pm-midnight
Americana/Folk/Alternative
website: www.JonLewisProductions.com
The band that is opening the evening in support of Jon's CD release will be "Passive Aggressives Anonymous"
Their Facebook page: https://www.facebook.com/PAAband
Bio: Originally from Emporia Kansas, Jon Lewis has called Rochester his home now for many years. Drawing on his own life experiences Jon uses catchy melodies and confessional songwriting to create music with widespread appeal. After successfully crowd funding his first studio album he has been dedicated to continue writing and playing honest and heartfelt acoustic folk music to share with and inspire others.
The band is composed of Jacob Walsh on drums and vocals, Shawn Brogan on guitar, Dave Drago on bass and vocals, and songwriter Jon Lewis on guitar and vocals. They bring the ROCKIN COUNTRY good time!
***
Danny Black
Wednesday, 9/17
6:30-8:30 pm
no cover
Acoustic Rock
website: Thedannyblack.com
audio: soundcloud.com/thedannyblack
Bio: Danny Black is a one man entertainer from Michigan. He has played on Carnival and P&O Cruises, all over the US, England and Scotland. He plays over 1,500 cover songs and loves requests and crowd interaction. He writes his own music and has been to 48 of the 50 states in a minivan, rocking many bars and venues along the way.
***
Ben Fiore
Thursday, 9/18
9 – 11 pm
no cover
Alternative
websites: http://BenFiore.com
https://www.facebook.com/pages/Ben-Fiore/207381712611730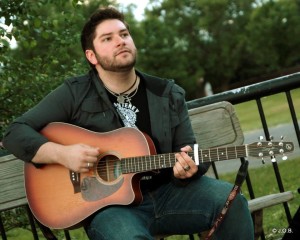 Bio: Ben Fiore is a singer-songwriter from Syracuse, NY performing alternative/acoustic music. He has released 3 EP's in 3 years, the most recent, "The Places We Will Go" this past March. The album reached #21 on the iTunes Unsigned charts within the first week and that's only the start for Ben. It's now time to get share the album with the country.
***
5Head
Friday, 9/19
9:30-11:30 pm
$5 cover
Ska/Swing/Soul
website: https://www.facebook.com/5HEADMUSIC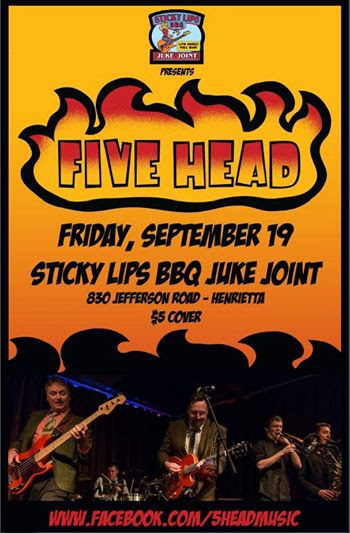 Bio: A 5Head show feels like an illegal party. Not the kind where the cops come because it's too loud, but the kind that the government might try to ban because it's too much fun. With seemingly boundless energy, they dish out fiercely solid rhythm section grooves underneath traditionally catchy ska guitar stabs, all while sometimes sweet and sometimes red hot horn harmonies duke it out with front man Rob Reed's freight train inspired vocals.
5Head fuses elements of 1st and 2nd wave ska with soul and swing to create an upbeat energetic sound that is catchy and feverishly danceable.
From a songwriting perspective, what makes 5Head stand out among the legions of other ska bands is simple: hook. That thing that catches your ear and makes something new seem familiar. From the bass lines to the chord progression, from the vocal melody to the horns lines, hook is king.
5Head has regularly shared stages with ska heavyweights Bim Skala Bim, The Toasters, and The Pietasters.
***
Inside Out
Saturday, 9/20
10 pm – midnight
no cover
60s, 70s & 80s Classic Vinyl – British Invasion featuring the songs of The Beatles & Many More!
website: https://www.facebook.com/#!/InsideOutRochester
Bio: From the harmonic passages of The Beatles to the hard driving straight ahead Rock 'n' Roll of The Rolling Stones, INSIDE OUT is the definitive Classic Vinyl 60s, 70s & 80s band. INSIDE OUT delivers the authentic sounds of The Beatles, Stones, Doors, Lovin' Spoonful, Kinks, Traveling Wilburys, Tom Petty, Steppenwolf, The Who, Grass Roots and The Hollies…just to name a few. Clubs, Festivals, Parties and Special Events are equally appropriate venues for the band.
***
Derek Knott
Wednesday, 9/24
6:30-8:30 pm
no cover
Modern Folk
website: http://www.derekknott.com
Bio: "Lyrical depth and maturity tinged with the melodic hues of early 60s rock. The ballads have a brooding intensity." -Dean O'Brien Host of "The Vinyl Departure" WVBR 93.5 FM Ithaca, NY.
"Solo artist Derek Knott's songs are like little prayers- little secular prayers. That's not to say there isn't plenty of soul and spirituality in his acoustically rooted music. Even the laid back tunes smile warmly and swing sweetly." – Rochester's City Newspaper
***
This Life
Thursday, 9/25
9-11 pm
no cover
Rock
website: www.reverbnation.com/thislife2011
audio: www.soundcloud.com/thislifemusic
Bio: This Life starts with Ryan Johnson and Miles George meeting in the fall of 2007, while attending Finger Lakes Community College. Right from the get-go, their musical tastes and styles became immediately entangled together, in which they began writing music together. Once their friendship and musical ideas grew, they decided to start writing an EP. Throughout the past 2 years they had figured out exactly what they wanted as far as their sound and the tracks that would make it to the album.
After the EP was completed, Ryan and Miles played acoustically under the name RJ and Cu-Cu (derived from the name of Miles' solo effort) at various open mic nights. As time passed, they began the search for a full group. In late 2013, Scott Dupray on bass and Aaron Davis on drums joined the two to re-form and re-name the band This Life. Currently the band is gigging, writing, and recording on a regular basis throughout the Western NY area, and are continuing to do so today. Check them out!
***
Big Dog Country night with These Guys
Friday, 9/26
9:30-11:30 pm
$2 cover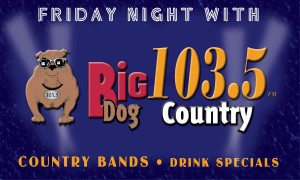 Country/Rock
Facebook Page: www.facebook.com/TheseGuysRoc
Event Page: https://www.facebook.com/events/274848282712027/
Jamming a mix of country and high octane classic rock straight from theGenesee river.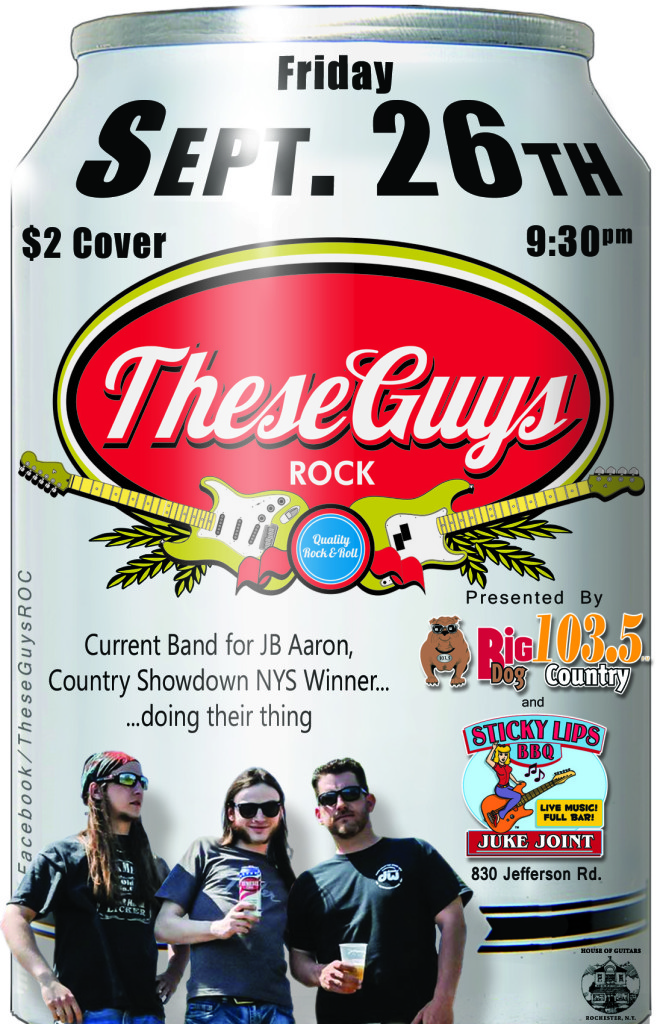 ***
Jokin' Steves
Saturday, 9/27
10 pm-midnight
no cover
Folk/Rock
website: https://www.facebook.com/JokinSteves
Bio: The Jokin Steves are a "Hard Driving Blues and Classic Rock Band" playing versions of songs from Howlin Wolf and Muddy Waters to The Allman Bros, Creedence Clearwater, Tom Petty, Eric Clapton and ZZ Top. The Jokin' Steves have been performing steadily in the local area clubs for the past 3 years.The name "JOKIN' STEVES", comes from the first names of the 4 band members: Joe Seidman, Ken Brown, Steve Craw and Steve Guida.All 4 are performing veterans of the Rochester music community and have played in such local bands as The WCMF Red Lobster Band, Doghouse, 6L6, The Moonlighters, and Highway Jones among others. We'll keep the feet tappin' and the joint rockin'!