Come out to the Sticky Lips Juke Joint for live music on the Sticky Stomp Stage!
***
Tuesday Night is Bike Night!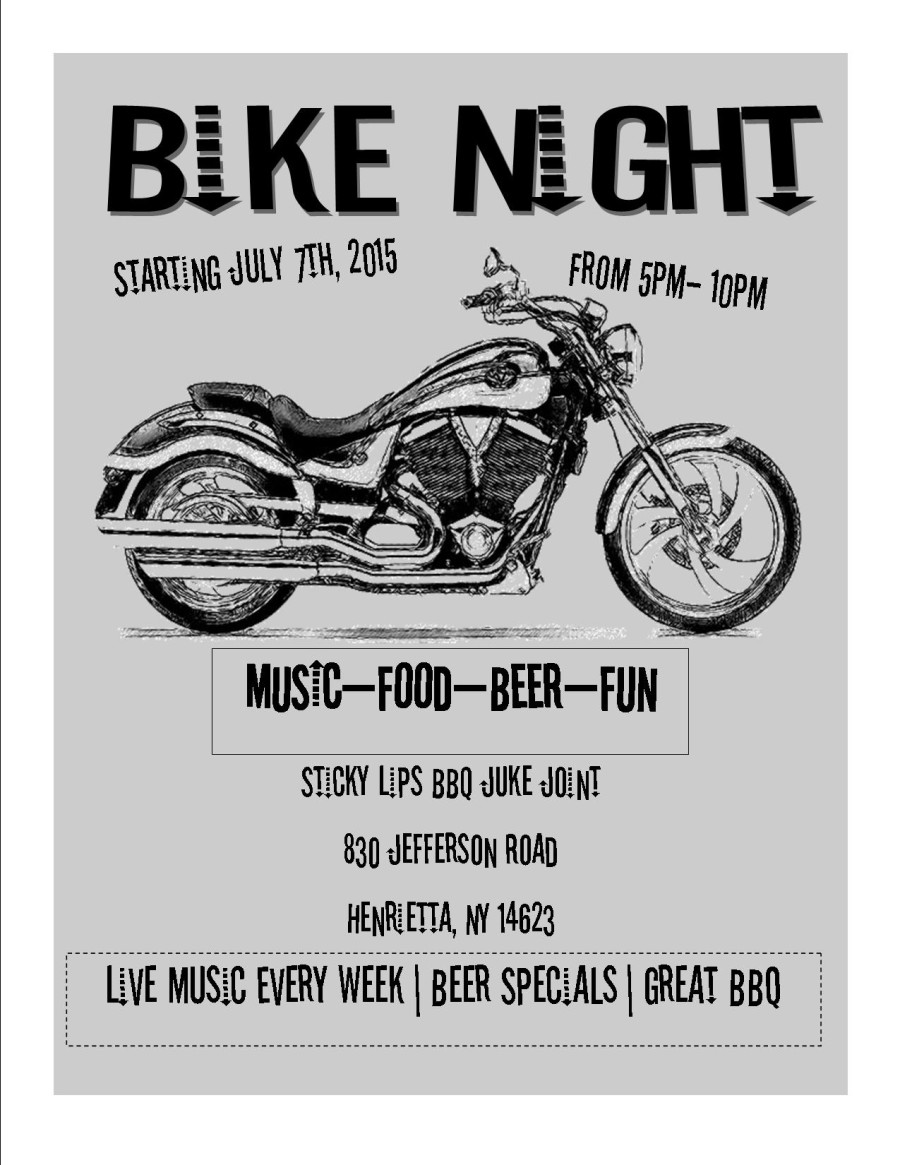 Come out to the Juke Joint in Henrietta and bring your Hog!
***
Sean Patrick Mcgraw
Wednesday, August 5
6:30-8:30 pm
no cover
Singer/Songwriter
website: http://seanpatrickmcgraw.com/
BIO: The music of Sean Patrick McGraw has been described as Lyle Lovett singing Bruce Springsteen songs wearing Dwight Yoakams hat. He's been called a "blue-collar poet," .) "the best undiscovered talent in Country, PERIOD" By Claude Camacho of Dagwood Radio and was one of the Top Ten Artists to Watch in 2010 (Country Weekly Magazine.
Back in March of 2009 a McGraw original about hard times "Dollar Ain't Worth a Dime" got noticed by an exec at CMT. With a little help Sean Patrick made a video and got it played on the Network. Buzz from the vid lead to a last minute spot on California's Country Super-Fest "Stage Coach" which got him great reviews from attendant press…which lead to a slot on Toby Keith's 2009 "America's Toughest" Tour and an appearance on ABC's "Jimmy Kimmel Live." In addition McGrawI secured an endorsement with Jagermeister have been since been on four "Jager Country" tours with Eric Church, Dierks Bentley, Josh Thompson, and Jerrod Niemann. His 2010 single "What I'd Do" was hailed as the "finest independent release … heard all year" by esteemed Music Row critic Robert K. Oermann.
More important to McGraw are the thousands of positive comments he's received from fans on Facebook (over 35,000 followers) and the fact that they come out to see him, show after show.
***
Professor Anonymous & Suzi Willpower
Thursday, August 6
7-9 pm
no cover
New Orleans/Classic Rock/Jazz
website: http://www.anonymouswillpower.net/
Bio: Fascinated with the history of recorded popular music, Don Blair, a k a, Professor Anonymous didn't seriously start playing the piano until age 30, but had been working as a blues and jazz DJ, recording engineer, lyricist, singer, among other odd jobs and creative pursuits throughout his youth.
It wasn't until seeing The Neville Brothers live and hearing them sing about Professor Longhair, that he discovered the New Orleans RnB style of piano playing, and masters who came after Longhair: James Booker, Allen Toussaint, Dr. John, just to name several, whom he covers along with some classic rock and jazz artists (Beatles/ Monk).
He's better known to venues around Rochester NY, as a guiding voice along with his singing songwriter, vocal powerhouse, and wife, Suzi Willpower, as Anonymous Willpower. She occasionally joins him as a vocalist, guitarist and/or drummer when he plays out without their group as Professor Anonymous.
***
The Rooks (from NYC)
Friday, August 7
9:00-11 pm
no cover
Indie Soul/R&B
website: http://www.therooksband.com/
Bio: If you happen to ask The Rooks about their sound, chances are they'll mutter some blurry portrait of Frank Ocean, J Dilla, akick-back, head-knock, and get-down; the music you rock to at the party, and the perfect soundtrack for the ride home.
A transplant from the Wesleyan University music scene, The Rooks have spent the last three years and change making noise across New York City and the greater Northeast, gaining substantial recognition for their debut EP, Something You Can Take (May 2013), follow-up single "Twister" (Jan 2014) and most recent releases "Secrets" and "Intermission (Wires)" (both premiered on Okayplayer).
Hard-hitting performances at Irving Plaza, Mercury Lounge and Brooklyn Bowl, as well as highly successful residencies at Arlene's Grocery and Pianos NYC (second highest grossing residency in venue history) have earned them further acclaim, including Deli Magazine's Artist of the Month award (Feb 2014) and recent nomination for the 14th Annual Independent Music Awards in the R&B/Soul category, finally providing their parents with a tangible means of bragging about their children.
The Rooks are currently prepping the release of their second EP, Wires, and booking shows just about anywhere you'll have them. They would love for you to join the party, because they're having an incredible time! nd the Talking Heads getting drunk at a dive bar in the year 2023, while Justin Vernon waits in the car to drive everyone home. Push them to be a little more specific (and a little less confusing), and they'll tell you that The Rooks are equal parts
***
Spectra
Saturday, August 8
9:30-11:30 pm
no cover
Rock
Website: http://www.spectrarochester.com/
Video: https://www.facebook.com/spectrarochester/videos/712746498822813/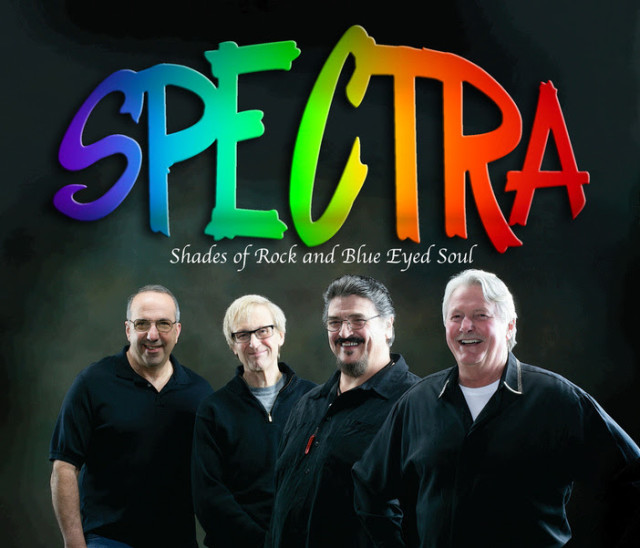 Bio: Spectra is a group of expreienced musicians familiar to the regional music scene. Bringing you shades of rock and blue-eyed soul, their set list is designed to get you up and moving to their own stylized versions of rock, blues, Latin, and jass-fusion tunes. If the mood strikes … they may even cobble up an old country tune to change things up.
***
Gospel Brunch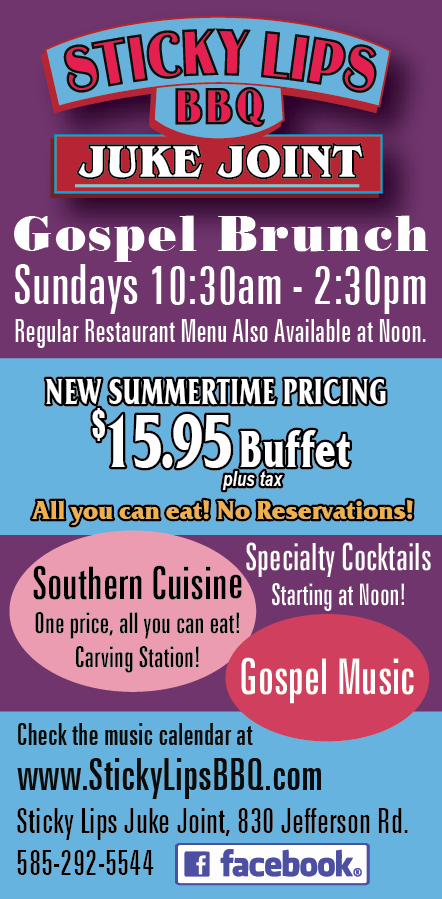 August 9, 2015
10:30am-2:30pm
Michael Bruce
Performing during the Sticky Lips BBQ Juke Joint Gospel Brunch
***
Tuesday Night is Bike Night!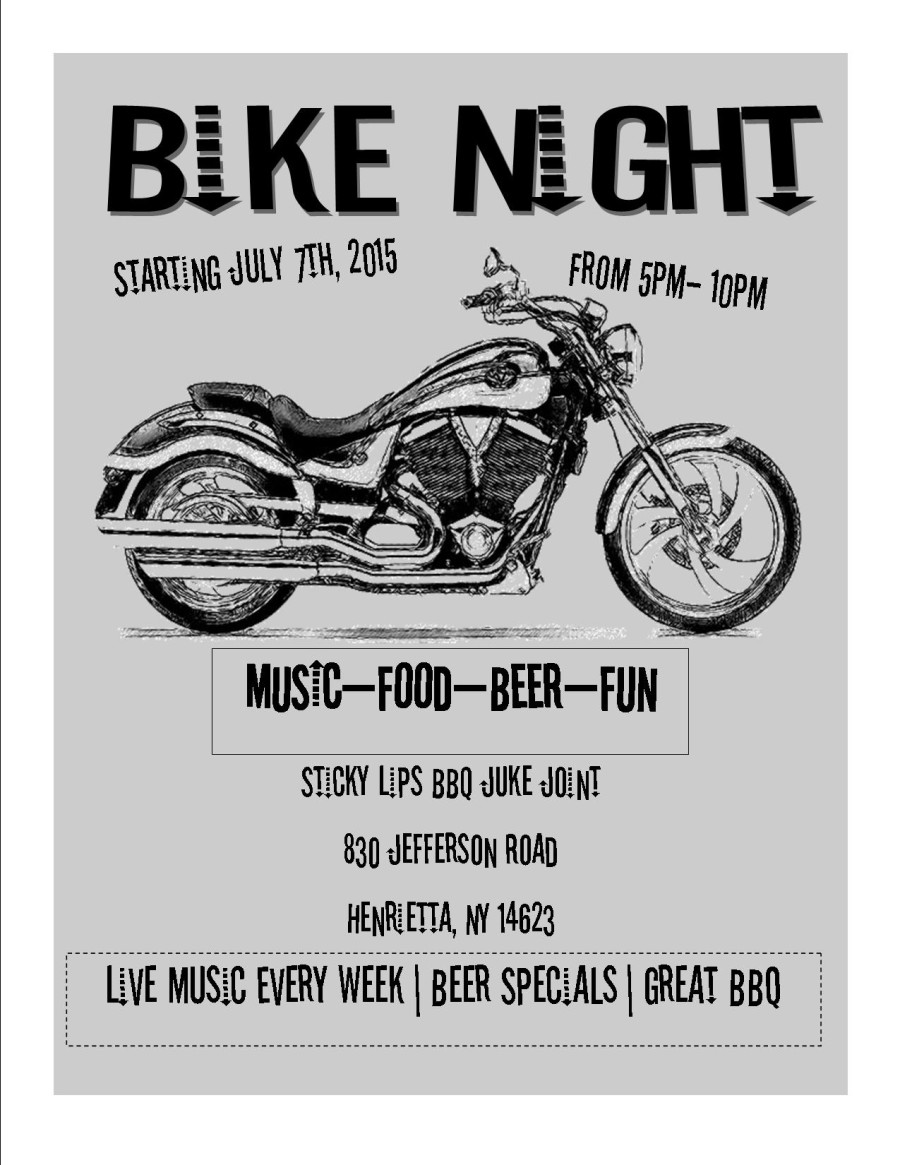 Come out to the Juke Joint in Henrietta and bring your Hog!
***
Brian Rath
Wednesday, August 12
6:30-8:30 pm
no cover
Singer/Songwriter/Folk Rock (covers and originals)
website: www.facebook.com/BrianRathMusic
BIO: Brian Rath is a singer songwriter from Rochester, NY. He began performing in bars and folk clubs around Boston in 2001. In 2005, his song "21 Old" won a spot on "The 14 Best Singer Songwriters of Greenwich Village" compilation produced by UMO Music in NYC. The Rochester entertainment weekly, Insider, named him one of the "6 Music Acts to Watch in '06." Brian revived his music career upon relocating to Austin in 2013 and began booking shows again in Austin, Houston, and San Antonio. He is currently performing aboard cruise ships in the Caribbean.
***
John Akers
Thursday, 8/13
6 – 8pm
no cover
Acoustic Pop
website: https://www.facebook.com/john.akers.334/about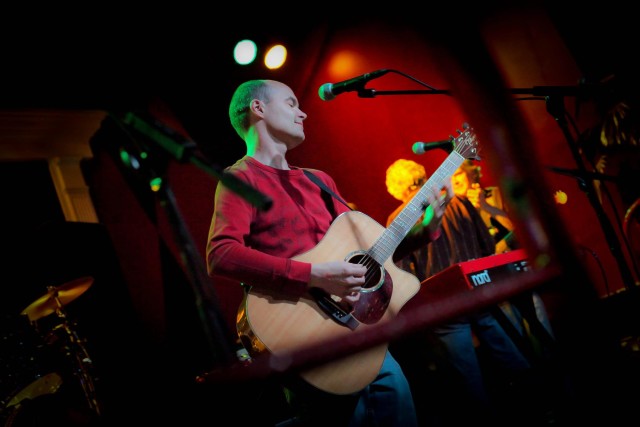 Bio: John Akers has been a staple of the Rochester music scene for almost 25 years — first with his band, Warner Bros recording artists Hard Rain, then as an original solo act. John has played colleges, clubs and concert venues throughout the northeast, doing as many as 200 shows a year. He has developed a reputation as a versatile, passionate and powerful singer and performer who loves to find the heart of the song, whatever the style of music.
***
Upward Groove
Friday, August 14
9 pm-12 am
no cover
Alternative/Groove
website: www.upwardgroove.com
with
Vinyl Orange Ottoman
Rock/Blues/Soul
website: http://www.vinylorangeottoman.com/
Bio for Upward Groove: Upward Groove is a talented 5-piece from Rochester, NY. Blending a unique sound of rock, jazz, blues, and pop, the band has a little something for everyone. A must see, these guys will have you leaving a gig with a catchy melody in your head! Thanks to the help of producer Nick Kash, UG released "How I Feel" and other solid tunes to come!
Photo for Vinyl Orange Ottoman
Bio for Vinyl Orange Ottoman:
Vinyl Orange Ottoman was originally formed on a bitter cold night in January of 2009. The band was later reborn in 2012 with a more focused, dynamic, and controlled sound. Less of their influences and more of their own identity. The idea was to call upon scene vets – vocalist Pete Griffith, bassist Gopi Joaquim, drummer Ray Cordello, keyboardist JJ Stasiw, and guitarists Noah Swartele and Brady Hoover – to create the soulful sound that is the Vinyl Orange Ottoman.
The VOO, as some have called them, has been reviewed in comparison to such acts as The Black Crowes, Stone Temple Pilots, Led Zeppelin, Pearl Jam, and even Red Hot Chili Peppers. They have turned heads at clubs and festivals, has a forever growing fan base, and is "a breath of fresh air to the scene."
"VOO is a dynamic band with a big kick of bluesy soul in its tone, mood, and groove. The band comes off cool in its delivery. It doesn't try too hard. There's no flash, there are no pyrotechnics. It is simple, direct, and to the point. That's not to say the band isn't made of excellent musicians. They just don't try that hard. They let it be." (Frank DeBlase, CITY Newspaper)​
Pre production of their debut album started in November of 2010 with engineer Jon Belec (who has engineered projects for Luther Vandroze, Matchbox 20, J-Lo, and Dream Theater just to name a few). The band started tracking the album with Jon and his team of engineers in January 2011 and was released in April of that same year.​
Currently the band is playing shows across New York State and working on new material for their second album.
***
The Chairs
Saturday, August 15
9:30-11:30 pm
no cover
Rock
website: https://www.reverbnation.com/thechairsclassicrock
Bio: The Chairs began life as a 2 college professors (Mark and Brian); both chairs of their departments at Nazareth College. The group 4 teachers (a college professor and 3 middle school music teachers). Men Behaving Badly is the acoustic duo version of The Chairs. MBB covers those venues who may not have the space for a great 4 piece band. The current lineup features Brian Witz (lead vocals, guitar, sax & harmonica), Mike Murphy (keyboards & backup vocals), John Rolland (drums/percussion) and Matt Doi (bass & backup vocals).
The group plays a wide range of classic rock, from The Beatles, to Lyndrd Skynrd, from Van Morrison, Hendrix, the Stones, Styx, CS&N, Doobie Brothers, Allman Brothers, Little Feat, Loggins & Messina, REO Speedwagon…Clapton, The Black Crowes, Zepplin…anything from the British invasion to FM rock! For smaller and more intimate venues, Brian and Mike form Men Behaving Badly, our acoustic version of the band.
***
Gospel Brunch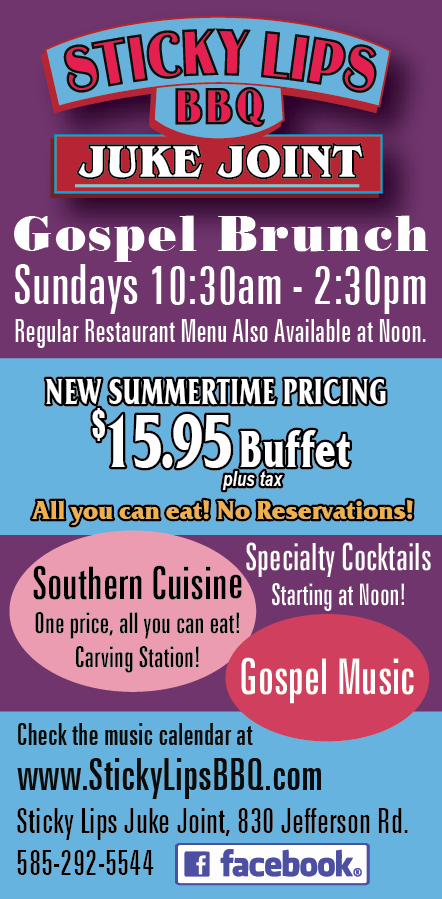 August 16, 2015
10:30am-2:30pm
***
Tuesday Night is Bike Night!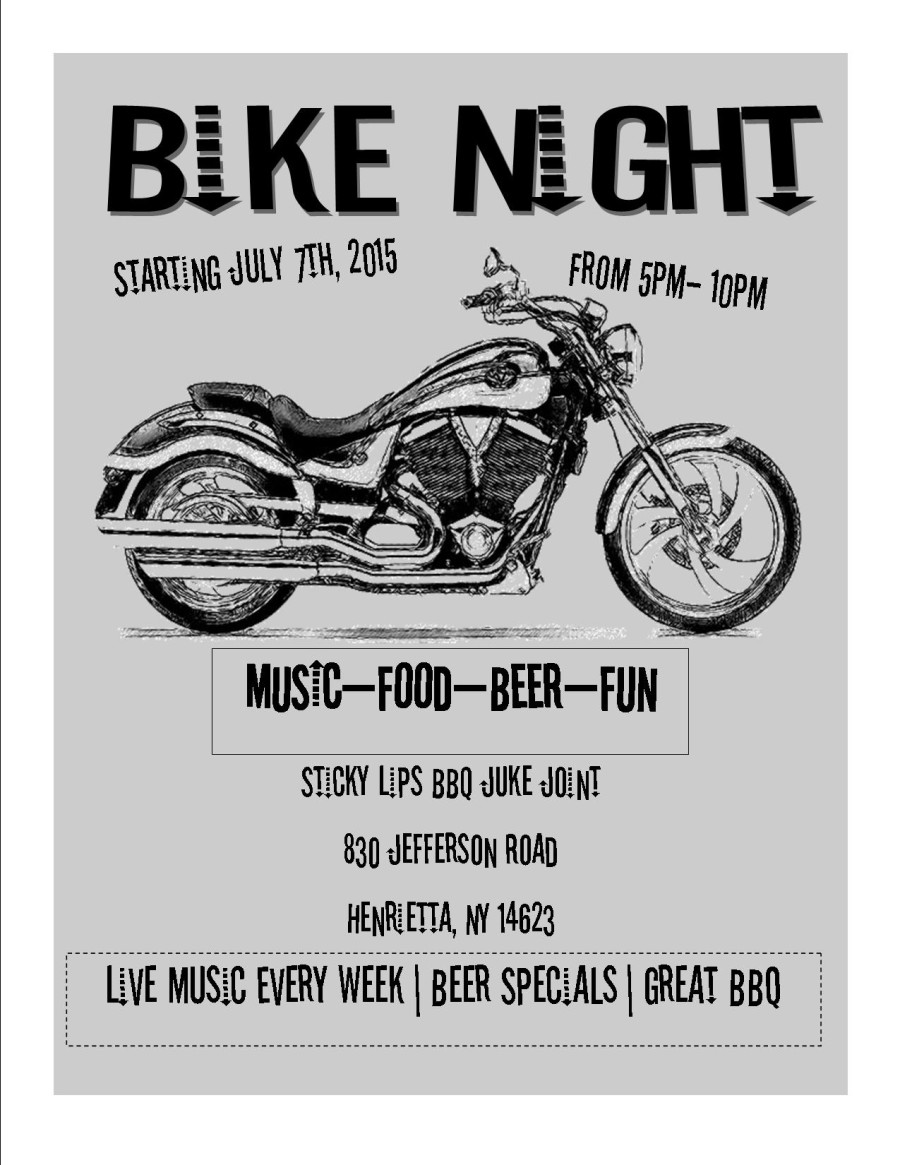 Come out to the Juke Joint in Henrietta and bring your Hog!
***
The Textured Whinos
Wednesday, August 19
6:30-8:30 pm
no cover
Acoustic Rock Trio+
website: www.texturedwhinos.com
Bio: Having performed for thousands of people in the North East over the past two decades a few special events that stand out for The Textured Whinos include: The Lilac Festival Main Stage, Blue Cross Arena Pre-Game Festivities, and performing as a supporting act for Jethro Tull at the FLPAC (now called CMAC). The Textured Whinos provide a delightful twist on many classic rock, folk and country favorites.
***
TBA
Thursday, August 20th
***
Eric & The Bluesbirds
Friday, August 21
9-11 pm
no cover
Blues
website: http://www.ericandthebluesbirds.com/home/
Bio: Eric and The BluesBirds are a blues quartet based in Rochester, NY. playing cool arrangements of 50's through today's electric blues. The portfolio of influences include Albert King, Freddie King, Taj Mahal, Magic Slim, EC, SRV and Lonnie Brooks to name a few. Structured jams and bluesy classics. Showcased by extremely talented players. Jazzy blues…
***
Lia Conti Band
Saturday, August 22
9:30-11:30 pm
no cover
Blues
Website: https://www.youtube.com/channel/UCl1_pQSV2cR_koYGINssvQw
Bio: Lia, who plays the piano and ukulele, has been singing since….well, since before she could talk. Lia will feature songs from her CD entitiles "Sweetest Remedy" and will be backed by Mark Conti on drums, Fred Vine on guitar, Mike Patrick on bass, and Juli Conti on rhythm guitar.
***
Gospel Brunch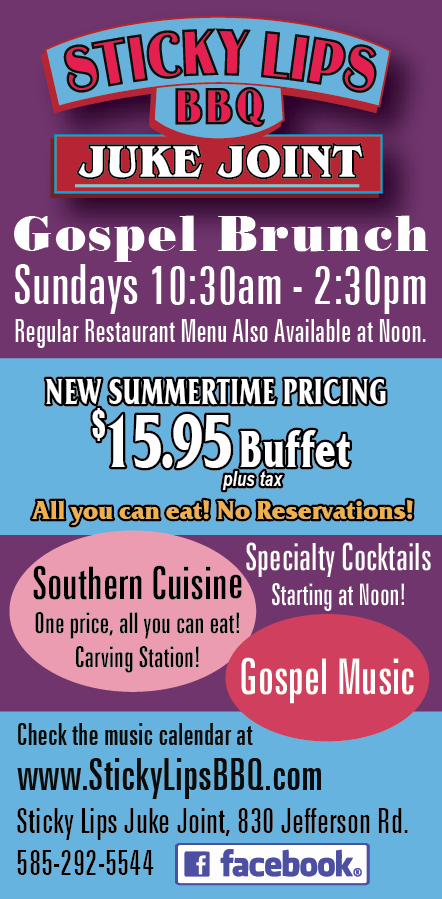 August 23, 2015
10:30am-2:30pm
***
Tuesday Night is Bike Night!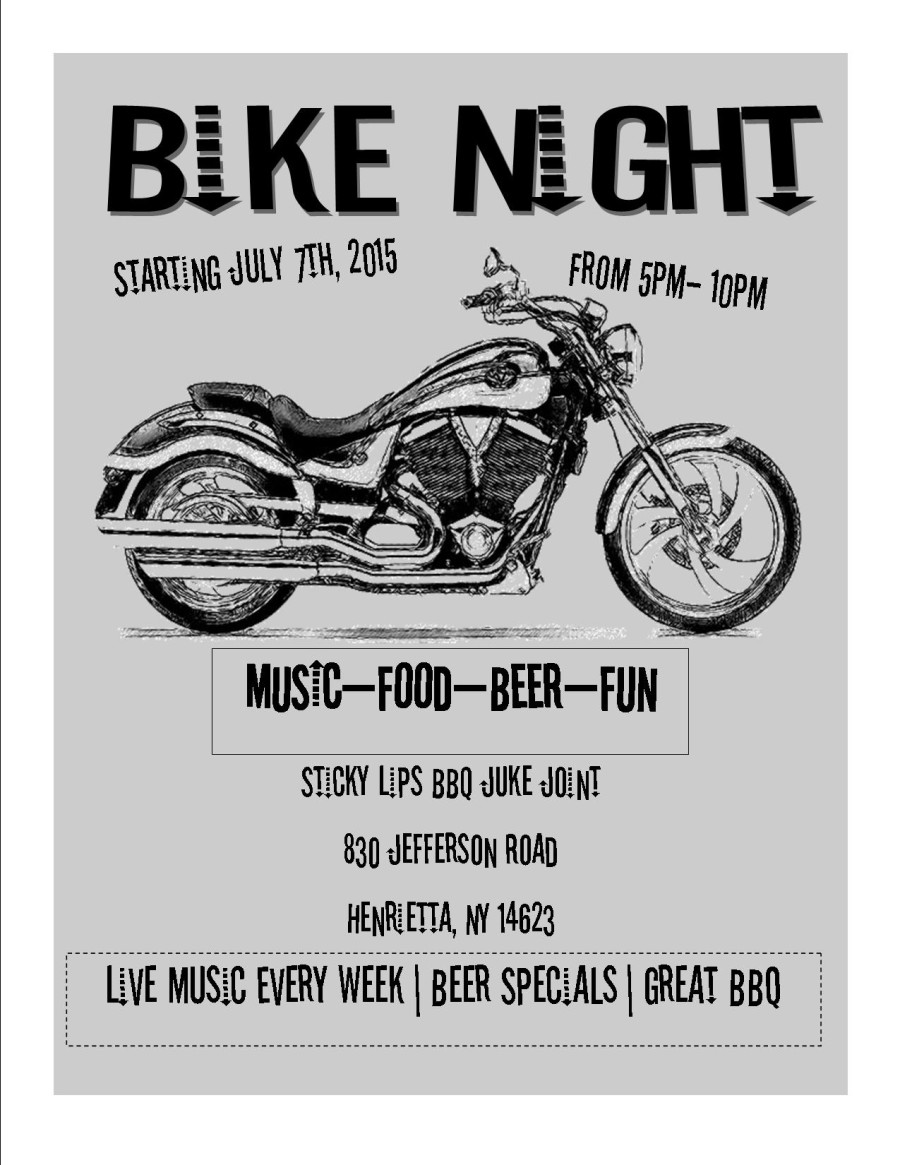 Come out to the Juke Joint in Henrietta and bring your Hog!
***
JY & Dee
Wednesday, August 26
6:30-8:30 pm
no cover
Classic Rock
website: http://www.originalrevolver.com/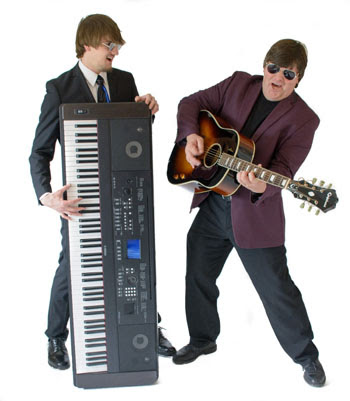 Music sample:
Bio: Ian began playing piano at the age of 6 w/ Mrs. Eleanor Fox and later also with Fred Dicesare. In 5th grade, he began playing Sax as well and was taught by local virtuoso, Tom Ellison. At the time, he was always singing in chorus from 4th grade through H.S. With the Greece Arcadia High Jazz Band, Ian performed at the Rochester Jazz Festival twice as a teenager. His first professional performance was with his father's group, "NBT" in 2009. He played keyboards for the group in a packed house for two rush songs; 'Limelight' and 'Subdivisions'. For the past two years, Ian has been a music business major at the Crane School in Potsdam, N.Y. The Crane School has turned out many great conductors, composers, and performers including Opera Sensation Renee Fleming. Ian has often performed with Revolver on Vocals, Keyboards, and Sax. This summer, Ian and his father are performing acoustic rock on Piano & Guitar as "I.J.Y."
***
Jon Lewis
Thursday, 8/27
6 – 8pm
no cover
Singer Songwriter
websites: www.JonLewis.Bandcamp.com
www.Facebook.com/JonLewisBand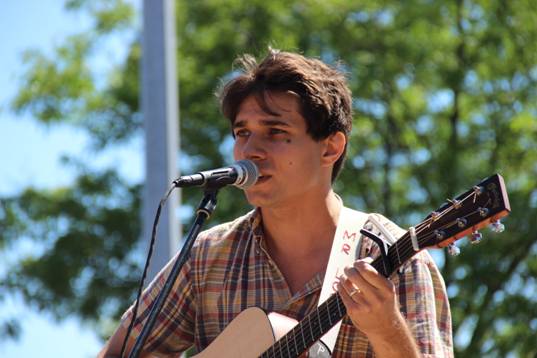 Bio: Jon Lewis is a singer/songwriter from Rochester, NY. Playing heartfelt indie/folk/rock songs with carefree melodies and harmonies that feel reminiscent of 70's rock n' roll. Jon plays music mostly around the Rochester area both as a solo acoustic artist and in full band format. New album "Panic Rock" is available now and features many Rochester musicians.
***
Goodness
Friday, August 28
9:30-11:30 pm
$5 cover, $2 off coupon on band website
Country
website: http://www.goodnessband.com/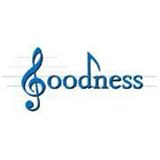 Bio: The Best of Today's Contemporary Country Music!
***
Hey Red
Saturday, August 29
9:30-11:30 pm
no cover
Red Hot Swingin Blues
website: http://heyredband.com/
Music sample:
Bio: "Hey Red" is made up of seasoned musicians who have played on the local scene for many, many years. The are fronted by Beth Steele, the redhead of "Hey Red". She never fails to excite the crowd with her amazing voice. Feel free to bring your dancing shoes!
***
Gospel Brunch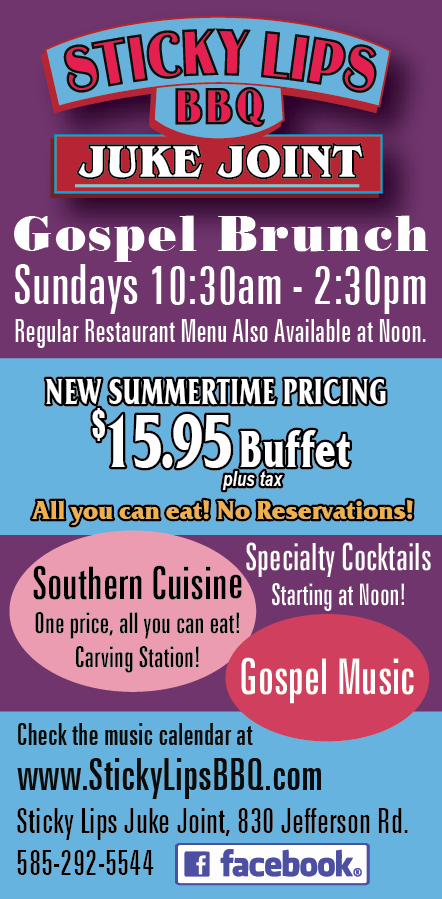 August 30, 2015
10:30am-2:30pm
***
Tuesday Night is Bike Night!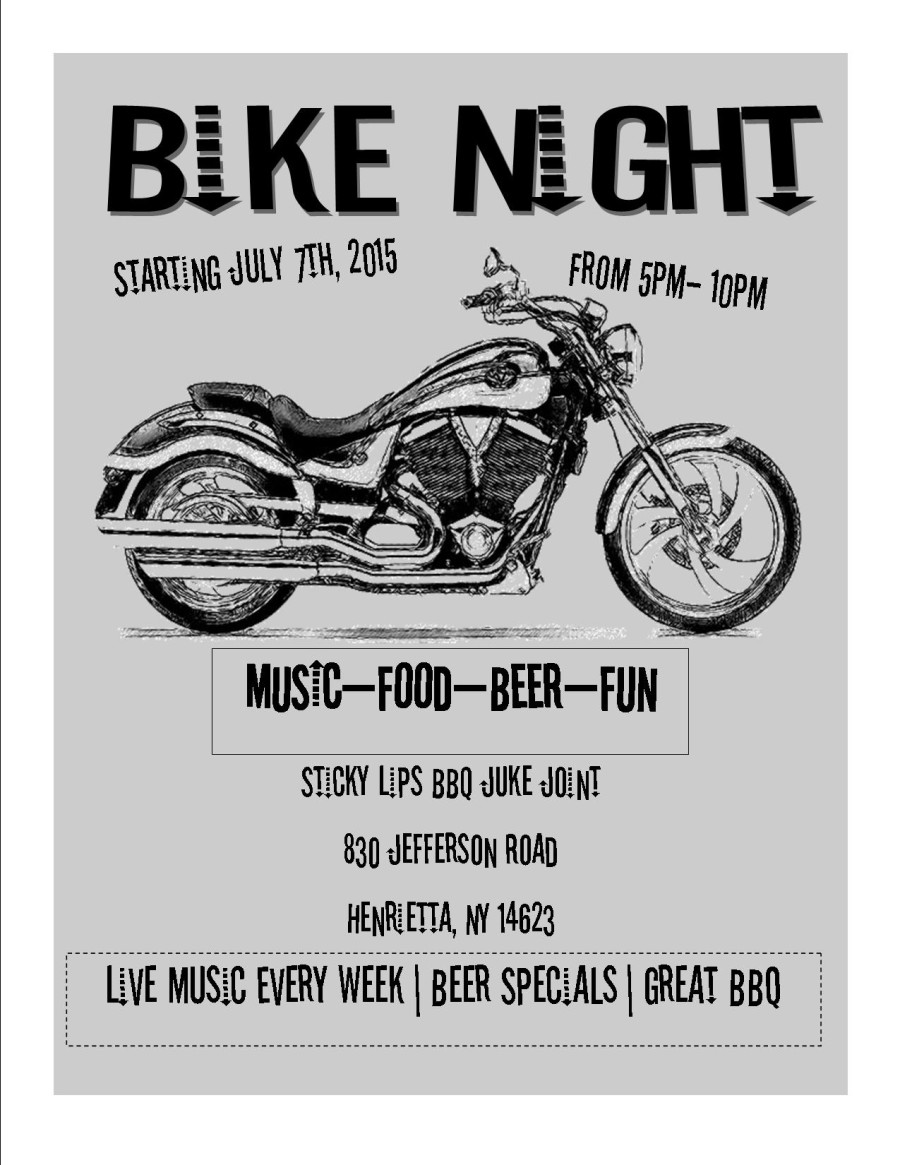 Come out to the Juke Joint in Henrietta and bring your Hog!
***