Come out to the Sticky Lips Juke Joint for live music, four nights a week on the Sticky Stomp Stage!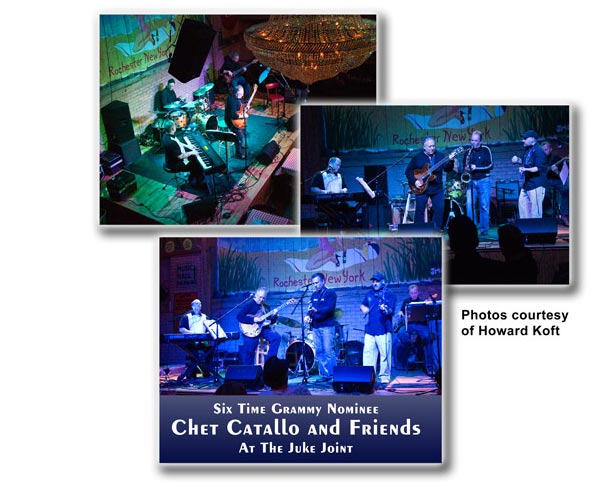 ***
Derek Knott
Wednesday, 9/24
6:30-8:30 pm
no cover
Modern Folk
website: http://www.derekknott.com
Bio: "Lyrical depth and maturity tinged with the melodic hues of early 60s rock. The ballads have a brooding intensity." -Dean O'Brien Host of "The Vinyl Departure" WVBR 93.5 FM Ithaca, NY.
"Solo artist Derek Knott's songs are like little prayers- little secular prayers. That's not to say there isn't plenty of soul and spirituality in his acoustically rooted music. Even the laid back tunes smile warmly and swing sweetly." – Rochester's City Newspaper
***
This Life
Thursday, 9/25
9-11 pm
no cover
Rock
website: www.reverbnation.com/thislife2011
audio: www.soundcloud.com/thislifemusic
Bio: This Life starts with Ryan Johnson and Miles George meeting in the fall of 2007, while attending Finger Lakes Community College. Right from the get-go, their musical tastes and styles became immediately entangled together, in which they began writing music together. Once their friendship and musical ideas grew, they decided to start writing an EP. Throughout the past 2 years they had figured out exactly what they wanted as far as their sound and the tracks that would make it to the album.
After the EP was completed, Ryan and Miles played acoustically under the name RJ and Cu-Cu (derived from the name of Miles' solo effort) at various open mic nights. As time passed, they began the search for a full group. In late 2013, Scott Dupray on bass and Aaron Davis on drums joined the two to re-form and re-name the band This Life. Currently the band is gigging, writing, and recording on a regular basis throughout the Western NY area, and are continuing to do so today. Check them out!
***
Big Dog Country night with These Guys
Friday, 9/26
9:30-11:30 pm
$2 cover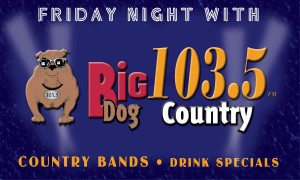 Country/Rock
Facebook Page: www.facebook.com/TheseGuysRoc
Event Page: https://www.facebook.com/events/274848282712027/
Jamming a mix of country and high octane classic rock straight from theGenesee river.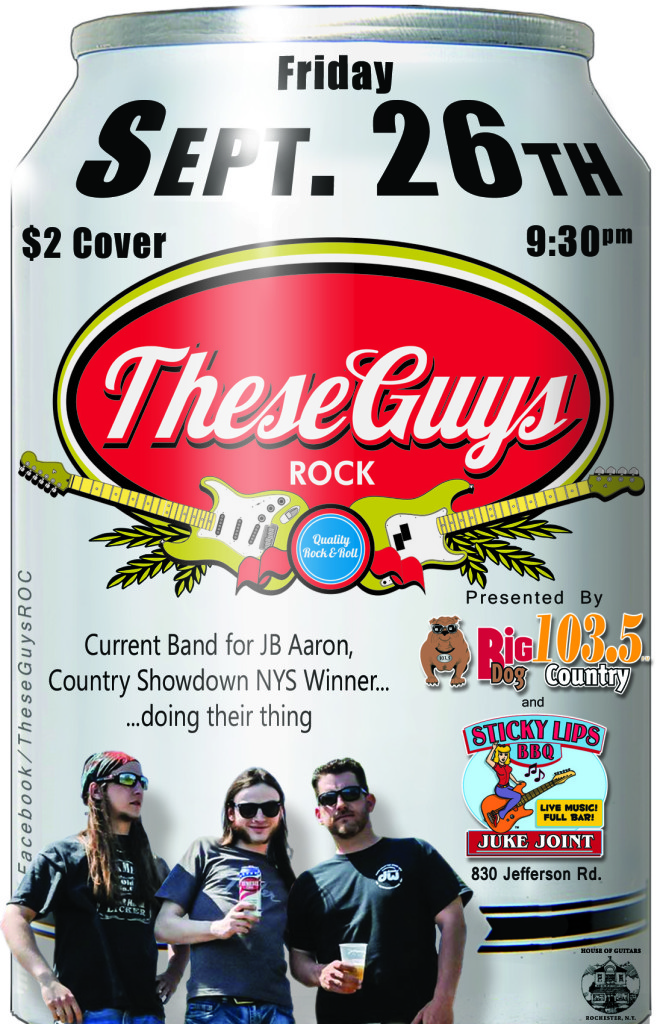 ***
Jokin' Steves
Saturday, 9/27
10 pm-midnight
no cover
Folk/Rock
website: https://www.facebook.com/JokinSteves
Bio: The Jokin Steves are a "Hard Driving Blues and Classic Rock Band" playing versions of songs from Howlin Wolf and Muddy Waters to The Allman Bros, Creedence Clearwater, Tom Petty, Eric Clapton and ZZ Top. The Jokin' Steves have been performing steadily in the local area clubs for the past 3 years.The name "JOKIN' STEVES", comes from the first names of the 4 band members: Joe Seidman, Ken Brown, Steve Craw and Steve Guida.All 4 are performing veterans of the Rochester music community and have played in such local bands as The WCMF Red Lobster Band, Doghouse, 6L6, The Moonlighters, and Highway Jones among others. We'll keep the feet tappin' and the joint rockin'!
***
The Bureau Cats
Monday, September 29. SPECIAL NIGHT!
6pm-9pm
no cover
BLUES
The event is being put on by the "IT Security & IT Audit Professionals".
The members include:
Diane Watkins, lead vocals
Len Redon (Deputy Mayor), vocals, guitar
Charlie Benincasa, guitar
Eric Logan, keyboards
John DeMott, bass
David Mowry, percussion
Rick Rynski, guitar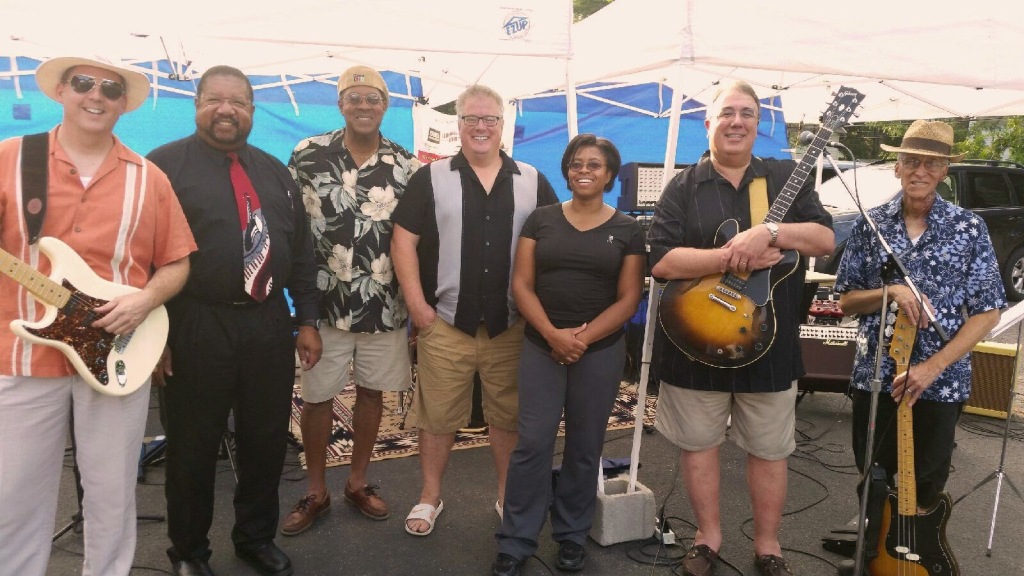 ***
Steve Lyons
Wednesday, 10/1
6:30-8:30 pm
no cover
Acoustic Rock and Blues
website: https://www.facebook.com/steve.lyons.75
Bio: A talented, popular (and handsome) singer/songwriter from the Rochester area, Steve plays with many infamous local bands, including Mitty and the Followers, the LP's, Beale St. Blues Band, and the Legendary Dukes
***
Krypton 88
Thursday, 10/2
9-11 pm
no cover
Rockabilly
website: http://www.reverbnation.com/krypton88
Bio: There's a look and sound of the 50's. That's Krypton 88 serving up Rockabilly, Rock and Roll, Swing and Honky Tonk with energetic live performances. The band includes James Via on guitar, Eric Davidson on upright bass, and Dana Gregory on drums. This trio will rock you all night long.
***
Coupe De' Villes
Friday, 10/3
9:30-11:30 pm
$4 cover
Drivin' Rhythm and Blues
website: http://www.coupedevilles.com/
Bio: As 2014 unfolds, The Coupe De' Villes are celebrating their 31st year of existence by performing all over the Western New York Region. The Coupe De' Villes, or as known more commonly by their fans as The Coupes, have showed no signs of slowing down. The truth is that The Coupe De' Villes continue to be one of the busiest bands based out of Rochester, NY.
Though The Coupe De' Villes have changed with the times, the commitment to deliver the best entertainment possible remains. The Coupes begin their 3rd decade of making music with original members guitarist Tommy Bianchi, vocalist Lex Byers, and drummer George DeMott leading the way. The Coupes' newest members are bassist Jeff Morrison who has been keeping the pocket tight for the last decade, and keyboardist Lou Spezio has added another dimension to The Coupes' sound with his inventive style.
After 30 years some bands would consider winding down, on the contrary The Coupe De' Villes have kicked it up a notch by adding horns to the mix. With The Westside Horn Section featuring trumpet player Donny Allen, and saxophonist Paul "Junior" Spezio blowing up the sound, The Coupes have emerged a 7 piece powerhouse that has the versatility to perform multiple styles of music, in almost any venue imaginable.
The Coupe De' Villes look forward to our next decade of entertaining the people of Western New York with our unique blend of Blues, Funk, and Classic Rock music.
Don't let our age fool you, The Coupe De' Villes are only getting better with age.
***
The Midnight City
Saturday, 10/4
10 pm-12 am
no cover
Rock/Acoustic Pop/ Indie
website: http://www.reverbnation.com/themidnightcity
Bio: The Midnight City combines amazing vocal & instrumental talent to deliver unique covers, and original songs that are sure to leave you awed & wanting more.
***
Mysterious Jimmy
Wednesday, 10/8
6:30-8:30 pm
no cover
nice variety of rock, blues, pop,
website: https://www.facebook.com/pages/Mysterious-Jimmy/1550870808466271
Bio: MYSTERIOUS JIMMY plays all the hits of the past six decades: from the Beatles to Bon Jovi; Aerosmith to Adele; Al Green to Greenday; Def Leppard to Daft Punk; classic rock to classic pop; blues for your soul & modern rock & roll — and so much more – a wide variety of tunes that will make you clap, dance & sing-a-long. The perfect acoustic entertainment for your weeknights and happy hours.
The two members of MYSTERIOUS JIMMY also perform in bands that include:
Dog House
Rochester Brass and Electric
Out On the Tiles (Led Zeppelin Tribute)
Going For the One (Yes Tribute)
JaCK
Uncle Ralph BBQ Blues Band
Mama Hart
Smooth Talkers
***
Teressa Wilcox & Declan Ryan
Thursday, 10/9
6-8 pm
no cover
Acoustic Rock Duo
websites: http://www.teressawilcox.net/
http://declandeclandeclan.bandcamp.com/
Bio: Teressa Wilcox has an impressive track record, featuring high-profile festival appearances and writing credits on major radio hits. Her voice seamlessly covers territory between cool jazz and fiery rock and roll, and her band has the chops to match.
Declan Ryan is a songwriter from Rochester, New York.
***
Cory Daniels
Friday, 10/10
9:30-11:30 pm
$3 cover
Country/Southern Rock/Christian
website: http://www.reverbnation.com/corydaniel
Bio: Cory Daniel, Is a singer song writer. Based in western NY. Cory Daniel has over 30 years in the music industry , Currently with 4 songs being played on country radio, and 1 on rock radio.
***
Spacelords
Saturday, 10/11
10 pm-12 am
no cover
Rock
website: http://spacelordsmusic.com/
audio: http://spacelordsmusic.com/music/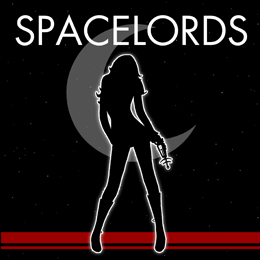 Bio: Armed with an arsenal of killer original Spacelords are a sonic force on the rise. Hailing from Rochester, NY the Spacelords are comprised of front man Dave Mabelis (guitar/vocals), Jordan Carpenter (guitar), Bob Regan (bass), and "The Luxurious" Steve Cavatassi (drums).
Soundly grounded by robust bass and hard-hit drums, Spacelords' music brings back something that's been missed. It fills a niche, a hole noticed by those who loved the blues-influenced sound of rock and roll when it was new and dangerous, before disco, before each new outfit played to fit its own dim little pigeonhole. Guitars with strong funk undertones are sometimes unrepentant, sometimes plangent, but equally capable of splitting oak and provoking emotion; they accompany energetic vocals inspired by the sound of classic soul. By 2011, every new group smacks itself with adjectives: lo-fi, black metal; alternative-, indie-, or modern-rock. Revivalists Spacelords make the classic contemporary, playing Rock the way it used to be.
***
Daniel Beaudoin
Wednesday, 10/15
6:30-8:30 pm
no cover
Acoustic Dirty Blues
website: http://m.soundcloud.com/danielbeaudoin
Bio: Daniel Beaudoin is a slide guitarist and song writer from the Buffalo area. Over the last several years he has been gigging in coffee shops and bars as a one man blues band playing his own songs and covering old bottle neck blues songs from the 30s and 40s. He brings a newer energy to these old songs with an amplified acoustic guitar accompanied by a hypnotic, stomping kick drum and a raspy howl.
***
Steve Grills and the Roadmasters
Thursday, 10/16
6-8 pm
no cover
Blues
website: http://www.stevegrills.com/
Bio: For Steve Grills, the Blues has been a life long journey. As a youngster, he heard the music of Big Bill Broonzy, Leadbelly and Lightnin' Hopkins from his father's record collection. Through the Beatles, Steve discovered Chuck Berry and he has not looked back since. He has searched out the roots of Rock and Roll, uncovering many great artists who have influenced and inspired him. Primarily among these are Robert Lockwood Jr., Earl Hooker, Freddie King and Albert Collins. Steve became friends with Robert Lockwood Jr after meeting him in 1978. In 1992, Robert invited Steve and his band to perform at his Legendary Blues Festival near Cleveland , Ohio. Steve later recorded with Robert on Shakin Smith's cd Harmonica Wizard.
Steve and his band the Roadmasters ( named after Earl Hooker's band) draw their repetoire from these and other artists, allowing contemporary audiences the opportunity to discover the vitality of the music of these legendary and influential musicians.
Steve has released a cd of recordings he did with pianist Ernest Lane entitled After Hours on the Toogaloo label. Steve is very excited to have had the opportunity to record with Ernest. Ernest's musical career reaches back to the late 1940's when he played and recorded with the engimatic delta blues guitarist Robert Nighthawk. Ernest backed Nighthawk on his Aristocrat (later Chess) recordings Black Angel Blues (Sweet Black Angel) and Annie Lee Blues. Blues scholars consider these recordings with Nighthawk to be among the greatest Post war Chicago blues records ever made.
***
Violet Mary
Friday, 10/17
9:30-11:30 pm
$3 cover
Rock/Modern/Alternative
website: http://www.violetmary.com/
Bio:
"What happens After the Plunge?" Violet Mary answers with Level, its third studio album, released on April 23, 2013. The self-produced album is an honest, dynamic, and hard-hitting collection of nine songs that take the listener on a journey from a challenge to victory to peace. Level is about movement—both the uncertain movement of trying to find one's footing in a difficult situation, and then the righting of the ship, leveling out and charting a steady course.
Tracked over six months at Belly of the Whale Studios in Farmington, New York, Level pushes new boundaries for Violet Mary in both production and performance. The album is an aural depiction of the band's growth over the past year and a half, exploring new aspects of songwriting, arrangement, and vocal harmonies, and experimenting with more elaborate orchestration.
Since forming in 2007, Violet Mary has released two albums (2008's Marionette and 2010's After the Plunge) and played live at dozens of venues across Western New York. Highlights include the Rochester Lilac Festival and Party in the Park, the Fairport Music and Food Festival, the Utica Music and Arts Festival, and the New York State Fair. In the fall of 2011, Violet Mary was selected from over 130 regional entries to be part of WXXI's third season of OnStage, which aired on February 26, 2012.
Looking ahead at 2013, a DVD release of that OnStage performance is planned, and the band is looking forward to continuing its regular appearances at Rochester-area venues, as well as increasing appearances at new locations in Syracuse, Buffalo, and throughout the Northeast.
***
John Cole Blues Band
Saturday, 10/18
10 pm-12 am
no cover
Blues
website: www.johncolebluesband.com
Bio:
John is well known throughout upstate New York; his show features soul ballads and R&B favorites in addition to the blues, delivered with John's trademark smooth vocal style and fiery guitar sound that consistently delights crowds of all ages and backgrounds. No one leaves one of John's sets without having been touched by his music. Consider that, along with the band's repertoire of all the favorite blues tunes, as well as more than just a few ballads and R&B classics, and you know why they almost always close the house with the audience begging for just one more tune.
***
James Draudt
Wednesday, 10/22
6:30-8:30 pm
no cover
website: https://www.facebook.com/jamesdraudt76
audio: JamesdraudtReverbnation.com
Bio: James is one of Rochester's Premier Entertainers and can play Guitar, Slide Guitar, Bass, Keyboards and more. He has an amazing voice and can cover most any song from various Genre's. He has been playing music around Rochester and other areas for many years and it is time for him to move on.
His Audition for "The Voice" has brought out his confidence and the Love and Support from his followers an…d Fans here on FB has made it so much easier for him to play out and feel good about his music again. He did not make it on the show, but is real motivated and excited about his shows. his love of music and desire to continue writing songs!
***
Teressa Wilcox & Declan Ryan
Thursday, 10/23
6-8 pm
no cover
Acoustic Rock Duo
websites: http://www.teressawilcox.net/
http://declandeclandeclan.bandcamp.com/
Bio: Teressa Wilcox has an impressive track record, featuring high-profile festival appearances and writing credits on major radio hits. Her voice seamlessly covers territory between cool jazz and fiery rock and roll, and her band has the chops to match.
Declan Ryan is a songwriter from Rochester, New York.
***
Big Dog Country night with Flint Creek
Friday, 10/24
9:30-11:30 pm
$5 cover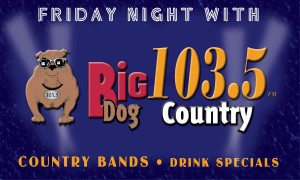 Country
website: http://www.flintcreekband.com/
Bio:
Ben Gordner/Lead vocals, acoustic guitar, harmonica
Ben Gordner, Lead Vocalist of FLINT CREEK, has been a natural in music all his life .Winning several singing contests in the area, Ben traveled to Ohio to compete in the USA Karaoke finals where he placed 3rd. Ben's dream of building a band has led to the formation of FLINT CREEK. He has been fortunate to join together with some like minded musicians to form FLINT CREEK . Ben has devoted all his time and effort into making FLINT CREEK a high energy modern country band that will raise the bar for all bands. Come watch Ben perform and interact with the audience and you will see why FLINT CREEK is one of the hottest bands in Upstate New York.
John Schulte/Lead guitar, backup vocals
Pat Patrone/Lead guitar, backup vocals
Joe McNinch/Bass guitar
Joe has been playing the bass guitar for over 10 years, starting in the Jr. High School Jazz Ensemble. He has studied music/bass at Eastman School of Music as well as studied music recording at Finger Lakes Community College. Musical influences include: Michael Jackson, Tower of Power, Stevie W0nder, Rush, & Borgore; just to name a few. Joe has played with bands such as Funknut, The Rhythm Dogs, The Scandals and most recently, Flint Creek. While playing with Funknut, he was featured as a musician on WXXI for their television series 'On Stage'. Born and raised in the Finger Lakes area of New York, Joe holds a bachelor degree in architectural design from Alfred State. He currently works for SWBR Architects in Rochester, NY.
Phil West/Drums
The Creek Monster
The 1st time the Creek Monster was seen by humans was on the day Flint Creek made the video for their song "Down To The Creek" which was filmed on the actual Flint Creek in Phelps, NY. To everyone's suprise, the monster emerged from the woods and joined in on the fun. Since then, he has delighted fans by appearing at random shows where he rallies the crowd and passes out beads, frizbees, shirts and other gifts. He is loved by kids despite his scarry appearance. Little is known about him except that he lives in the woods near Flint Creek, loves the band and the Creek Freaks and eats chicken.
***
Out of the Blue
Saturday, 10/25
10 pm-12 am
no cover
Blues
website: www.outoftheblue08.tripod.com/id2.html
Bio: Out of the Blue serves up a gumbo, chock full of rock-and-roll, blues, swing, folk and reggae with a generous portion of jam on the side. Our five-piece band covers tunes from the Allman Brothers to the Zombies and everything in between. We are not your mama's cover band!