Come out to the Sticky Lips Juke Joint for live music, four nights a week on the Sticky Stomp Stage!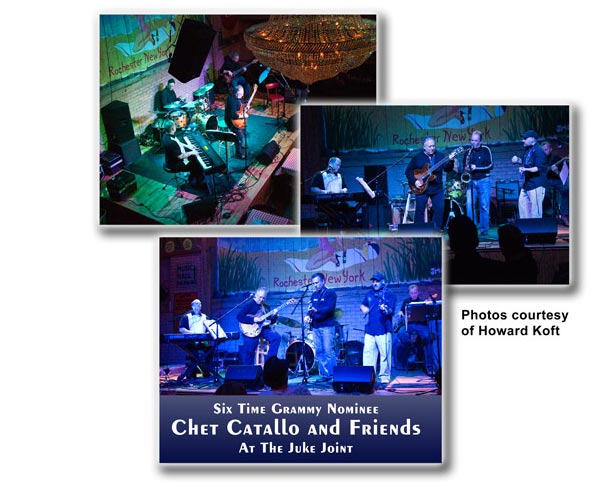 ***
Daniel Beaudoin
Wednesday, 10/15
6:30-8:30 pm
no cover
Acoustic Dirty Blues
website: http://m.soundcloud.com/danielbeaudoin
Bio: Daniel Beaudoin is a slide guitarist and song writer from the Buffalo area. Over the last several years he has been gigging in coffee shops and bars as a one man blues band playing his own songs and covering old bottle neck blues songs from the 30s and 40s. He brings a newer energy to these old songs with an amplified acoustic guitar accompanied by a hypnotic, stomping kick drum and a raspy howl.
***
Steve Grills and the Roadmasters
Thursday, 10/16
6-8 pm
no cover
Blues
website: http://www.stevegrills.com/
Bio: For Steve Grills, the Blues has been a life long journey. As a youngster, he heard the music of Big Bill Broonzy, Leadbelly and Lightnin' Hopkins from his father's record collection. Through the Beatles, Steve discovered Chuck Berry and he has not looked back since. He has searched out the roots of Rock and Roll, uncovering many great artists who have influenced and inspired him. Primarily among these are Robert Lockwood Jr., Earl Hooker, Freddie King and Albert Collins. Steve became friends with Robert Lockwood Jr after meeting him in 1978. In 1992, Robert invited Steve and his band to perform at his Legendary Blues Festival near Cleveland , Ohio. Steve later recorded with Robert on Shakin Smith's cd Harmonica Wizard.
Steve and his band the Roadmasters ( named after Earl Hooker's band) draw their repetoire from these and other artists, allowing contemporary audiences the opportunity to discover the vitality of the music of these legendary and influential musicians.
Steve has released a cd of recordings he did with pianist Ernest Lane entitled After Hours on the Toogaloo label. Steve is very excited to have had the opportunity to record with Ernest. Ernest's musical career reaches back to the late 1940's when he played and recorded with the engimatic delta blues guitarist Robert Nighthawk. Ernest backed Nighthawk on his Aristocrat (later Chess) recordings Black Angel Blues (Sweet Black Angel) and Annie Lee Blues. Blues scholars consider these recordings with Nighthawk to be among the greatest Post war Chicago blues records ever made.
***
Violet Mary
Friday, 10/17
9:30-11:30 pm
$3 cover
Rock/Modern/Alternative
website: http://www.violetmary.com/
Bio:
"What happens After the Plunge?" Violet Mary answers with Level, its third studio album, released on April 23, 2013. The self-produced album is an honest, dynamic, and hard-hitting collection of nine songs that take the listener on a journey from a challenge to victory to peace. Level is about movement—both the uncertain movement of trying to find one's footing in a difficult situation, and then the righting of the ship, leveling out and charting a steady course.
Tracked over six months at Belly of the Whale Studios in Farmington, New York, Level pushes new boundaries for Violet Mary in both production and performance. The album is an aural depiction of the band's growth over the past year and a half, exploring new aspects of songwriting, arrangement, and vocal harmonies, and experimenting with more elaborate orchestration.
Since forming in 2007, Violet Mary has released two albums (2008's Marionette and 2010's After the Plunge) and played live at dozens of venues across Western New York. Highlights include the Rochester Lilac Festival and Party in the Park, the Fairport Music and Food Festival, the Utica Music and Arts Festival, and the New York State Fair. In the fall of 2011, Violet Mary was selected from over 130 regional entries to be part of WXXI's third season of OnStage, which aired on February 26, 2012.
Looking ahead at 2013, a DVD release of that OnStage performance is planned, and the band is looking forward to continuing its regular appearances at Rochester-area venues, as well as increasing appearances at new locations in Syracuse, Buffalo, and throughout the Northeast.
***
John Cole Blues Band
Saturday, 10/18
10 pm-12 am
no cover
Blues
website: www.johncolebluesband.com
Bio:
John is well known throughout upstate New York; his show features soul ballads and R&B favorites in addition to the blues, delivered with John's trademark smooth vocal style and fiery guitar sound that consistently delights crowds of all ages and backgrounds. No one leaves one of John's sets without having been touched by his music. Consider that, along with the band's repertoire of all the favorite blues tunes, as well as more than just a few ballads and R&B classics, and you know why they almost always close the house with the audience begging for just one more tune.
***
James Draudt
Wednesday, 10/22
6:30-8:30 pm
no cover
website: https://www.facebook.com/jamesdraudt76
audio: JamesdraudtReverbnation.com
Bio: James is one of Rochester's Premier Entertainers and can play Guitar, Slide Guitar, Bass, Keyboards and more. He has an amazing voice and can cover most any song from various Genre's. He has been playing music around Rochester and other areas for many years and it is time for him to move on.
His Audition for "The Voice" has brought out his confidence and the Love and Support from his followers an…d Fans here on FB has made it so much easier for him to play out and feel good about his music again. He did not make it on the show, but is real motivated and excited about his shows. his love of music and desire to continue writing songs!
***
Teressa Wilcox & Declan Ryan
Thursday, 10/23
6-8 pm
no cover
Acoustic Rock Duo
websites: http://www.teressawilcox.net/
http://declandeclandeclan.bandcamp.com/
Bio: Teressa Wilcox has an impressive track record, featuring high-profile festival appearances and writing credits on major radio hits. Her voice seamlessly covers territory between cool jazz and fiery rock and roll, and her band has the chops to match.
Declan Ryan is a songwriter from Rochester, New York.
***
Big Dog Country night with Flint Creek
Friday, 10/24
9:30-11:30 pm
$5 cover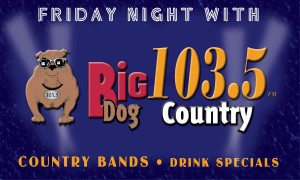 Country
website: http://www.flintcreekband.com/
Bio:
Ben Gordner/Lead vocals, acoustic guitar, harmonica
Ben Gordner, Lead Vocalist of FLINT CREEK, has been a natural in music all his life .Winning several singing contests in the area, Ben traveled to Ohio to compete in the USA Karaoke finals where he placed 3rd. Ben's dream of building a band has led to the formation of FLINT CREEK. He has been fortunate to join together with some like minded musicians to form FLINT CREEK . Ben has devoted all his time and effort into making FLINT CREEK a high energy modern country band that will raise the bar for all bands. Come watch Ben perform and interact with the audience and you will see why FLINT CREEK is one of the hottest bands in Upstate New York.
John Schulte/Lead guitar, backup vocals
Pat Patrone/Lead guitar, backup vocals
Joe McNinch/Bass guitar
Joe has been playing the bass guitar for over 10 years, starting in the Jr. High School Jazz Ensemble. He has studied music/bass at Eastman School of Music as well as studied music recording at Finger Lakes Community College. Musical influences include: Michael Jackson, Tower of Power, Stevie W0nder, Rush, & Borgore; just to name a few. Joe has played with bands such as Funknut, The Rhythm Dogs, The Scandals and most recently, Flint Creek. While playing with Funknut, he was featured as a musician on WXXI for their television series 'On Stage'. Born and raised in the Finger Lakes area of New York, Joe holds a bachelor degree in architectural design from Alfred State. He currently works for SWBR Architects in Rochester, NY.
Phil West/Drums
The Creek Monster
The 1st time the Creek Monster was seen by humans was on the day Flint Creek made the video for their song "Down To The Creek" which was filmed on the actual Flint Creek in Phelps, NY. To everyone's suprise, the monster emerged from the woods and joined in on the fun. Since then, he has delighted fans by appearing at random shows where he rallies the crowd and passes out beads, frizbees, shirts and other gifts. He is loved by kids despite his scarry appearance. Little is known about him except that he lives in the woods near Flint Creek, loves the band and the Creek Freaks and eats chicken.
***
Northeast Funk
Saturday, 10/25
10 pm-12 am
no cover
Funk
website: http://www.northeastfunk.com/
Bio: Northeast Funk (NEF) was formed in 2012.  NEF membership includes but is not limited to Glenn Beard (Bass), Darryl Brooks (Vocals),  Lady Shayla Brooks (Vocals), Chuck Davis (Drums), Doug Egling (Winds), Drew Gansz (Guitar), Ryan Johnson (Guitar) and Larry Singleton (Keyboards). The current blend of musicianship and comradery brings about a storm of Funk Jazz Fusion in epic nor'easter proportions.  NEF presents originals along with vocal and instrumental Funk music from Lettuce, Maceo Parker, Prince, Grover Washington Jr., The Meters, Ohio Players, EWF, AWB and many more.   Prepare for an unbridled on-slot of impulsive, impetuous, involuntary toe tap inspiring, butt cheek chair dancing, get up and get your grove on barrier busting rhythms, hits, licks, riffs and all out synergism in focused musical energy; more direct, soul penetrating and gut grabbing than pulsating sonic lasers.  Batten down the hatches, here comes Northeast Funk!
***
Miles Wide
Wednesday, 10/29
6:30-8:30 pm
no cover
Acoustic Rock
Bio: An amalgamation of rock, folk, and alternative, Miles Wide's vocal style soars through cityscapes and over vast wilderness, colorfully breathing powerful emotion into stories of life, love, and loss. With a tone reminiscent of artists like Dispatch, Mason Jennings, and the Avett Brothers, solo performer Kyle Donovan twists genres and styles together to create a sonic fabric of beautiful rock. After years spent in the shadow of the Rocky Mountains, he's returned to his hometown of Rochester, NY & released Moon Howls (Summer 2014), a debut album featuring close friends.
***
Uptown Groove
Thursday, 10/30
9-11 pm
no cover
Jazz/Lounge/Funk/Soul/Motown/Rock
website: http://www.theuptowngroove.com/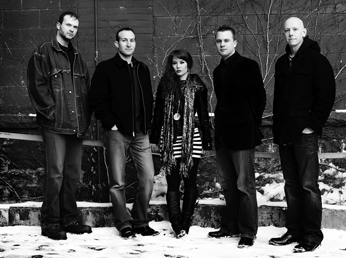 Bio: The Uptown Groove are from Rochester, NY. They are a 5-piece group that plays a variety of vocal-based jazz, swing, motown, R&B, Funk, Rock and Soul. The band performs at venues ranging from restaurants to festivals and from weddings to corporate functions (with the addition of an optional 3-piece horn section). Each member's musical background is unique, diverse and extensive, whereby enabling the band to seamlessly span various musical genres.
***
Halloween Party with Friday In America
Friday, 10/31
9:30 pm – 12 am
$5 cover
Rock/Folk/Americana
website: http://www.reverbnation.com/fridayinamerica
Bio: With a range of influences spanning from The Band to The Roots, Friday in America fuse elements of folk, rock, reggae, and hip hop. The result is a menagerie of musical styles – from the heavy rock and funk arrangements of songs like "Hitman" to the stripped-down folk of "Water". In 2011, the band released their first full length album "Cut the Brakes", and had the track "Water" featured in the closing scene of the AFI-Fest award-winning film The Hammer, which told the true story of deaf UFC fighter Matt Hamill. The album's rock and folk arrangements have garnered comparisons to artists like Jack Johnson and Bruce Springsteen, and have received regular rotation on shows like Scott Regan's "Open Tunings" (NPR). The band's love of all music and their ability to write and play across numerous mediums makes for a unique concert experience. They have opened for acts like Max Creek, Ekoostik Hookah, and the Ryan Montbleau Band, and are constantly fusing their disparate influences in a groove-oriented framework. On May 19th, 2012 the band releases their 2nd full length album "All These Ways We've Wandered".
with
Extended Family
Rock Jamband
website: http://www.reverbnation.com/extendedfamily
Bio: We are an original Rochester, NY rock jamband that brings a party wherever we go. The idea behind the band has always been to try and create music where nothing is off-limits. This has helped the band attempt to create an eclectic morphing of styles including bluegrass and pop while remaining true to their 70's rock roots.
Accomplishments include opening up for 7 Walkers, Max Creek, Rubblebucket, and supporting Three Heads Brewing at many launches. We have been featured in Freetime and City and heard on 98.9, 95.1, and sorethumbradio. Our CD, For All of You, was released on 9/27/14 and can be found online including iTunes and Google Play.
***
The Chairs
Saturday, 11/1
10 pm-midnight
no cover
Classic Rock
website: http://www.reverbnation.com/thechairsclassicrock
Bio: The Chairs began life as a 2 college professors (Mark and Brian); both chairs of their departments at Nazareth College. The group has grown into 5 teachers (2 college professors and 3 middle school music teachers).
The group plays a wide range of classic rock, from The Beatles, to Lynrd Skynrd, from Van Morrison, Hendrix, the Stones, Styx, CS&N, Doobie Brothers, Allman Brothers, Little Feat, Loggins & Messina, REO Speedwagon…Clapton, The Black Crowes, Zepplin…anything from the British invasion to FM rock!
***
J. Schnitt
Wednesday, 11/5
6:30-8:30 pm
no cover
American/Indie-Rock/Singer-Songwriter
website: www.jschnitt.com
Bio: "Prolific, multi-faceted songwriter From Utica NY who floors his audiences with subtle, startling, and often stark phrasing, alternately mixing straightforward honesty with abstract imagery and complex interpretations. An enigmatic performer who's songwriting prowess and unique stage presence cannot be missed."
***
Tim Ruffo Band
Friday, 11/7
9:30-11:30 pm
$4 cover
Country Rock
websites: http://www.timruffomusic.com/home.php
http://www.reverbnation.com/timruffo
Bio: Tim Ruffo has been influenced by a variety of Outlaw Country icons such as Waylon Jennings and Johnny Cash. He also found inspiration from Pink Floyd, Johnny Winter and the Rolling Stones. Growing up listening to his mother playing guitar and singing old country songs around a campfire, Tim had first hand exposure to music as an outlet and expression of life, whether it is during hard times or times to party hard. Tim left home at 16 years old, joining the Air Force. He traveled all the way to Alaska, meeting people and making memories, he learned how to live hard, work hard and play hard.
After recording his first solo album, "Take Me Away" in 2011, Tim Ruffo continued to play shows all over New York and Pennsylvania as a solo artist, with the Tim Ruffo Band and The Ruffo Brothers. Two years later, Tim decided it was time to get back in the studio and create more original music culminating in his most recent EP produced by Jeff DaBella. Auto Pilot Off (Def Jam/Universal) and Dena (Sono Recording Group/Earl Cohen Productions).
The August 2013 release "Long Long Day" moves you with the emotions connected to working hard, reconnecting with old friends, lost love, survival and hope. Tim Ruffo has opened up for Gretchen Wilson, Eddie Money and Joe Nichols as well as playing shows with Bloodshot artists The Deadstring Brothers and Whitey Morgan and the 78's.
In the New Year, Tim aspires to share his music with a larger fanbase in the Northeast part of the country and garner a spot on an indie label. Tim is backed by his four-piece country rock band. Catching the Tim Ruffo Band on a live stage is sure to get you off your feet and dancing. The love of live performing is what Tim Ruffo is all about.
***
The Mighty High and Dry
Saturday, 11/8
10 pm – midnight
no cover
Rock
websites: http://www.reverbnation.com/themightyhighdry
https://www.facebook.com/themightyhighanddry
Bio: With the influence of Rolling Stones, Black Keys, and Neil Young audible within their performances, The Mighty High & Dry's sound shines through each song, rooted by Kyle Vock's (mostly upright) deep-digging bass, Chris Teal's dynamic and crisp drumming, and Alan Murphy's guitar hooks and stylistically flexible voice. With lyrical tones that range from humanistic ("Here's To The King", "Trust Me Brother"), Dionysian ("Hangover Bridge", "Shine") to animalistic ("The Snake", "Love and War"), MHD paints life's adventure as an ever-unfolding mirror, which hangs over an altar with full bar. MHD's self-titled debut album is scheduled for release in August of 2013 and boasts 14 tracks that resonate as wildly as the favorite rock albums from your past and future. Murphy's song "Dam" has been chosen as a semi-finalist in the 2012 International Songwriting competition in the AAA category.
***
Nightfall
Wednesday, 11/12
6:30-8:30 pm
no cover
Acoustic Classic Rock and Originals
website: http://www.nightfallband.us
Bio: Since 1994 Steve and Lisa Lowden have been playing music together as a couple and as creative energies that found each other. Combining their love of acoustic oldies, including their originals, they bring great harmonies & melodies to any room. Because of their commitment to each other , they create beautiful music together!
***
The Moho Collective
Friday, 11/14
9:30-11:30 pm
no cover
Rock/Art/World
websites: http://www.themohocollective.com/
http://www.reverbnation.com/themohocollective
Bio: Drawing from disparate styles of music may be hard, but doing it with tastefulness is even harder. Yes, it's true that The Moho Collective combines a jazz trio's sophistication, the songwriting savvy of a classic Brill Building production team, the elbow grease of the Muscle Shoals house band, and an arena-rock outfit's muscles — the band even possesses an orchestra's penchant for epic gestures and an ethnomusicologist's drive to understand. But what stands out the most about The Moho Collective's music is how seamlessly all these sounds come together. Yes, The Moho Collective has the chops to blast the audience in a flurry of notes, but each of the band's members opts instead to make every note count. In fact, the notes they don't play say as much as the ones they do.
Perhaps unsurprisingly, all three members of The Moho Collective — drummer Ryan Barclay, guitarist Kurt Johnson, and bassist Justin Rister — have formal backgrounds in percussion. Where this might lead to territorial friction in other bands, Barclay, Johnson and Rister embrace each other's distinct approaches to timing and feel. Each member speaks his own rhythmic language, yet the band is able to find unspoken common ground. In the process, it weaves three dynamic layers of groove within a cohesive whole.
Additionally, as music educators Barclay, Johnson and Rister have never stopped looking at music from the perspective of students: Barclay has studied with Medeski Martin & Wood drummer Billy Martin as well as Brazilian percussion iconoclast Cyro Baptista; Rister with symphonic bassist Gaelen McCormick and percussionist Kristin Shiner-McGuire; and Johnson with Hindustani classical master Ustad Ali Akbar Khan, founder of the Ali Akbar College of Music.
If, when you envision the marriage of electrified rock and jazz, the word "fusion" immediately comes to mind, it's probably best that you think of The Moho Collective in terms culinary fusion instead. Like a team of skilled chefs, the members of The Moho Collective are always keen on making sure that any ingredient they add in a given moment doesn't intrude on the palette. As much stylistic ground as the band covers, each musical element in a Moho composition sits well with the rest. Drawing heavy inspiration from groups like Booker T. and the M.G.s, Santo & Johnny, and The Meters, The Moho Collective places as much of a premium on the art of arrangement as it does on exploration for its own sake. By staying focused in both domains, the music strikes an unparalleled balance.
***
Fat City
Saturday, 11/15
10 pm-midnight
no cover
Blues/Soul/R&B/Classic Rock
website: http://fatcityrocks.com/
Bio: Fat City is a hot new six piece group that will move your audience like no other! Our mission is to pump up the crowd and keep them dancing and smiling the whole night through! Fat City's unmistakable sound combines a unique blend of soul, funk, rock, R&B, and swing that is sure to please and bring the people back for more every time!! From classics to modern music and all points in between, our shows will intoxicate and satisfy the soul! The name was derived from New Orleans' most recognized holiday, "Fat Tuesday". Fat City makes every live performance like mardi Gras and leaves the audience feeling like they just celebrated on Bourbon Street!
***
The Hootn'Anges
9:30 – 11:30 pm
$5 cover
Friday, 11/21
Country/Alt/Rock
websites: http://www.hootnanges.com/
http://www.reverbnation.com/HootnAnges
Bio: The Hootn'Anges are an Alternative Country Rock Band from Western New York. With husband & wife duo, Luke & Ange Marino, on vocals and guitar & bass guitar, there is something so pure about their humorous lyrics & raw music. Their classically trained fiddle player, Greg Mach, took stage with the L&A duo in February of 2012 & brought such an original & enthusiastic sound to their show. Their newest & youngest member of the band is Anton Oliverio. He is well known for being one of WNY's best Rock drummers, winning many drum competitions all over the world. They began to refer to themselves as The Hootn'Anges, when they decided to pitch themselves to Nashville. This name clearly reflects their redneck, hoe-down, knee slapping, good-time, & hootenanny style music. This energetic young band recently released their first CD on iTunes called; "Big Deal In A Small Town", which has already sold more than 15,000 copies worldwide. Their song, "Gettin' Out", has gained a lot of attention on the National Radio breaking into the top 100, & is also the song they performed live on the morning channel 9/Syracuse's Bridge Street News. (See links below for interview, music video, article & live performance) They kicked off their "Rednecks Are Coming Summer Tour" in June. Some of the National Artist they've accompanied in the last three months include: Josh Thompson, Carrie Underwood, Brad Paisley, Craig Campbell, Parmalee, Chris Higbee, Eric Paslay, The LoCash Cowboys & The Custom Taylor Band & traveling to Rochester, Syracuse, & all over New York. Other big acts they are looking forward to touring with include Big & Rich, Jana Kramer, Charley Daniels' Band, & Dwight Yokum in Los Vegas. Their tour will also hit California, Florida, North Carolina, Kentucky, & Tennessee. Their music, show schedule, music videos, sponsors, and merchandise can all be found at http://www.hootnanges.com. Check them out on reverbnation, youtube, facebook, twitter, instagram, and google. They continue to hit the top of the charts in their genre on reverbnation, which also named them one of the top break-out country groups of 2014. The Western New York Music Awards also named The Hootn'Anges the #1 Country Band in September of 2014.
***
Spectra
Saturday, 11/22
10 pm-midnight
Rock/Blues/Latin/Fusion
websites: http://www.spectrarochester.com/
http://www.reverbnation.com/spectra4rochester
Bio: Spectra is a group of experienced musicians familiar to the regional music scene. Bringing you shades of rock and blue-eyed soul. Our set list is designed to get you up and moving to our own stylized versions of rock, blues, Latin, and jazz-fusion tunes. If the mood strikes ..we may even cobble up an old country tune to change things up.
***
Prime Time Funk
Friday, 11/28
9:30-11:30 pm
$10 cover
Rhythm and Blues Horn Band
website: http://www.primetimefunk.com/
Bio: Prime Time Funk is a 10-piece powerhouse horn-driven band. The long-awaited second Prime Time Funk CD has finally arrived! The self-produced Hear and Now contains 10 masterful tracks. Visit www.primetimefunk.com for more information.
***
The Galileo Band
Saturday, 11/29
10 pm-midnight
no cover
Rock/R&B/Soul/Latin/Jazz
website: http://thegalileoband.com/
Bio: Galileo is a diverse band playing a diverse music selection unlike any you have heard. You bring 3 friends to our gig and we will cover a favor artist of each friend. Donnie Ashford (guitar, musical director) has been in the music business for over 30 years and keeps the groove moving in the right direction. Dante Varrasso, vocals can light it up from the Bill Haley and the Comets to the Counting Crows. Bianca Pabon supplies the high energy and sultry vocals of the diverse music of Galileo. Alan Gurwitz is the steady bass man. His licks and style is felt on every cover that the band does. Tony Ferro gives the fresh sound on the keyboards that make the Galileo Band the fresh/diverse new style band that it is. Thalia Pabon brings the spice vocals to the band. Thalia vocals complements beautifully the vocals of the other singers. Gil Beverly, the keeper of the beat. You want rock, he has it. You want to ease on down the road to some funk and soul? He has you covered.
Galileo is new and different from the other cover bands in the area. No one has our range of covers and sound good at it. Come check us out. You will be glad that you did. Groove awhile with Galileo.