Come out to the Sticky Lips Juke Joint for live music, four nights a week on the Sticky Stomp Stage!

***
Nick LeDuc & special guests
Wednesday, 5/13
6:30-8:30 pm
no cover
Acoustic Americana and Rock
websites: http://www.reverbnation.com/lastnote
https://www.facebook.com/lastnoteband?ref=hl
video/audio: Www.reverbnation.com/lastnote
bio: Founded in 2007 by Nicholas LeDuc, LastNote has evolved from an idea inside frontman Nick LeDucs head, to an unstoppable force on the Rochester music scene and points far beyond. With a collection of fresh sounding original tunes penned by LeDuc himself as well as a huge stable of covers ranging from The Grateful Dead to the Pixies, LastNote has been making itself known throughout Rochester and across NY state for quite sometime now. Having opened for National acts such as Max Creek, Blues Traveler, The Sim Redmond Band, Ryan Montbleua band, Ozomatli and a host of others, LastNote has been steadily climbing the ladder of opportunity since its inception.
http://www.einpresswire.com/article/256289171/new-york-artist-to-release-new-solo-album-with-a-refined-rock-groove
***
JY and Dee Show
Thursday, 5/14
6-8 pm
no cover
Acoustic Rock
website: http://originalrevolver.com
Bio: JY (John Yeara) & Dee (Don Mancuso) have been performing together in 'Revolver' for 2 years now. Mancuso, of course, is the local guitar legend that was with Lou Gramm in "Black Sheep' and that was just the start of his career. Since then he was with Cheater, Red Heart, Celtic Fire, Johnny Smoke, and The Lou Gramm Band. He still has his own "D-Drive" solo project. Dee has produced many c.d.'s with 'D-Drive.
Yeara is a founding member of Revolver dating back to 1976 who was actually influenced and fascinated by the stories about Mancuso, who was known to him as the teenage 'whiz kid' in Black Sheep. The fact that Mancuso had been so well known at a young age inspired Yeara to carve his own rock n roll niche. JY has also performed with Grey Haven, The Connectors, East Coast Connection, and many others. His formal training at Nazareth College as a musician and a music teacher, gave him ther skills to play many styles and perform w/ many local acts, fill in w/ pit bands (from Godspell to Sound of Music), to his own solo work, JY has produced one c.d. "From Mr. 66″
***
The Crawdiddies
Friday, 5/15
9 pm-12 am
$5 cover
Americana and Blues
websites: http://www.thecrawdiddies.com/ and https://www.facebook.com/TheCrawdiddies
with Grand Canyon Rescue Episode
Acoustic Electric Americana
website: http://grandcanyonrescueepisode.com/
bio: The Crawdiddies: The Crawdiddies are a band on a mission. The goal? To find your heart string that shares the resonant frequency of your tailfeather and pluck it!
And pluck they do. Using traditional acoustic instruments, the Crawdiddies conjure an exciting musical experience. Drawing from several troves of American roots music including Delta Blues, Appalachian Old-Time, Bluegrass, and R&B, they are equally at home on stage or around the camp fire.
A staple of the Rochester scene, the Crawdiddies – Washboard Dave, Banjo Ben, Bassman Jay Chaffee, and the magnificent Heather Taylor – have created bluesy grooves all over the city from Lovin' Cup to Hose 22, Abilene and The Lilac Festival.
"The whole band has a genuine casualness to it, which ultimately gets under collars and skin until you can't resist any longer." Frank DeBlase
bio: Grand Canyon Resuce Episode: Formed in 2005, Grand Canyon Rescue Episode is a collaboration of diverse musicians in Rochester, New York who create their own unique blend of acoustic-electric Americana. They celebrate, explore, and expand on the rich traditions of American roots music, effortlessly blending a catalogue of original material amongst songs originating from across the full spectrum of American musical traditions. Haunting ballads, soaring harmonies, foot stomping two steps, and barn burning rockers are woven together to form a canvas for Grand Canyon Rescue Episode. Consisting of five songwriters and vocalists, guitars, dobro, banjo, bass, and drums, the band prides itself on not being limited to a single genre, and use a wide array of lyrical and musical brushstrokes to accentuate and venerate the light and dark veins which run through a distinctly American musical landscape. Performing acoustic and electric, the band finds itself equally at home in coffee shops, cafes, pubs, nightclubs, theaters, dance halls, and festivals.
***
The Taint
Saturday, 5/16
10 pm-12 am
no cover
Rock
bio: The Taint is celebrating 15 years of playing heavy modern alternative without apology — Foo Fighters, Chili Peppers, Rage Against the Machine, Shinedown with a few fun surprises thrown in. It's like watching a train wreck — you just can't avert your eyes.The current line up includes original members Erik Welsh & John Akers (both previously from Warner Bros. recording artists Hard Rain), Dr. David Kloch on guitar and bass player A.D. Zimmer (currently with Lou Gramm & 50/50).
***
Gospel Brunch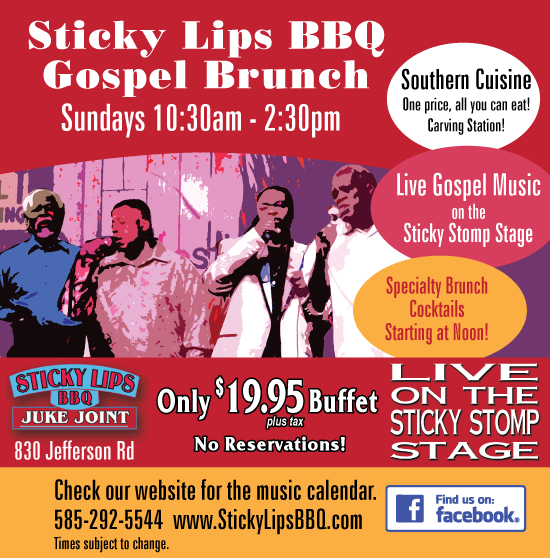 May 17, 2015
10:30am-2:30pm
The Anointed Logins
Performing during the Sticky Lips BBQ Juke Joint Gospel Brunch
***
John Bolger & Friends
Wednesday, 5/20
6:30-8:30 pm
no cover
Blues/Rock/Swing
website: https://www.gigsalad.com/john_bolger_band_rochester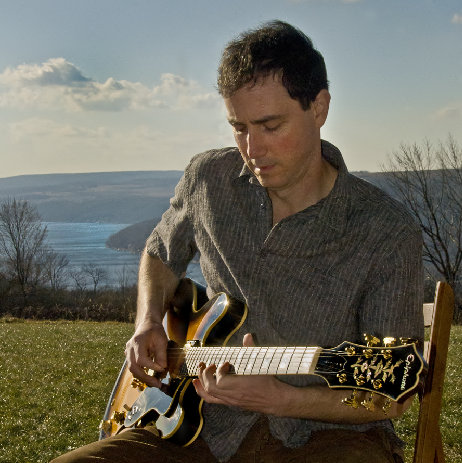 BIO: John Bolger on electric guitar and vocals, accompanied by professional drummer and bass guitarist. Dance or sit back and listen! They play as a three or four piece band, a wide variety of rock 'n' blues, swing, rhythm & blues. Late 60's and early 70's rock.
***
Micah
Thursday, 5/21
7-9 pm
no cover
Singer/Songwriter
website: www.facebook.com/micahmusic
Bio: Micah's music is a touch of folk mixed with some soul and topped off with a little bit of heartbreak. The last 3 years have brought him coast to coast and back again playing clubs, colleges, living rooms and everything in between. With his strong affinity for bacon and flannel, some have deemed him the Ron Swanson of singer-songwriters. Picture the soulful powerhouse vocals of John Legend behind a guitar with a laid back style like Ray LaMontagne.
***
Wolf Mountain
Friday, 5/22
9:30-11:30 pm
no cover
Country/Southern Rock
websites: http://www.reverbnation.com/wolfmountainband
https://www.facebook.com/pages/Wolf-Mountain/185393164843320
bio: Wolf Mountain" is a dynamic new group in Western NY. Playing traditional to top 40 covers and classic southern rock tunes, they put their own powerful influences to every tune.You have to hear the strong original songs , several already recorded in Nashville. Powerfull vocals with strong harmonys , make this the hot newcomer act in the Rochester area.
***
Spectra
Saturday, 5/23
10 pm-12am
no cover
Rock/Blues/Latin/Jazz-Fusion
website: www.spectrarochester.com
facebook: https://www.facebook.com/spectrarochester/app_2405167945
bio:Spectra is a group of experienced musicians familiar to the regional music scene. Bringing you shades of rock and blue-eyed soul, their set list is designed to get you up and moving to their own stylized versions of rock, blues, Latin, and jazz-fusion tunes. If the mood strikes ..they may even cobble up an old country tune to change things up.
***
Gospel Brunch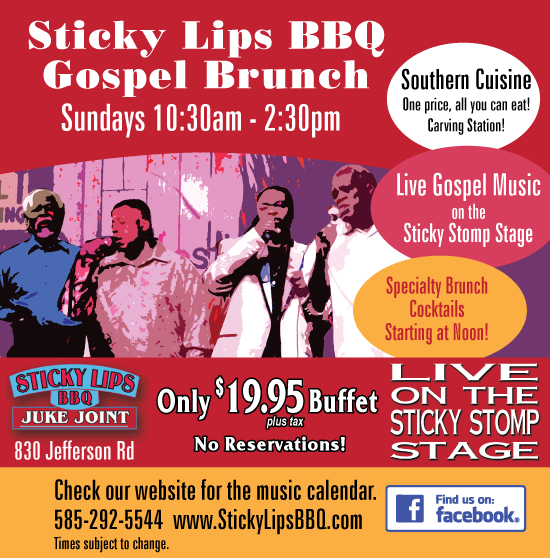 May 24, 2015
10:30am-2:30pm
Chico and The New Sons of David
Performing during the Sticky Lips BBQ Juke Joint Gospel Brunch
***
Your Daddy's Rock & Roll
Wednesday, 5/27
6:30-8:30 pm
no cover
Classic Rock 60'S-80's
website: https://www.facebook.com/pages/Your-Daddys-Rock-Roll-featuring-Bob-Kosty/178649568819258?fref=ts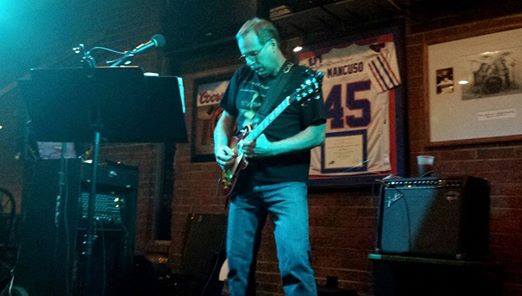 BIO: Using studio recorded analog backing tracks recorded with real 'live' musicians, Bob plays a wide range of classic rock, 60's through 80's both acoustic and electric, mild to wild… and everything in between. From Bob Dylan, Van Morrison, Eagles up to Clapton/Cream, Tom Petty, Deep Purple, even Led Zep and Hendrix (and I throw in some Pink Floyd too!)
***
Son House Night with Genesee Johnny & Guests
Thursday, 5/28
7-9 pm
no cover
Blues & Roots Performance Jam
Show description: A Blues and Roots performance Jam, in tribute to the 1930's Delta Blues Roots legend Eddie James "Son" House Jr., who was rediscovered living in Rochester, NY in the 1960s.
Opening set by host, Genesee Johnny, followed by a featured artist and concluding with blues jam and open mic style performances. (Sign up sheet for performers.)
All blues and roots music styles are welcome!
***
Joe Brucato & The Joyous Noise
8 pm doors; 9:30 pm show
$10 cover
Friday, 5/29
Singer/Songwriter
website: https://www.facebook.com/joebrucato?fref=ts
Bio: Joe Brucato is an award winning singer and songwriter .. Joe will be joined by his backing band The Joyous Noise..featuring Mark Terranova on bass , Levi Bennett on drums and Mike Gladstone on guitar…Joe Brucato & The Joyous Noise are a hard hitting passionate soul rock band and will be playing choice songs from Joe's 4 original CDs ..
***
Mighty High and Dry
Saturday, 5/30
10 pm-12 am
no cover
Rock
website: https://www.facebook.com/themightyhighanddry
Bio: With the influence of Rolling Stones, Black Keys, and Neil Young audible within their performances, The Mighty High & Dry's sound shines through each song, rooted by Kyle Vock's(mostly upright) deep-digging bass, Chris Teal's dynamic and crisp drumming, Alan Murphy's guitar hooks and stylistically flexible singing, and Mike Frederick's edgy guitar talk.
With lyrical tones that range from humanistic ("Here's To The King", "Trust Me Brother"), Dionysian ("Hangover Bridge", "Shine") to animalistic ("The Snake", "War It Is"), MHD paints life's adventure as an ever-unfolding mirror, which hangs over an altar with full bar.
***
Gospel Brunch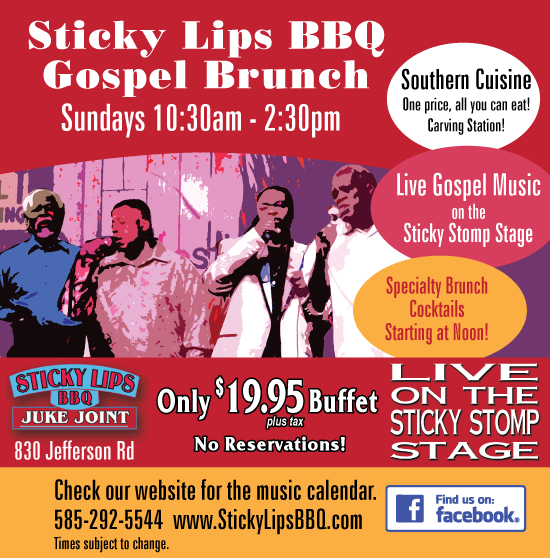 May 31, 2015
10:30am-2:30pm
Act TBD
Performing during the Sticky Lips BBQ Juke Joint Gospel Brunch
***
The Rb Gioia Experience
Wednesday June 3 2015
6:30-8:30 p.m.
no cover
GENRE: Acoustic Rock
FACEBOOK: http://facebook.com/therobgioiaexperience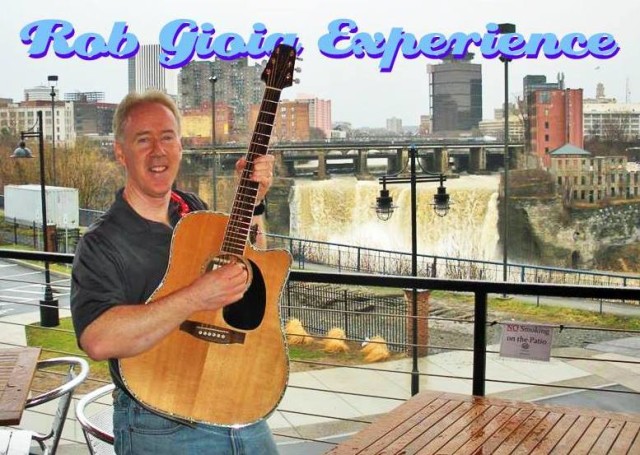 BIO: Rob Gioia plays all genres- rock, blues, pop, country, bluegrass- you can expect to hear some gems that you know and love!​
***
Paul Strowe
Wednesday June 10 2015
6:30-8:30 p.m.
no cover
WEBSITE: http://www.paulstrowe.com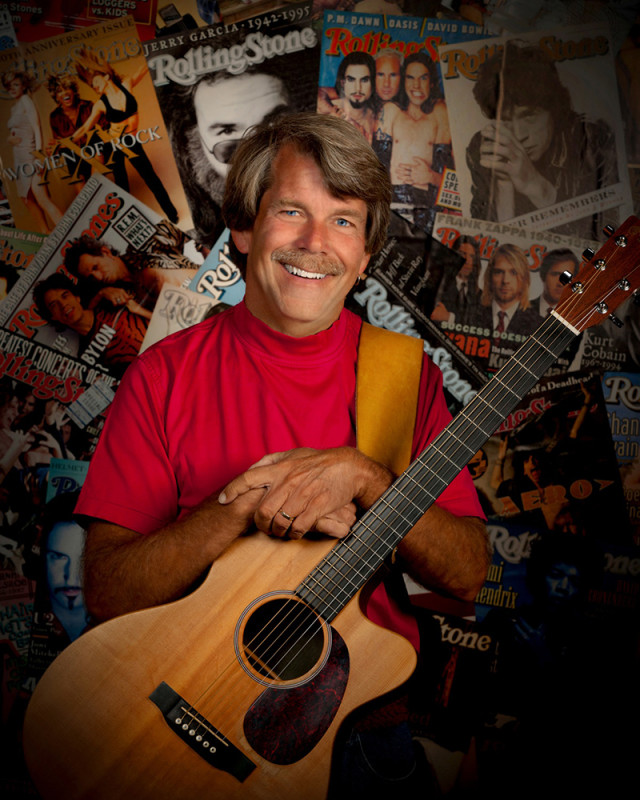 BIO: Native of Rochester, NY, Paul has been called " The Human Jukebox " because of his knowledge of over 700 songs and extraordinary recall of classic tunes. Utilizing a digital harmonizer Paul can sound like three singers at once (Crosby, Stills and Strowe?). An accomplished singer, song writer and guitarist, Paul has been performing since his teens (a few decades or so) at clubs, colleges, weddings, private parties, concerts, cruise ships and more.