Come out to the Sticky Lips Juke Joint for live music, four nights a week on the Sticky Stomp Stage!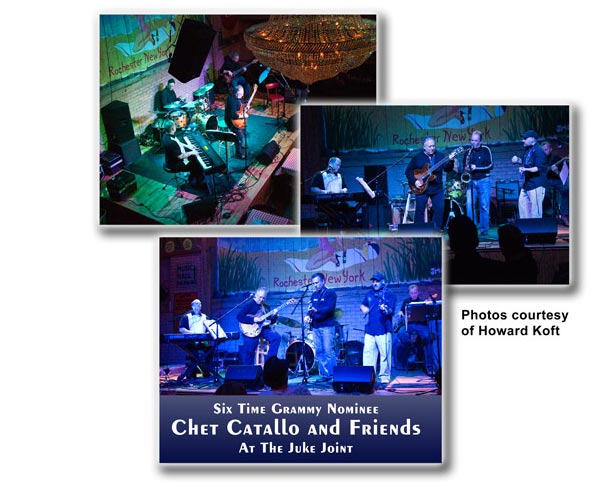 ***
Jeff Riales and Bruce Diamond
Wednesday, April 23rd
show: 6:30-8:30 pm
no cover
Acoustic Americana
***
Dan Eaton Band
Thursday, 4/24
9-11 pm
no cover
Rock/Americana
Bio: Dan Eaton is the host of "Cooking at Home with Dan Eaton" on Time Warner Cable News Channel 9. His
band's musical style is crowd pleasing Americana rock. Dan and his band regularly perform at clubs and
festivals in the region and as a front man; he is a crowd pleaser with his engaging stage presence and
skill as a singer, guitarist and original song writer.
https://myspace.com/daneatonband
https://myspace.com/daneatonband/music/songs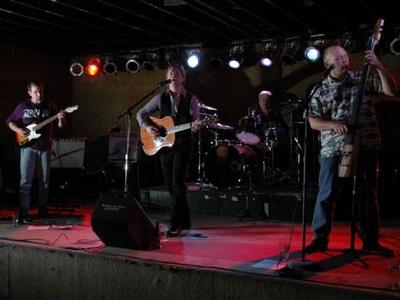 ***
Big Dog Country 103.5 Night with Hootn'Anges
Friday, 4/25
9:30-11:30 pm
$3 cover

Country
Hootn'Anges is an acoustic 3-piece alt-country band from Western New York State. Performing both originals and covers, this hot energetic musical trio is sure to both entertain and amaze. Guitarist/vocalist Luke Marino is the creative force behind the original songs. Angela Oliverio's singing is shockingly powerful, and she also plays keys and percussion in their live performances. Fiddle player Greg Mach is the newest member of the band and his blazing licks will set any dance floor on fire.
https://www.facebook.com/Lucasandangela
***
Last Note
Saturday, 4/26
10 pm-midnight
no cover
Rock
An original Refined Rock-Groove band that combines classic guitar styles and intoxicating rhthyms accented by Nick LeDuc's unique vocal style to give you, the listener, one of the freshest sounds heard on the music scene in a very long time. From funk to blues, and rock to folk there's a little something in between all of it that comes to make up the Last Note sound.
***
Ben Sheridan
Wednesday, April 30th
show: 6:30-8:30 pm
no cover
Acoustic
***
The Moho Collective
Friday, May 2nd
Show: 9:30 pm – 12:30 am
$5 cover
Rock/Art/World
http://www.themohocollective.com/
Bio: Drawing from disparate styles of music may be hard, but doing it with tastefulness is even harder. Yes, it's true that The Moho Collective combines a jazz trio's sophistication, the songwriting savvy of a classic Brill Building production team, the elbow grease of the Muscle Shoals house band, and an arena-rock outfit's muscles — the band even possesses an orchestra's penchant for epic gestures and an ethnomusicologist's drive to understand. But what stands out the most about The Moho Collective's music is how seamlessly all these sounds come together. Yes, The Moho Collective has the chops to blast the audience in a flurry of notes, but each of the band's members opts instead to make every note count. In fact, the notes they don't play say as much as the ones they do.

 Having shared the stage with such acts as Soulive, Rusted Root, Keller Williams & many others, the band is now touring in support of their second release, Annica.
with
The End Men
Heavy Blues/Blues-tinged Rock & Roll
Bio: The End Men were created in 2010 as a three piece, losing a member in 2011 and remaining a core two-piece with an extended family to this day. Composed of Matthew Hendershot (guitar and vocals) and Livia Ranalli (drums, percussion and vocals), the average listener would be surprised to find that the powerful sound The End Men project is only coming from two people. With the raw, rasp-soaked vocals and the guitar-split to give the illusion of a bass, along with the rock solid drum pocket peppered with found percussive elements, the band rides a wave of dirty blues rock and vaudevillian stomp. In a few short years, The End Men have carved out a name for themselves in their home base of NYC, and drop jaws and turn heads with every show they perform.
***
Great Vagrant
Saturday, May 3rd
Show: 10 pm-midnight
no cover
Bluegrass/Americana/Folk
https://www.facebook.com/greatvagrant
Bio: Featuring students from Eastman School and Music and the University of Rochester, Great Vagrant provides an eclectic mix of traditional bluegrass tunes, original songs, and indie covers. Eli Greenhoe (vocals and guitar), Tahlia Cott (vocals and fiddle), Craig Rogoff (mandolin) and Ryder Eaton (upright bass) infuse a new energy into traditional songs that will keep your toes tapping!
***
West of the Mark
Friday, May 9th
Show: 9:30-11:30 pm
$5 cover

Big Dog Country Night
Bio: The band has been honored with "Best Country Act" from Artvoice Magazine in 2013! Also honored with same award by Artvoice in 2011 along with "Best Male Vocalist" by Nightlife Magazine. Winner of 6 awards in the Buffalo region in 2010. They include "Best Country Band" at the Nightlife awards. Other awards are Nightlife Magazine "Best male vocalist" and "Best Country Guitarist". Buffalo Music Awards "Best country Guitarist", "Best Country Drummer", and "Best Country Keyboardist"
West of the Mark is widely regarded as the top performing country band in Buffalo area. We keep a busier schedule than most other bands in any genre throughout the summer as demand is high for us.
The band has opened for 30+ National Acts since 2004 and that number grows yearly.
***
The John Payton Project
Saturday, May 10th
Show: 10 pm-midnight
no cover
Funk/Rock/Soul
https://www.facebook.com/pages/The-John-Payton-Project/109097409157239
Bio: Flavors of funk, reggae, ska, new-wave, soul, rock, and more coalesce in their sets, and one of its greatest strengths is the dance of its many styles. At a JPP show the band might take you from a deep reggae groove to a Talking Heads cover, from touches of Band of Gypsies-era Hendrix to flashes of eighties Bowie, weaving a kaleidoscopic soundscape that spans decades and nations. Not disjointed, but nebulous; tight, but soulful; frenetic, but funky, and always so very danceable, the John Payton Project can surely hold down a crowd.
***
Old Hippies
Friday, May 16th
Show: 9:30-11:30 pm
no cover
Bio: For these time traveling old hippies, Bill McDonald, Jim Catino, Kay McMahon,Vinnie Pastore, and Jim Sweet, it has always been about the music. Beginning on front porches, in fields and parks and around the campfires of the sixties, the seed was planted. It has grown over the years as they have traveled across the North American continent, entertaining countless numbers of entertainment revelers, while continuing the journey….
Now they've come full circle with an enduring passion for the music of their youth. The music of the Old Hippies is acoustic and a varied brand, be it their own creative songs or recognizable covers from a golden musical era: the fifties, sixties and seventies and on and on…, nostalgic to those who lived it and romanced by those who didn't.
They have brought with them those unmistakable vocal harmonies and pleasing acoustic renditions of so many great tunes…missed by many, remembered by most and loved by all. When the Old Hippies sing and play, it's an event for all to share. Invite us over for an afternoon or evening of wonderful music.
Old Hippies will leave everyone with…. a smile on their face, peace in their mind, and a song in their heart!
***
Mighty High and Dry
Saturday, May 17th
Show: 10 pm-midnight
no cover
Rock
https://www.facebook.com/themightyhighanddry
Bio: With the influence of Rolling Stones, Black Keys, and Neil Young audible within their performances, The Mighty High & Dry's sound shines through each song, rooted by Kyle Vock's (mostly upright) deep-digging bass, Chris Teal's dynamic and crisp drumming, Alan Murphy's guitar hooks and stylistically flexible singing, and Mike Frederick's edgy guitar talk.
With lyrical tones that range from humanistic ("Here's To The King", "Trust Me Brother"), Dionysian ("Hangover Bridge", "Shine") to animalistic ("The Snake", "War It Is"), MHD paints life's adventure as an ever-unfolding mirror, which hangs over an altar with full bar.
***
Goodness
Friday, May 23rd
9:30-11:30 pm
$5 cover

Big Dog Country Night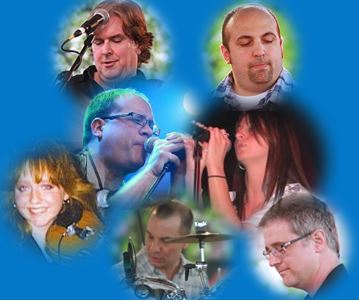 Bio: The best of today's contempory Country Music!
***
Violet Mary
Friday, May 30th
Show: 9:30-11:30 pm
$3 cover
Blues Rock
Bio: "What happens After the Plunge?" Violet Mary answers with Level, its third studio album, released on April 23, 2013. The self-produced album is an honest, dynamic, and hard-hitting collection of nine songs that take the listener on a journey from a challenge to victory to peace. Level is about movement—both the uncertain movement of trying to find one's footing in a difficult situation, and then the righting of the ship, leveling out and charting a steady course.