Come out to the Sticky Lips Juke Joint for live music, four nights a week on the Sticky Stomp Stage!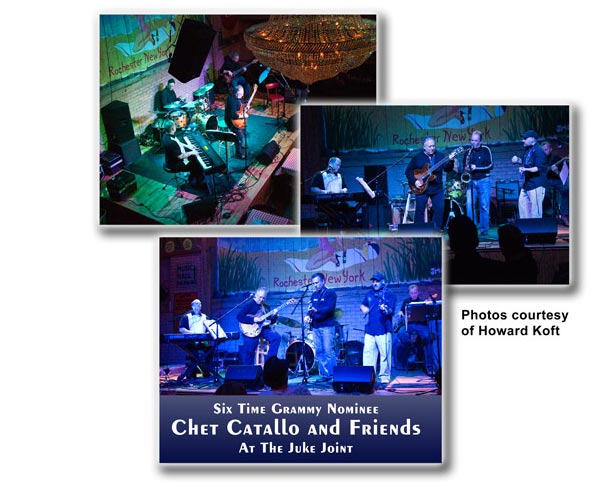 ***
MilesWide
Wednesday, 3/4
6:30-8:30 pm
no cover
Acoustic/Rock/Alternative
website: http://mileswide.com
Bio: An amalgamation of rock, folk, and alternative, Miles Wide's vocal style soars through cityscapes and over vast wilderness, colorfully breathing powerful emotion into stories of life, love, and loss. With a tone reminiscent of artists like Dispatch, Mason Jennings, and the Avett Brothers, solo performer Kyle Donovan twists genres and styles together to create a sonic fabric of beautiful rock. After years spent in the shadow of the Rocky Mountains, he's returned to his hometown of Rochester, NY & released Moon Howls (Summer 2014), a debut album featuring close friends.
***
Dan Eaton solo
Thursday, 3/5
7-9 pm
no cover
Original/American Rock & Roll
website: https://www.facebook.com/DanEatonBand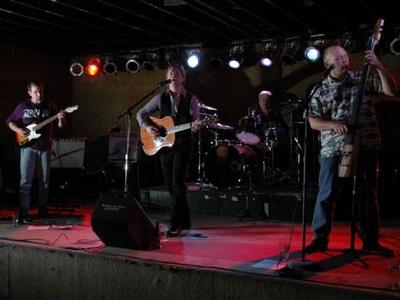 ***
Big Mike and The Motivators
Friday, 3/6
9:30 pm
no cover
Blues/Soul/Rock
websites: http://www.reverbnation.com/bigmikethemotivators4
https://www.facebook.com/BigMikeandTheMotivators
Bio: Big Mike & The Motivators is an up and coming high energy quintet based in Rochester N.Y. Our line-up consists of Mike D'Aurizio on lead vocals and harmonica; Carmen Verzillo; guitar; Jonathan Tucker, piano and organ; Phil Supernault, bass guitar; and Marc Zimmerman, drums and vocals.
Our music is best described as American roots music and our performances are a rousing evening of blues and soul, with a dose of rock and roll.. In our song book you'll find many well-known favorites by legendary artists and, as well, original songs that meld well with our choice of cover material. Fans consider us passionate, and intensely engaged with our music. Our entire song book is dedicated to engaging our audience, to get them out of their seats and moving. The dance floor is a busy place at a Big Mike & The Motivators show.
We are a band of seasoned veterans of the national and local music scene. Members of this band have opened for James Cotton, Johnny Copeland, Robert Cray, Pinetop Perkins, The Knighthawks, Shemekia Copeland, Isaac Hayes, Tower Of Power, Richard Ray Farrell, and Sharon Jones and The Dap Kings. We've also played alongside Greg "Fingers" Taylor, long time harmonica player in Jimmy Buffet's band, Ernest Lane of The Ike Turner Blues Review, and Richard Ray Farrell. Some of us also sit in with local artists Joe Beard and John Cole.
Big Mike & The Motivators is as comfortable on a large festival stage in front of thousands of people as we are on the smallest of stages in a more intimate setting. In any venue we guarantee 100 percent of our talents and performance art at each and every show. With an ever-growing fan base, and web presence, Big Mike & The Motivators is a band to watch. As a fan stated recently, "These guys are honest musicians."
Prepare to be MOTIVATED!
***
Flying Boxcar
Saturday, 3/7
10 pm
no cover
Blues/Rock
website: https://www.facebook.com/?sk=h_chr#!/pages/Flying-Boxcar/459929645156

***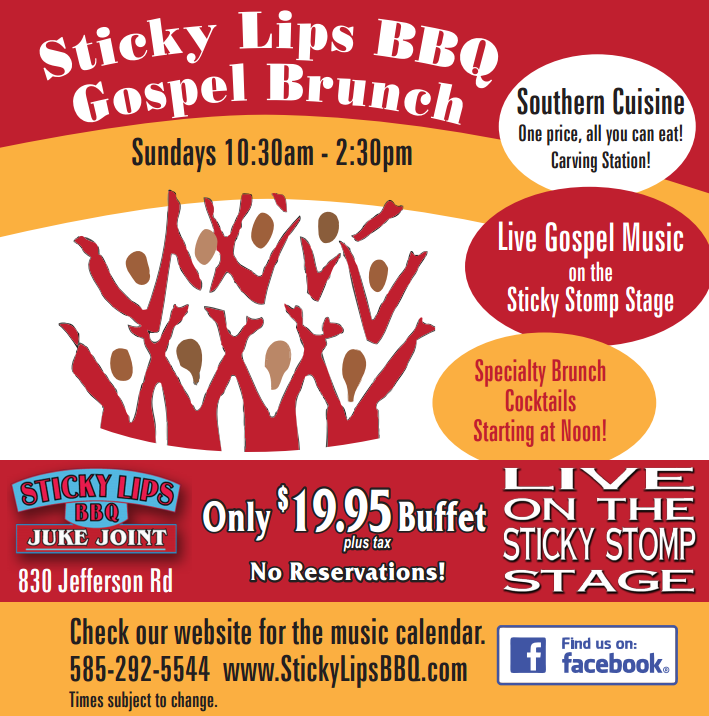 Wayne Anthony Norwood and The Children of God
March 8, 2015
Performing during the Sticky Lips BBQ Gospel Brunch!
10:30am – 12:30pm
***
Igor & The Red Elvises
Tuesday, March 10
8pm-10pm
$15 cover
ADVANCE TICKETS available for $10
at Bop Shop Records: 1460 Monroe Ave, 14618
and Record Archive: 33 1/3 Rockwood Street, 14610
Surf-Rockabilly-Klezmer-Reggae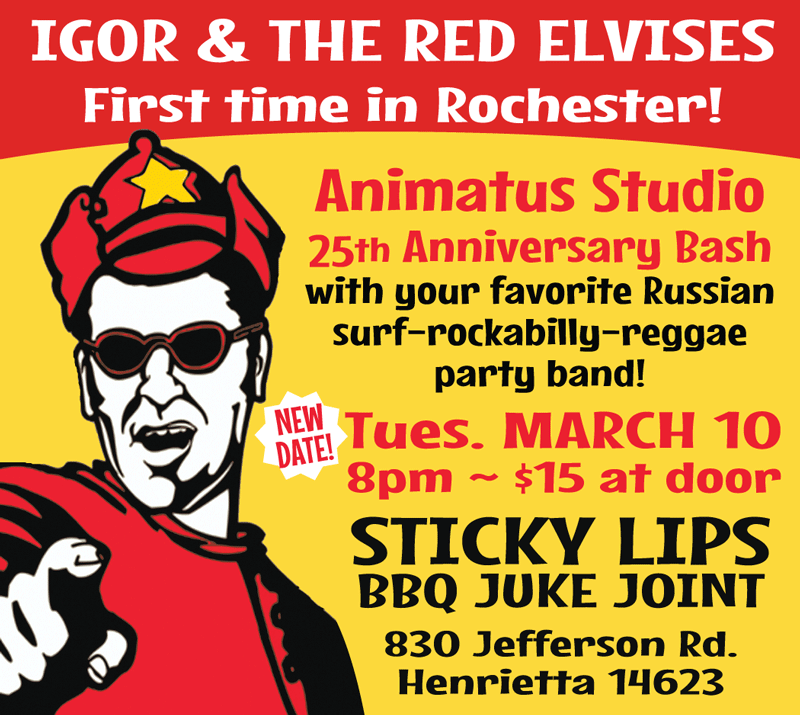 Animatus is turning 25! And what better way to celebrate than with everyone's favorite party band, Igor and The Red Elvises! If you've never seen them live, you're in for a real treat. It's impossible not to dance and sing along. Pajamas optional!
Website: http://www.redelvises.com/
BIO: If Igor and Red Elvises aren't in the middle of a tour, they are getting ready for the next one – this is a group that is constantly in motion and consistently evolving. Singer, songwriter, guitarist and showman extraordinaire Igor Yuzov is perpetually globetrotting and in the process he has found scores of wildly talented, entertaining musicians to bring into the fold of this increasingly international party band.
Red Elvises started as a Russian group, playing what they dubbed "Siberian Surf Rock". Since then the band has included musicians from many other countries including United States, Israel, Puerto Rico and Bulgaria, to name just a few. Everyone who performs with them for any length of time brings something different both energetically and musically. At various times shows have included keyboards, accordions, sax, clarinet, trumpet, flute, banjo, mandolin, tuba and many other instruments. Old and new fans alike can expect to be surprised at shows again and again, however the roots of Red Elvises remain the same: Igor's unique brand of humor combined with guitar based rock'n'roll that makes audiences want to sing, dance, scream and shout.
***
Gerard Delafose & the Zydeco Gators
Blues to Bop
Wednesday, 3/11
Show 8:00-till
$10 advance, $13 day of show
Advance tickets at Aaron's Alley, Rochester Cajun Zydeco Network, Sticky Lips Pit BBQ Juke Joint (Henrietta)
Official website: http://www.gerarddelafose.com
https://www.facebook.com/pages/Gerard-Delafose-The-Zydeco-Gators/369058853162339
BIO: Gerard Delafose was born February 11, 1984 in Mamou, Louisiana. He is the Son of Charles Fontenot and Debra Delafose Fontenot, and the Grandson of John and JoAnn Delafose.
Gerard started playing music at the age of 5 years old with his plastic guitar. At 6 years old he moved up to playing the Washboard for his Grandfather and than started to play the drums around the age of 8 years old by banging on ma'maw's pots and pans, and any other household items that could serve as a set of drums. He continued his pursuit of playing the drums by later playing in his high school band. He progressed to learning to play the accordion at the age of 12 years old.
Gerard has played with music greats like his uncles Geno and Tony Delafose, Andre Theirry, Jo Jo Reed, Keith Frank, Chris Ardoin, Dexter Ardoin, Horace Trahan, and many others over the years. Gerard founded TheZydeco Gators in 2007.
***
Doug Mac
Thursday, 3/12
7 pm
no cover
Rock & Roll
website: http://www.reverbnation.com/AMERICANTRADITIONAL4
Bio: Doug Macdonald has been performing and playing music since the ripe old age of 13.Currently sings and plays bass in Rock-N-Roll Social Club. Doug was also part of the band Mr.Maccob from Los Angeles for over eight years. And has written songs and recorded with Country Music Producer of the year Chris Farren. Doug has also written and performed songs for the ABC Movie of the week "Distant Cousins" He has sung on national radio Jingles for Pabst Blue Ribbon ,Mountain Dew and Pepsi. Currently living in Rochester NY., Doug performs songs from the Top 70's Country and Southern Rock greats. Some include Johnny Cash, John Fogerty, The Eagles, John Cougar and many more classic artists.
***
Chris Beard Band
Friday, 3/13
9:30-11:30 pm
$8 cover
Blues
websites: http://www.chrisbeard1.com/
https://www.facebook.com/princeofblues1
Bio: Chris Beard is a world class modern Blues guitarist, with a unique and compelling voice. Using his dynamic combination assertive vocals and his exciting guitar. Following the 80's model of Stevie Ray Vaughan which features a combination of traditional blues, high-energy guitar playing, and a contemporary edge, Chris Beard is able to traverse the recent blues past and propel his audience into the future.
***
Rusty Kettle
Saturday, 3/14
10 pm
no cover
Irish/Bluegrass/Folk
website: www.rustykettlemusic.com
Bio: Rusty Kettle, formed in 2013, plays a mix of Irish, bluegrass, folk and original music, which makes their sound unique and familiar all at once. The blend of flute, cello, guitar, bodhran and vocal crooning brings Ireland and Americana right to the stage. The name "Rusty Kettle" takes after a little bit of local heritage, from the "rust belt" region of Western New York, and from the whistle of a "kettle" — summoning all who are near for drinks to share, community and the comfort of friends. With sounds similar to Nickelcreek, The Civil Wars, Alison Krauss and Union Station, they summon a little bit of a pub band – straight out of Dublin!
***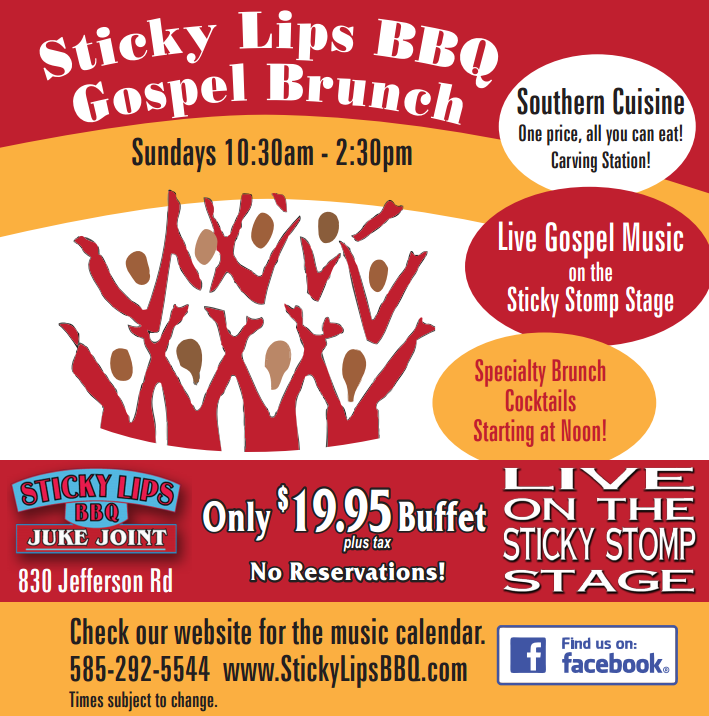 The Gloreous Sons
March 15, 2015
Performing during the Sticky Lips BBQ Gospel Brunch!
10:30am – 12:30pm
***
Nicole Christian and Alfie Smith
Wednesday, 3/18
6:30-8:30 pm
no cover
Blues/Roots/Americana
website: www.alfieandnicole.com
Bio: "Alfie Smith and Nicole Christian are old-style slide guitarists, multi-instrumentalists and a blues duo not to be missed. Featuring Alfie's belting baritone vocals mixed with Nicole's sass and jazz flute, they bring you blues, roots and originals in a way you have never seen before. Come on into their kitchen, and you won't be disappointed."
***
Teressa Wilcox and Nate Coffey
Thursday, 3/19
7-9 pm
no cover
Acoustic Rock & Roll
website: http://www.teressawilcoxlive.com
***
Inside Out
Friday, 3/20
9:30-11:30 pm
no cover
60s, 70, 80s Classic Vinyl
***
Jokin' Steves
Saturday, 3/21
10 pm-midnight
no cover
Blues/Classic Rock
website: http://www.jokinsteves.com/
Bio: The Jokin Steves are a "Hard Driving Blues and Classic Rock Band" playing versions of songs from Howlin Wolf and Muddy Waters to The Allman Bros, Creedence Clearwater, Tom Petty, Eric Clapton and ZZ Top. The Jokin' Steves have been performing steadily in the local area clubs for the past 3 years.The name "JOKIN' STEVES", comes from the first names of the 4 band members: Joe Seidman, Ken Brown, Steve Craw and Steve Guida. All 4 are performing veterans of the Rochester music community and have played in such local bands as The WCMF Red Lobster Band, Doghouse, 6L6, The Moonlighters, and Highway Jones among others. We'll keep the feet tappin' and the joint rockin'!
***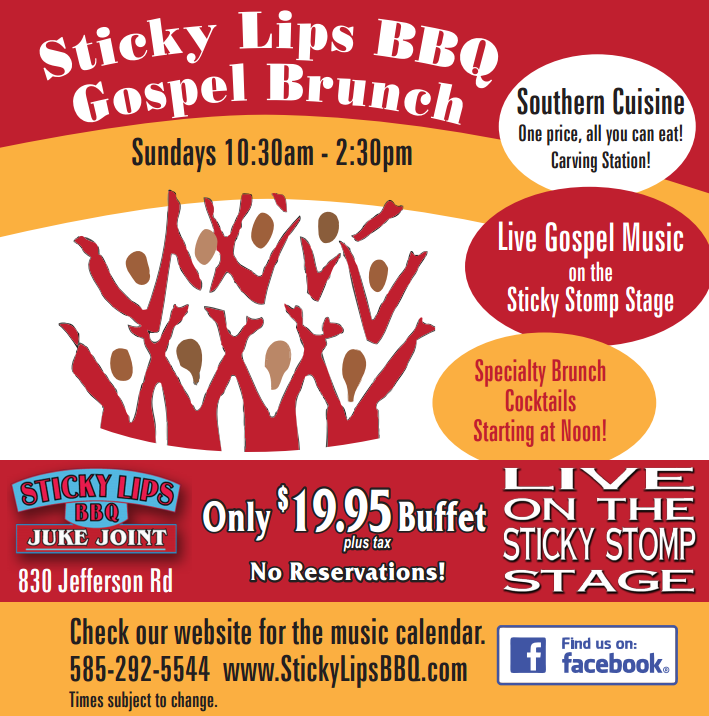 The New Gospel Times
March 22, 2015
Performing during the Sticky Lips BBQ Gospel Brunch!
10:30am – 12:30pm
***
j. schnitt
Wednesday, 3/25
6:30-8:30 pm
no cover
Indie/Folk/Americana
website: http://www.jschnitt.com
http://www.jschnitt.bandcamp.com
Bio: "Prolific, multi-faceted songwriter From Utica NY who floors his audiences with subtle, startling, and often stark phrasing, alternately mixing straightforward
honesty with abstract imagery and complex interpretations. An enigmatic performer who's songwriting prowess and unique stage presence cannot be missed."
***
Son House Night with Genesee Johnny & Guests
Thursday, 3/26
7:30-10:30 pm
no cover
Blues & Roots Performance Jam
Show description: A Blues and Roots performance Jam, in tribute to the 1930's Delta Blues Roots legend Eddie James "Son" House Jr., who was rediscovered living in Rochester, NY in the 1960s.
Opening set by host, Genesee Johnny, followed by a featured artist and concluding with blues jam and open mic style performances. (Sign up sheet for performers.)
All blues and roots music styles are welcome!
***
Big Dog Country Night with Johnny Bauer Band
Friday, 3/27
9:30-11:30 pm
$5 cover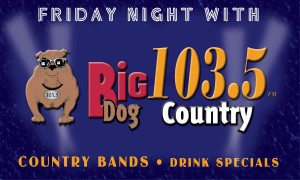 Country/Originals/Classics/Rock/Pop
website: http://www.johnnybauer.com/
Bio: Johnny has been performing music in Western New York for his entire life. His music is a melting pot of his diverse tastes. His covers are remade as his own and include artists from the 70s to present day. Some of his vast repertoire includes songs by Eric Clapton, Dave Mason, Whitesnake, Tom Petty, Keith Urban, Zac Brown Band, Foo Fighters, Mumford & Sons, and Bruno Mars. You can hear him skillfully perform any genre of music from rock to blues to country. A performance by Johnny will never leave you bored, and will have the whole audience singing along.
Johnny has also written over 200 original songs. Diverse yet melodic, his songs have something to appeal to music lovers of all ages. He has recorded two albums and an EP- "Raw," "My Best For You," and "I Would Love to Love You." He is currently working on his third full length album, "Burnin' Daylight." Whether played acoustically or with his band, Johnny's originals will leave you wanting more.
Johnny has opened for national artists such as Brad Paisley, Craig Morgan, and Restless Heart and also played VIP parties for Meat Loaf, Alice in Chains, Queensryche, Toby Keith and Sheryl Crow to name a few. You can hear original songs like "Son of a Gun," "Lovin' Until the Bitter End," and "Stick in the Mud" on local radio stations 92.5 WBEE, 103.5 Big Dog Country, and 98.9 The Buzz.
Johnny entertains all over the Rochester area and the surrounding regions at events such as festivals, private parties, corporate events, weddings, restaurants, and even at your favorite bar!
***
Anonymous Willpower
Saturday, 3/28
10 pm-midnight
no cover
R&B/Soul
website: http://www.anonymouswillpower.net
With Infrared Radiation Orchestra
Rock/Indie
website: http://www.reverbnation.com/infraredradiationorchestra
Bio for Anonymous Willpower: Anonymous Willpower is a neo soul inspired indie rock band that especially evokes the soul of the 70s. They serve up a knowledgeable cocktail of soul, jazz, funk and blues, putting on high energy shows that showcase a blazingly tight back beat. Lead vocalist Suzi Willpower has been described as captivating, bigger than life…."red, hot and blue!"
Bio for Infrared Radiation Orchestra: Infrared Radiation Orchestra has been described as a grungy, stunning psychedelic garage rock band whose compositions flow out of their wailing guitars, hearkening back to a time when real rock ruled, but with a new dose of profound lyricism and a churning, addictive energy