Come out to the Sticky Lips Juke Joint for live music, four nights a week on the Sticky Stomp Stage!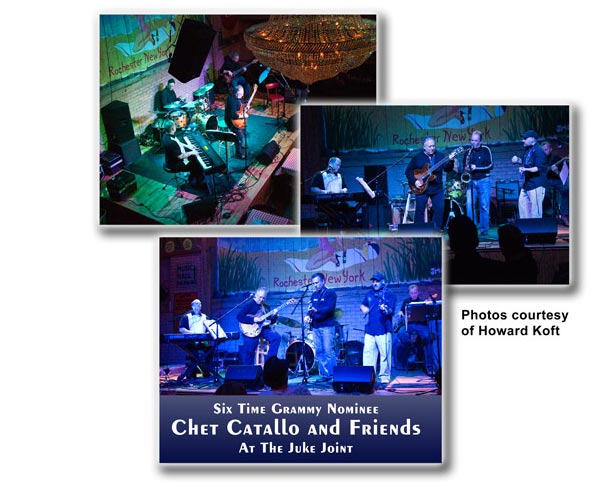 ***
JB from "JB&CO"
Wednesday January 21 2015
6-8pm
no cover
Acoustic Elvis & others
https://www.facebook.com/jbandcompany
BIO: Playing music from Elvis Presley and other selected performers
***
Professor Anonymous
Thursday, 1/22
6-8 pm
no cover
Singer/Songwriter/Pianist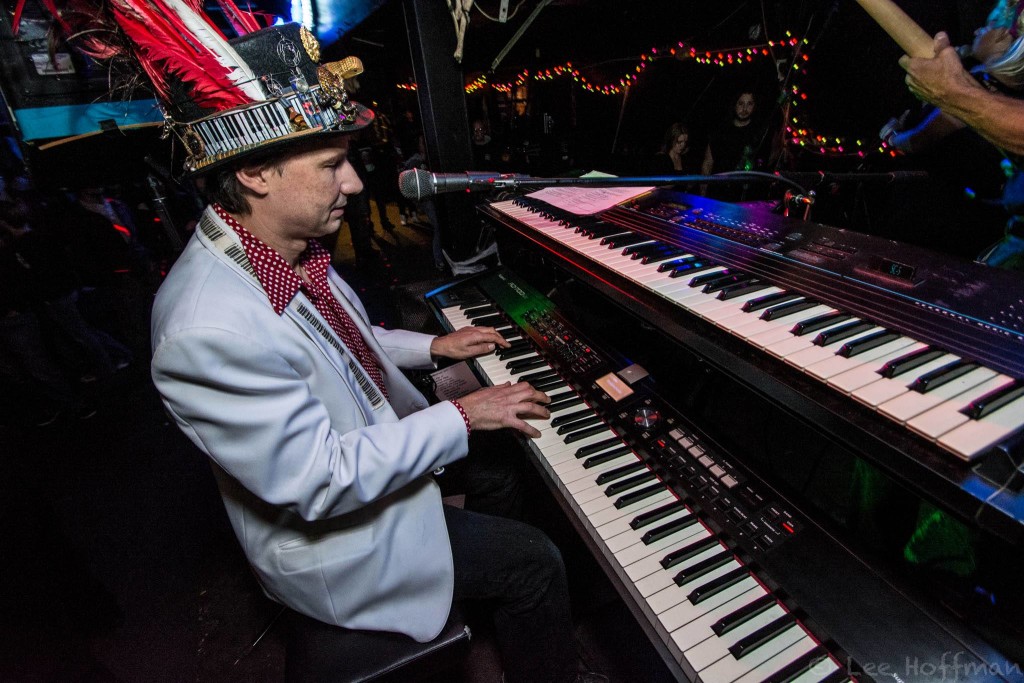 Bio: Fascinated with the history of recorded popular music, Don Blair, a k a, Professor Anonymous didn't seriously start playing the piano until age 30, but had been working as a blues and jazz DJ, recording engineer, lyricist, singer, among other odd jobs and creative pursuits throughout his youth.
It wasn't until seeing The Neville Brothers live and hearing them sing about Professor Longhair, that he discovered the New Orleans RnB style of piano playing, and masters who came after Longhair: James Booker, Allen Toussaint, Dr. John, just to name several, whom he covers along with some classic rock and jazz artists (Beatles/ Monk).
He's better known to venues around Rochester NY, as a guiding voice along with his singing songwriter, vocal powerhouse, and wife, Suzi Willpower, as Anonymous Willpower. She occasionally joins him as a vocalist, guitarist and/or drummer when he plays out without their group as Professor Anonymous.
***
Blind Boy Paxton and The Downhill Strugglers
Friday, 1/23
9 pm
Tickets: $15 advance, $20 door
Tickets are available at Sticky Lips BBQ Juke Joint, The Bop Shop (1460 Monroe Avenue, Rochester), and Bernunzio Uptown Music (122 East Avenue Rochester)
Sticky Lips BBQ Juke Joint is proud to present the return of Jerron "Blind Boy" Paxton, who performed at the Xerox Rochester International Festival in June 2014. Jerron will be supported by The Down Hill Strugglers, who were featured on the sound track for the Coen Brothers film, "inside Llewyn Davis".
The Down Hill Strugglers (opening)
website: http://downhillstrugglers.blogspot.com/
Bio: The Down Hill Strugglers is an old time string band based out of Brooklyn, NY. They have released an album on Smithsonian Folkways Recordings and are featured on the soundtrack to the Coen Brothers film, "Inside Llewyn Davis" produced by T-Bone Burnett. The Down Hill Strugglers band formed while hanging out at the home of their mutual friend Peter Stampfel of the Holy Modal Rounders, where they also met friend and mentor John Cohen of the New Lost City Ramblers – the NLCR influenced well known musicians including Bob Dylan, Jerry Garcia, and Ry Cooder; and started a revival of interest in old time fiddle bands.
Jerron "Blind Boy" Paxton
Traditional American Music
website: https://www.facebook.com/pages/Blind-Boy-Paxton/297367436949192
Bio: Jerron "Blind Boy" Paxton
Village Voice NYC: Best Blues Artist New York 2014 –Blind Boy Paxton – For the best old-time and storytelling blues New York has to offer, look no further than Blind Boy Paxton. A transplant from L.A., Jerron Paxton is a visually impaired, Jewish, African American multi-instrumentalist — banjo, fiddle, and piano break up the guitar strumming — who brings out the playful side of the old-school blues. Though he channels the music of pre–World War II America, he's a mere 25 years old. His grandparents hail from Louisiana, and Paxton's blues education was supplemented by his grandmother's love for Cajun music. In addition to the old, old stuff, Paxton writes original material and plays around town throughout the year, though summertime takes him to festivals far and wide. (Perhaps you were lucky enough to catch his set at Newport in July.)
***
The Barry Brothers
Saturday, 1/24
10 pm-12 am
no cover
Folk Rock
websites: http://www.thebarrybrothers.com
http://www.reverbnation.com/barryband
http://www.facebook.com/thebarrybrothers
Bio: The Barry Brothers are a folk rock group from Hume, NY. The band, formed in 2011, is made up of three brothers: Patrick (guitar, harmonica,) Benjamin (bass,) and Bradford (drums.) They infuse pop melodies and old timey vocal harmonies into a genre mix of outlaw country, bluesy folk, and rock and roll. Their debut EP "Yawnin in the Dawnin" was released May 19, 2022.
***
Deborah Magone
Wednesday January 28 2015
6-8pm
No cover
Acoustic blues rock
WEBSITE: www.deborahmagone.com
BIO:
Crowned Rochester's "queen of blues rock" by Rochester's Freetime Magazine, Deborah Magone is an "electrifying powerhouse who commands the stage" (LA Music Awards Producer Ron Nevison). Her original tunes are reminiscent of the blues rock of Janis Joplin, Bonnie Raitt, Led Zeppelin. Deborah grew up on the blues of Muddy Waters, Robert Johnson, Joplin, Raitt, and Zeppelin… singing before she could walk and learning to accompany herself on the guitar at 11 years young.
A one-time student of Rochester, NY jazz guitar legend Richard "Dick" Longale and the only female member of his famous "Wailing Wall", Magone has jammed with some of the best between New York and California (Peter Frampton, Talas, Dakota, Shooting Star, JJ Bad Boy Jones, The Campbell Brothers, Tammy-daughter of Bo-Diddley, Janice Marie Johnson, Joe Beard, Chris Beard, Mitch Mitchell (Jimi Hendrix) and Tim Bogert (Vanilla Fudge), among others. She has played in numerous venues, including a 6-month stint at the Disney Lot House of Blues in Anaheim, CA … with 2 kids in tow!
Magone stirs your emotions, to let you feel something irresistibly powerful, something that will most definitely rock you to the core of your soul!
"( Alternate Realities) ROCKS. ….. the best CD I have received in a long, long time. "
– Brother Wease, 95.1 FM, Rochester , NY
***
Sunny Paul
Thursday, 1/29
6-8 pm
No cover
Acoustic Blues/Jazz/Latin/Rock
website: http://www.reverbnation.com/sunnypaul
Bio: Performer, Composer and Producer – Reaching his 50th year milestone of playing guitar Sunny Paul is just getting warmed up. With his first solo cd release "Soup of Love " he presents a banquet of blues, jazz, latin, and rock with a soulfully funky attitude. His years in Europe, New Orleans, Boston & Los Angeles where he studied at the Guitar Institute of Technology have shaped a style that is simultaneously familiar & yet fresh and interesting. Having played onstage with a number of American blues greats & his love of 60's British blues developed an authoritative blues voice on guitar, with an identity that many players never achieve.
Sunny has played onstage with BO DIDDLY, WILLIE DIXON, MUDDY WATERS, LUTHER JOHNSON, LUTHER ALLISON, B.B. KING, BILLY VERA, PETER TORK, JOHN MOONEY, HENRY BUTLER.
***
Eric and The BluesBirds
Friday, 1/30
9:30-11:30 pm
Blues/R&B
website: http://www.ericandthebluesbirds.com/home/
Bio: Eric and The BluesBirds are a blues quartet based in Rochester, NY. playing cool arrangements of 50's through today's electric blues. The portfolio of influences include Albert King, Freddie King, Taj Mahal, Magic Slim, EC, SRV and Lonnie Brooks to name a few. Structured jams and bluesy classics. Showcased by extremely talented players. Jazzy blues…
***
Tempest
Saturday, 1/31
10 pm-12 am
no cover
Rock
website: http://www.facebook.com/tempestroc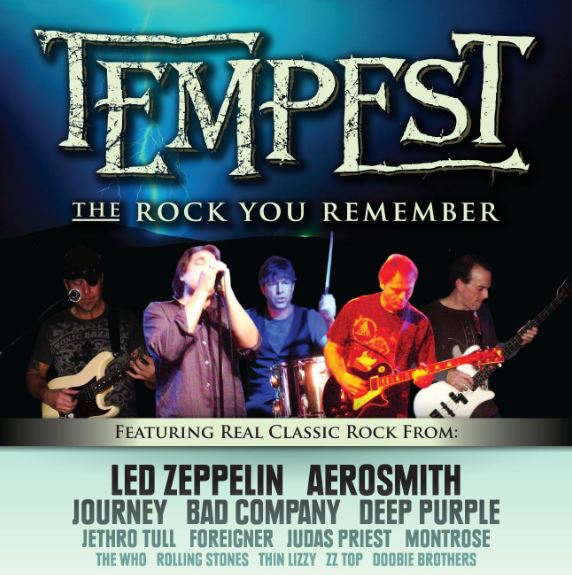 Bio: Formed in 1980 from the ashes of other projects, TEMPEST performed at clubs and schools in the upstate area for a number of years. Re-formed in 2012 the current lineup features, Sony Provident and renowned composer Steve Bartolotta on lead vocals, Canadian recording artist Pattrick Meldrum on guitar, along with stand out guitarist Dave Carroll, as well as the popular Phil Newton on Bass and Flute. Rudi Ragni (Rochester Brass and Electric) Rounds out the quintet on drums. With lush vocal harmonies and a strong commitment to duplicating this iconic music loved by generations, Tempest remains a popular attraction. We are strictly a '70's classic rock band reproducing the sounds that made us want to play our instruments…and we hope that those who come out and see the band will also be energized by the music.
If you like bands such as Bad Company, Led Zeppelin, Aerosmith, Journey, Boston, Foreigner, Deep Purple, Doobie Brothers, the Rolling Stones, Jethro Tull and more, you will enjoy TEMPEST!
***
Bob Bunce
Thursday, 2/5
6-8 pm
no cover
websites: www.bobbunce.com and www.reverbnation.com/bobbunce
Bio: Singer, songwriter, guitarist, producer, Bob Bunce emerges from the woods of Groveland to present songs from "Rural Delivery," his recent follow up to the 2012 release "Come On In." "Bunce's music is as enticing as it is thought provoking. He's folksy without being folky."(Frank DeBlase – City newspaper) While songs like "Giddy Up" carry a jug band sensibility of the 60's, Bunce isn't afraid to shove aside the gentle mandolins for some Allman Brothers Band southern blues guitar." (Jeff Spevak – Rochester Democrat and Chronicle)
***
Bill Schmitt and The Bluesmasters
Friday, 2/6
9:30-11:30 pm
no cover
Blues
website: https://www.facebook.com/events/151427481691442/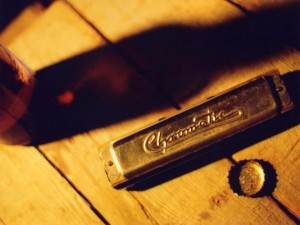 Bio: Bill Schmitt & The Bluesmasters will be bringing their fiercest beats and sweetest rhythms to the Sticky Stomp stage! They put on a show not to be missed by anyone who loves great music.
***
RUMOURZ WNY Tribute to Fleetwood Mac
Saturday, 2/7
Doors: 9 pm
Show: 10 pm-12 am
Tickets: $10 advance, $12 day of show
Presale tickets available at:
Sticky Lips BBQ Juke Joint, 830 Jefferson Road, Henrietta, NY (585) 292-5544
and
Aaron's Alley, 662 Monroe Avenue, Rochester, NY 14607 (585) 244-5044
Classic Rock
website: www.rumourzbandnf.com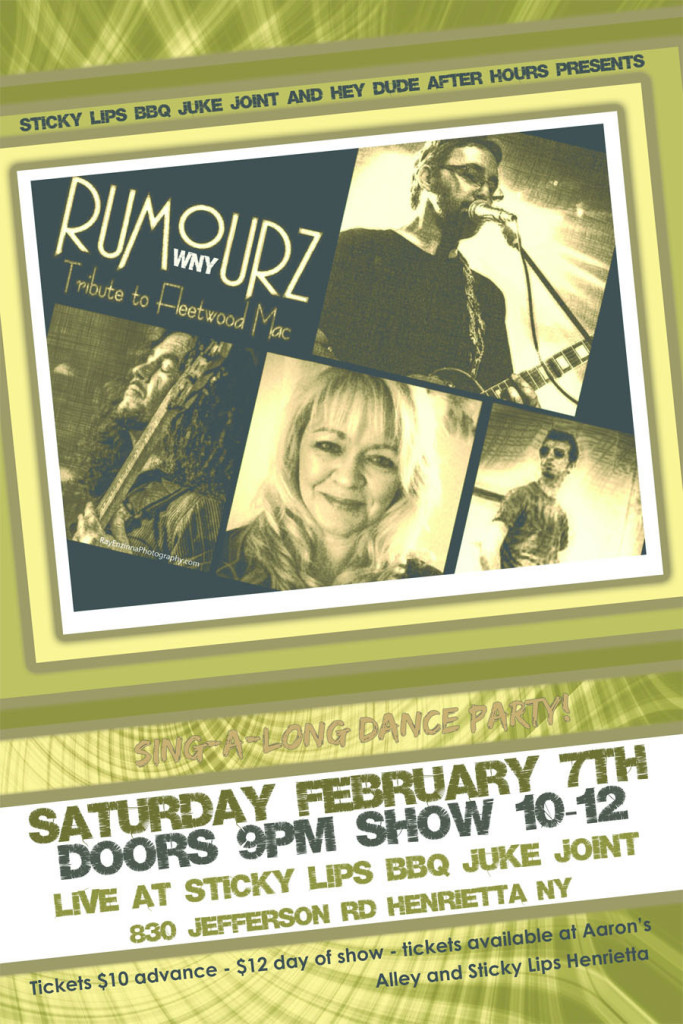 Bio: Made up of five veteran WNY musicians, Rumourz plays the very best of Fleetwood Mac. Rumourz pride its self on performing music with a focus on the raw, live show energy, music and vocal harmonies that made Fleetwood Mac famous during it's heyday. An evening with Rumourz brings you back to that classic era in music where rock ruled the stage and left the crowds wanting more.
RUMOURZ is
Stacey Givan – Vocals/Keyboards/Percussion
Matt Hake – Guitars/Vocals
Mario Nobilio – Bass/Vocals
Ryan Gaines – Drums/Vocals
***
Shine
Friday, 2/13
9:30-11:30 pm
$5 cover
Party Music
website: http://www.weareshine.com/
Bio: Shine performs an incredible variety of live music at wedding receptions, parties, and corporate events throughout Upstate New York. Professional entertainment for Your Special Event in Upstate New York SHINE is the Perfect Choice! You'll love working with us
***
John Akers
Saturday, 2/14
10 pm-12 am
no cover
Acoustic
Lia Conti (opening)
Acoustic
Bio: Lia, who plays the piano and ukulele, has been singing since before she could talk. For her professional debut Lia will feature songs from her new CD, entitled "Sweetest Remedy."
***
These Guys
Friday, 2/20
9:30-11:30 pm
$3 cover
Rock
website: https://www.facebook.com/profile.php?id=100005082408872&fref=ts
***
Spectra
Saturday, 2/21
10 pm-12 am
no cover
Rock
website: www.spectrarochester.com
https://www.facebook.com/spectrarochester/app_2405167945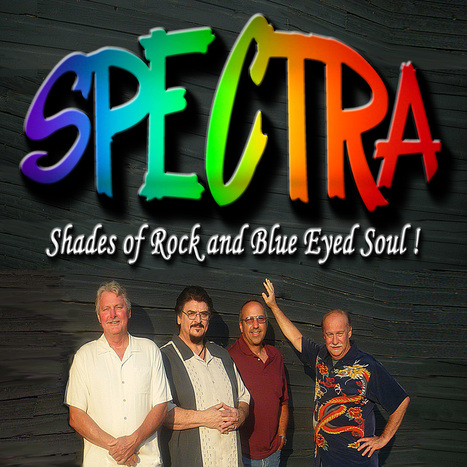 Bio: Spectra is a group of experienced musicians familiar to the regional music scene.
Bringing you shades of rock and blue-eyed soul, their set list is designed to get you up and moving to their own stylized versions of rock, blues, Latin, and jazz-fusion tunes.
If the mood strikes ..they may even cobble up an old country tune to change things up.
***
Goodness
Friday, 2/27
9:30-11:30 pm
$5 cover
Country
website: http://www.goodnessband.com/

Bio: The best of today's contemporary country music!
***
Heroic Enthusiasts
Saturday, 2/28
10 pm-12 am
no cover
Rock (Alternative Pop, Indie Rock)
website: http://www.reverbnation.com/rpk/3358026
Bio: This heavily allegorical band engages in temporal and philosophical discussions of love. At a deeper layer they use this topic as a mnemonic device to encode a discussion of the nature of the universe, spirituality and the soul.
***
Igor & The Red Elvises
Tuesday, March 10
8pm-10pm
$15 cover
Surf-Rockabilly-Klezmer-Reggae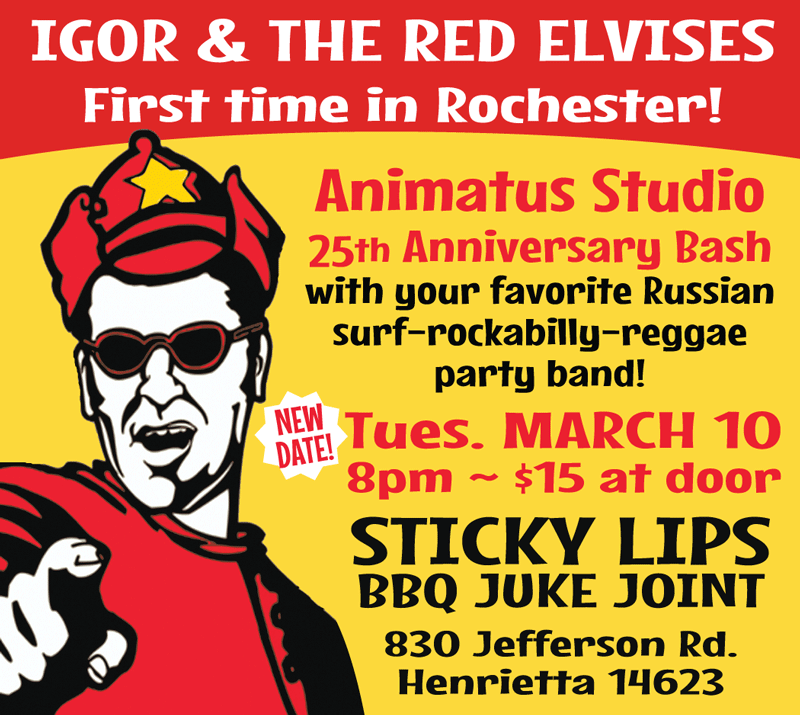 Animatus is turning 25! And what better way to celebrate than with everyone's favorite party band, Igor and The Red Elvises! If you've never seen them live, you're in for a real treat. It's impossible not to dance and sing along. Pajamas optional!
Website: http://www.redelvises.com/
BIO: If Igor and Red Elvises aren't in the middle of a tour, they are getting ready for the next one – this is a group that is constantly in motion and consistently evolving. Singer, songwriter, guitarist and showman extraordinaire Igor Yuzov is perpetually globetrotting and in the process he has found scores of wildly talented, entertaining musicians to bring into the fold of this increasingly international party band.
Red Elvises started as a Russian group, playing what they dubbed "Siberian Surf Rock". Since then the band has included musicians from many other countries including United States, Israel, Puerto Rico and Bulgaria, to name just a few. Everyone who performs with them for any length of time brings something different both energetically and musically. At various times shows have included keyboards, accordions, sax, clarinet, trumpet, flute, banjo, mandolin, tuba and many other instruments. Old and new fans alike can expect to be surprised at shows again and again, however the roots of Red Elvises remain the same: Igor's unique brand of humor combined with guitar based rock'n'roll that makes audiences want to sing, dance, scream and shout.