Come out to the Sticky Lips Juke Joint for live music, four nights a week on the Sticky Stomp Stage!

***
IYJ YEARA & SON
Wednesday, 7/1
6:30-8:30 pm
no cover
Acoustic Rock
Website: http://originalrevolver.com
Audio sample:
Bio: Ian began playing piano at the age of 6 w/ Mrs. Eleanor Fox and later also with Fred Dicesare. In 5th grade, he began playing Sax as well and was taught by local virtuoso, Tom Ellison. At the time, he was always singing in chorus from 4th grade through H.S. With the Greece Arcadia High Jazz Band, Ian performed at the Rochester Jazz Festival twice as a teenager. His first professional performance was with his father's group, "NBT" in 2009. He played keyboards for the group in a packed house for two rush songs; 'Limelight' and 'Subdivisions'. For the past two years, Ian has been a music business major at the Crane School in Potsdam, N.Y. The Crane School has turned out many great conductors, composers, and performers including Opera Sensation Renee Fleming. Ian has often performed with Revolver on Vocals, Keyboards, and Sax. This summer, Ian and his father are performing acoustic rock on Piano & Guitar as "I.J.Y."
***
This Life
Thursday 7/2
7-9 pm
Rock, Alternative, New Age, Folk and Traditional Funk, Indie, Progressive Rock
website: https://www.reverbnation.com/thislife2011
Bio: This Life starts with Ryan Johnson and Miles George meeting in the fall of 2007, while attending Finger Lakes Community College. Right from the get-go, their musical tastes and styles became immediately entangled together, in which they began writing music together. Once their friendship and musical ideas grew, they decided to start writing an EP. Throughout the past 2 years they had figured out exactly what they wanted as far as their sound and the tracks that would make it to the album.
After the EP was completed, Ryan and Miles played acoustically under the name RJ and Cu-Cu (derived from the name of Miles' solo effort) at various open mic nights. As time passed, they began the search for a full group. In late 2013, Scott Dupray on bass, Greg Machin on Keys, and John Dupra on drums joined the two to re-form and re-name the band This Life. Currently the band is gigging, writing, and recording on a regular basis throughout the Western NY area, and are continuing to do so today. Check them out!
***
No music July 3 – July 4. Happy 4th of July!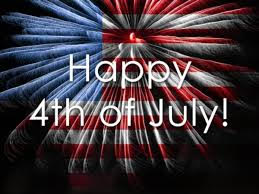 ***
Gospel Brunch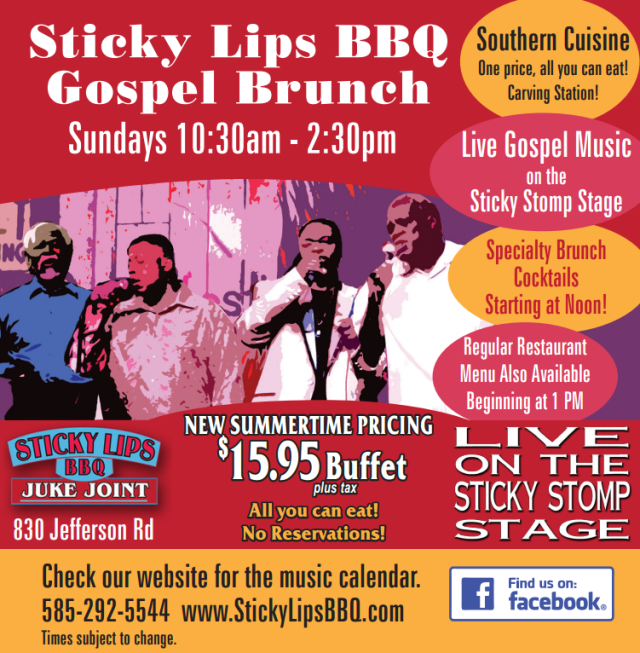 July 5, 2015
10:30am-2:30pm
The New Spiritual Jubilators
Performing during the Sticky Lips BBQ Juke Joint Gospel Brunch
***
Benjamin Sheridan
Wednesday, 7/8
6:30-8:30 pm
no cover
Singer/Songwriter
website: https://www.reverbnation.com/bensheridan
http://bensheridan.bandcamp.com/track/above-myself
Bio: Benjamin Sheridan is a singer/songwriter from Rochester, NY. He plays a variety of covers (both modern and vintage) in addition to a number of originals which feature a merging of intricate guitar work with meaningful lyrics.
***
Matt Miskie
Thursday, 7/9
6-8 pm
no cover
Contemporary Folk
website: http://www.mattmiskie.com/
Bio: Matt Miskie is a seasoned performer with broad appeal. His extensive repertoire blends traditional folk and contemporary acoustic classics with his original music, which is written in a style comparable to the likes of James Taylor, Gordon Lightfoot, Dave Mason, Harry Chapin, John Denver, Dan Fogelberg, Tom Paxton and John Prine. Song selections generally reflect themes of Family, Relationships, Adventure and Coming of Age.
Performance credits included support concerts for Tom Rush, Tom Chapin, Dave Mason, and others. He tours extensively throughout his home state of Pennsylvania, and has been a featured performer at venues and events from North Carolina to Wisconsin.
***
Krypton 88
Friday, 7/10
9-11 pm
no cover
Rockabilly/Honky Tonk/Surf/Swing/Rock and Roll
websites: https://www.reverbnation.com/krypton88
https://www.facebook.com/pages/Krypton-88/284770862786
Bio: With their roots planted firmly at the "big bang" of rock and roll, Krypton 88 delivers its own brand of revved- up American roots rock. Their music continues along the path of early rock and roll and embraces today's rockabilly/americana scene. It's a mix of rockabilly, swing, surf, country, honky tonk and rock and roll.
***
Jeff Riales & The Silvertone Express
Saturday, 7/11
9:30-11:30 pm
no cover
Original Americana/Country
website: http://www.jeffriales.com/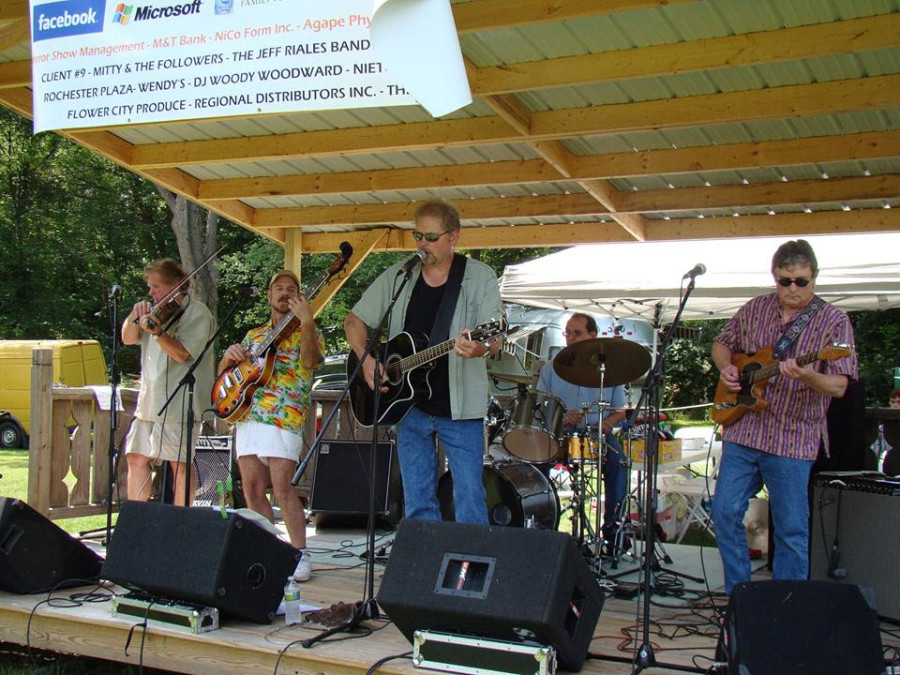 Bio: Jeff Riales, a Memphis singer/songwriter, now lives in New York and currently has three CDs out. His second CD, "The Ticket", was named Rochester's Local Album of the Year. Jeff has opened as a solo act for John Hiatt, as well as Delbert McClinton. Jeff is the songwriter and lead singer for his band, The Silvertone Express, and also plays acoustic guitar.
The Silvertone Express consists of four other fantastic local musicians. Joe Grillo (drums) was the house drummer for the Flipside Open Mic (originally started by Jeff and his singer/songwriter friend, Jed Curran) and performs with other bands in the area. Bruce Diamond (fiddle, mandolin, bass, backup vocals) performs with a variety of touring bands and is considered a master at his craft. Dana Fine (bass, backup vocals) has been writing, recording and performing original and traditional bluegrass and folk music locally and in other venues (including Ohio), frequently accompanied by his wife, Ruth. Dana has a powerful voice and is equally skilled at lead and backup vocals for the band. Mike Wittek (lead electric guitar, mandolin) has performed for years with many bands, and is currently a member of HuNu, as well as The Silvertone Express. Mike's distinct style of playing is the perfect complement to Jeff's original Americana/Countrysongs. The Silvertone Express has performed at a variety of venues across the region.
***
Gospel Brunch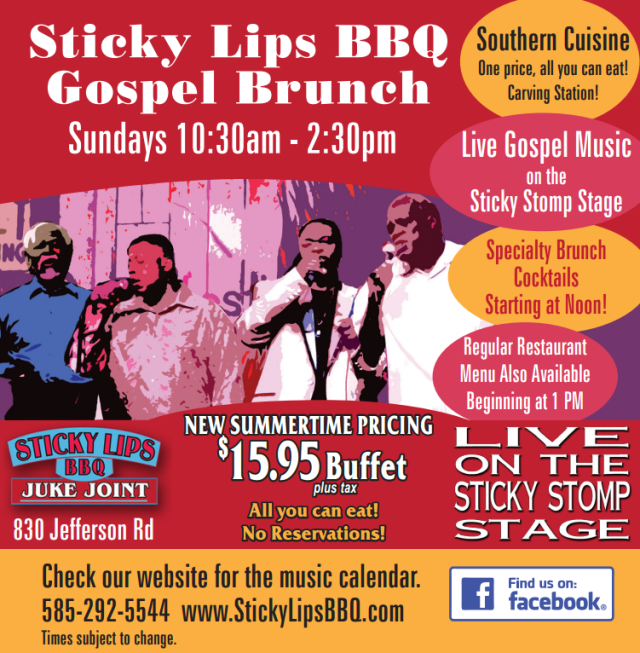 July 12, 2015
10:30am-2:30pm
The New Spiritual Jubilators
Performing during the Sticky Lips BBQ Juke Joint Gospel Brunch
***
The White Hots Duo
Wednesday, 7/15
6:30-8:30 pm
no cover
Swing and Blues
website: www.TheWhiteHots.com
Bio: The White Hots are a swing and blues band that have been on the Rochester, NY music scene for the past 15 years. The White Hots guitarists Steve Greene and Aleks Disjenkovic will be playing at Sticky Lips for a special duo performance. Their combined styles bring early blues and swing together to form a sound all their own that features deep groove and humour.
PHOTO: attached (photo credit…Geoff Tesch).
***
TBA
Thursday, 7/16
***
Barry's Crossing
Friday, 7/3
8-10 pm
no cover
Irish tradition with a twist
website: http://www.barryscrossing.com/
Bio: As a starving musician and college student, Sean went through all the normal channels to look for gigs- friends, the local music scene, Craigslist… It was there that he found Sarah's ad, seeking a fiddle player for another music project she was involved with at the time.
The two met and discovered there were far fewer than six degrees of separation between them (such as the fact that Sean went to the same elementary school that Sarah teaches at)! They started playing at Barry's Old School Irish in Webster, a small Irish pub that had just opened, and quickly became a fixture there, playing on Friday evenings. It was a match made in heaven- the pub needed live music, and the band needed a venue.
"We would show up on any day and play until they kicked us out (which was never). They were extremely patient with us as we worked on adding new tunes to our repertoire, sometimes suffering through the same tunes 2-3 times per night. When it came time to name our band, we wanted to pay homage to the wonderful people at Barry's so we named our band Barry's Crossing. They are far more than our friends. We consider them family."
They rapidly built a small, but loyal following of fans and began calling themselves Barry's Crossing to pay homage to the Irish pub that gave them their start.
***
Tempest
Saturday, 7/18
Rock
website: https://www.facebook.com/tempestroc
http://tempestrock.bandcamp.com/track/heaven-on-their-minds
Bio: A tribute to the renaissance period of Rock and Roll, Tempest encompasses the musical essence of the 1970s. Imagine taking a step back in time and being present when Led Zeppelin toured in 1973, or attending Aerosmith's concert in support of their debut Album "Dream On". Experience feeling the visceral rock sound of Paul Rogers and Bad Company or the brash showmanship of Ian Anderson and Jethro Tull. You need look no further than Tempest for this evening of Classic Rock Nostalgia. As music transitioned from the flower power 60's into the early 70's some of Rock's legends slowly emerged and took their place in rock history. From the acid rock sounds of Deep Purple to the Arena rock anthems of Foreigner and Journey, Tempest will leave thumbing through your old LP's for another listen to the music that changed Rock and Roll forever!
***
Gospel Brunch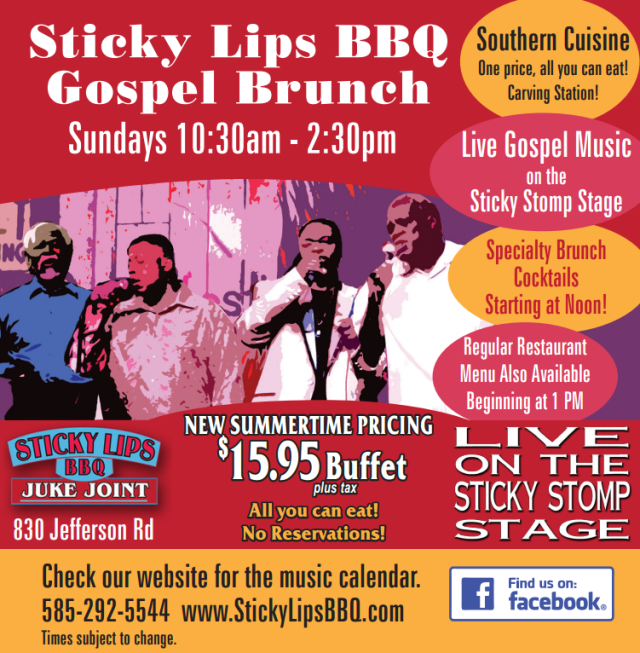 July 19, 2015
10:30am-2:30pm
The New Gospel Times
Performing during the Sticky Lips BBQ Juke Joint Gospel Brunch
***
Ryan Sutherland
Wednesday, 7/22
6:30-8:30 pm
no cover
Blues/Folk Rock
website: http://ryandavidsutherland.weebly.com/
Bio: Ryan Sutherland is a 24 years young singer songwriter originally from Syracuse NY who has been playing guitar for over ten years. His biggest influences are Ray Charles, The Black Keys, Elvis Costello, Bob Dylan, Tom waits, Jack White and Johnny Cash, just to name a few.
In his Junior year at Nazareth College for a Music Business degree, Ryan loves music in any form or style. From classical, to jazz, to most modern styles of music, he says "music is my everything."
***
The Healing Committee
Thursday, 7/23
6 – 8pm
no cover
Americana
website: https://www.reverbnation.com/thehealingcommitteeband
Bio: The Healing Committee Band: Western N.Y. Singer-Songwriters Alan Whitney, Kathryn Koch and Tim Pitcher join together to make an original Americana band.
Western N.Y. USA singer-songwriter, guitarist, teaching artist and producer Alan 'ADub' Whitney wrote notable story song "Frankie Speed"about a guy who steals Cadillac automobiles. He was an early participant in the Americana music genre in the 1990's working as an up-and-coming singer-songwriter in Los Angeles and Nashville developing his music in legendary venues The Troubadour and The Palomino on bills with such luminary Americana artists as Alison Krauss, Jim Lauderdale, Lucinda Williams and Dave Alvin. He performed a personal living room concert for Motown legend, 'Smokie' Robinson. ADub's songs have been recorded by major label artists, and featured in films, radio and television. He has performed in well known concert series venues, clubs, house concerts, festivals and radio shows across the US and Europe. With several critically successful albums under his belt, ADub is working on a new music and performing with his latest collaborative project, The Healing Committee with singer-songwriter instrumentalists' Tim 'Timmy P' Pitcher and Kathryn Koch.
Western N.Y. singer-songwriter, guitarist, multi-instrumentalist Timmy P. Pitcher is a third generation dance band musician who grew up playing in his Dad's bluegrass band, backing his country songwriting Uncle Rog and performing his own electric rock music. Timmy P.'s deep pocket rhythm playing and lightning fast bluegrass flat picking, has put him on festival stages with Red Headed Step Child, Sanduleak, Victor Wooten, David Grisman, Sam Bush, Andre Foxxe Williams, and Keller Williams. Timmy P. is also the man who will slide under a Winnebago on a rainy Kentucky morning and beat the starter with vice grips until the band is once again moving forward.
Buffalo NY native Kathryn Koch is a singer-songwriter and multi-instrumentalist best known for her powerhouse vocals with acclaimed indie folk band Redheaded Stepchild in the late 90's and early 00's. Her duties in RHSC included sax, harmonica, bass, mandolin, guitar, and once someone even let her play the banjo. After several years in Nashville TN, Kathryn returned to Buffalo and has found enthusiastic support for her many musical endeavors. Kathryn continues to showcase her songwriting and re-interpretation of traditional American folk music as a solo act. Kathryn also plays alto sax and sings with Black Rock Zydeco, as well as bringing her vocal, multi-instrument and songwriting prowess to The Healing Committee. She is currently working on her first solo album "The Single Girl".
***
Wild Ride
Friday, 7/24
9-11 pm
no cover
Aggressive Classic & Southern Rock
websites: https://www.facebook.com/wildridelive?
https://www.reverbnation.com/wildridelive
Bio: "Wild Ride Live" is an aggressive Classic & Southern Rock Band whose genre of music spans not only varied artists, but also decades of rock. "Wild Ride Live" is a Band that appeals to lovers of all types of music and of all ages! Just wait until you hear about the "Surprises" audience
members will have in store for them! "Wild Ride Live" is more than "just a band." "Wild Ride Live" is an "experience."
Guests will be treated to music from artists such as Lynyrd Skynyrd, Molly Hatchett, Marshall Tucker, ZZ Top, Blackfoot, 38 Special and Creedence Clearwater Revival. Lovers of Classic Rock will delight in selections from Billy Squire, Blue Oyster Cult, Joe Walsh, The Doors, John Cougar and Billy Joel. "Wild Ride Live" kicks things up a notch with hard-hitting selections from Ted Nugent, Neil Young, Golden Earring, Foghat, Kiss, and Judas Priest. Covered artists are too numerous to mention and new selections are added regularly, but the bottom line is you can't turn on your radio today without hearing multiple selections from "Wild Ride Live's" set lists!
Members of "Wild Ride Live" include everything from a successful DJ, to a classically trained Musician, to a professional Magician! With the assistance and Knowledge of members who have toured with successful bands for decades. "wild Ride Live" created a vision of great music AND memorable entertainment! Woven into the awesome music you may also experience Comedy, audience participation and even jaw-dropping Magic! You just never know what to expect when these career entertainers take the stage. Audience members are encouraged to "Strap Themselves In"… they are in for a "Wild Ride!"
"COME ALONG FOR THE RIDE!"
***
Amanda Ashley Trio
Saturday, 7/25
9:30-11:30 pm
no cover
Originals/popular covers from the 40's,60's, 70's,80's, 90's, and new millenium
website: http://www.amandaashleymusic.com/trio.html
Bio: Upbeat, 3 piece group consisting of members Amanda Ashley (Vox/Keys/Guitar), Beau Ryan (Bass), and Joe Randazzo (Drums/Percussion). The Amanda Ashley Trio has been taking Western NY by storm with soul baring performances containing both originals and vast variety of originally arranged popular covers from the 40's,60's, 70's,80's, 90's, and new millenium.
As a group, their versatility, musicianship, and repertoire has welcomed the opportunity to play various venues and scenarios, including fine dining establishmnets, hotels, lounges, bars, concert halls, corporate events and weddings.
The band released their debut album to the public May 4, 2014 at ONE Ultra Lounge in Rochester, NY. The album featured 13 original songs, and can be found locally for purchase at Rochester's House of Guitars, and Record Archive.
***
Gospel Brunch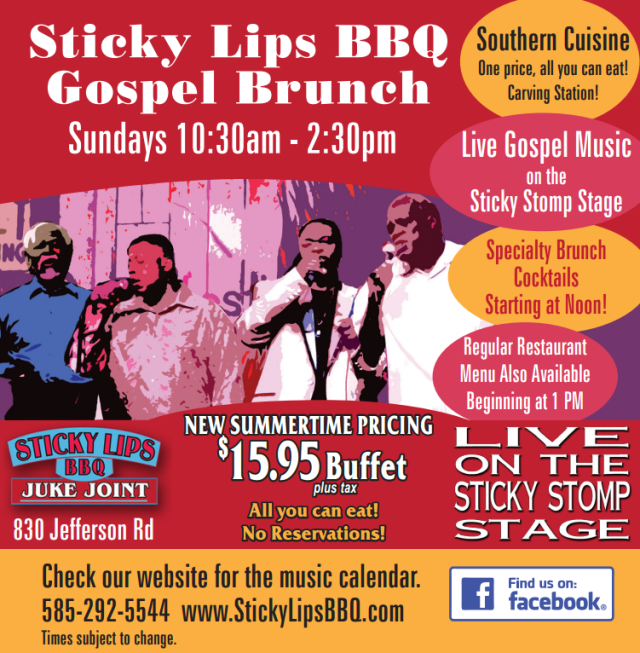 July 26, 2015
10:30am-2:30pm
Highly Favored
Performing during the Sticky Lips BBQ Juke Joint Gospel Brunch
***
Miles Wide
Wednesday, 7/29
6:30-8:30 pm
Acoustic/Singer-Songwriter/Alternative
website: http://www.mileswide.com/

Bio: Kyle Donovan​ returns to Sticky Lips after a nationwide tour this summer, where the singer-songwriter performed at over thirty-six venues in twenty cities from coast to coast. A two hour acoustic set will feature brand new songs set to be released on "Summersong," an upcoming album slated for release in late 2015. He's also been featured on radio stations and by newspapers across the country – here's what a few have had to say:
"There is a crystal clarity to Donovan's voice that is both poignant and transcendent… His music straddles something between balladic folk songs and gritty acoustic rock: think part Nickel Creek, part Fleet Foxes, with a dab of moodiness reminiscent of Drive-By Truckers."
Kaely Monahan – Phoenix East Valley Tribune
"His vocal inflections bring to mind a certain pop vibe that makes it sound so sweet to the ear."
Roman Divezur – Rochester CITY Newspaper
"Earthly strums lay the foundation for Miles Wide's tunes, but it's Donovan's evolving vocals that set the tone of each number."
Kat McReynolds – Asheville Mountain Xpress
"Phenomenal. Phenomenal. Phenomenal."
Jared 'Warbux' Schonleber
90.5 FM WBER
***
The Crooked North
Wednesday, 7/30
6 – 9pm
Bluegrass / Americana
website: http://thecrookednorth.com/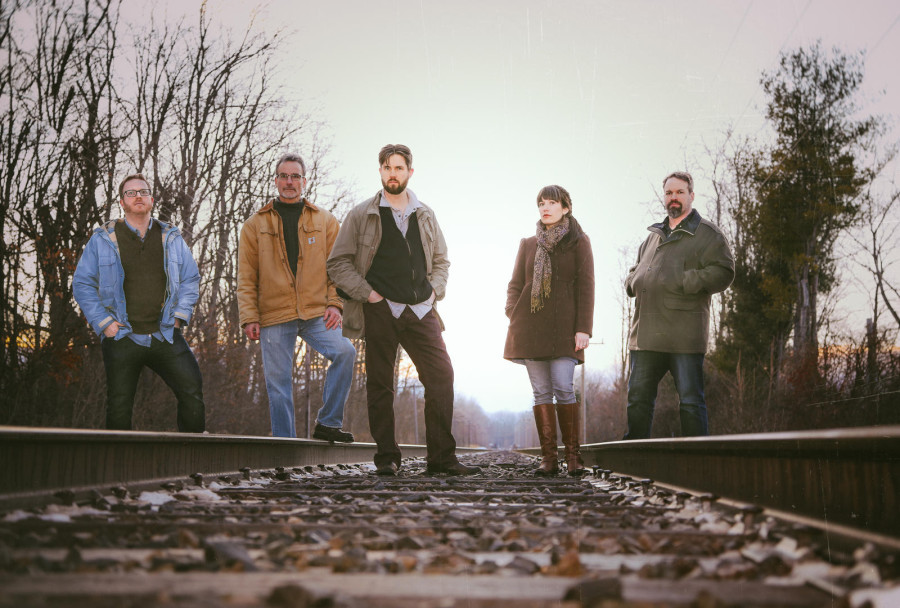 Bio: Authentic, original bluegrass and Americana made in Rochester, NY
The Crooked North is a band inspired by the energy of progressive bluegrass, the gritty soul of Americana, and the Rust Belt ethos of their Western New York home. They hammer out originals and choice selections from the great American songbook in bars, living rooms, barns, and festival stages.
Following paths through big cities, bands of all kinds, road gigs, odd jobs, and breaks both good and bad, nationally recognized songwriter Jon Itkin and award-winning instrumentalist Ben Proctor landed in Rochester around the same time. Circumstance had them throwing together a last-minute impromptu gig in January of 2014, with Jon on guitar and Ben on banjo and dobro. Rita Proctor joined on vocals and Jordan Kleiman on bass with almost no rehearsal. It was 3 degrees outside, the sound system didn't work, and they had no band name–but the sparse audience agreed: it was the beginning of something special.
Rita Proctor brings a rich vocal style informed by her love of Joni Mitchell and Dolly Parton. Jordan Kleiman is a history professor who has played jazz and roots music in Philadelphia and Rochester since the 1980s. Local musician, teacher, and stylistic wanderer, John Fetter joined on fiddle later in 2014. Local legend John Irvine often rounds out the sound as the band's guest mandolin player.
***
The Lonely Ones
Friday, 7/31
7-9 pm
no cover
websites: https://www.reverbnation.com/levigangi

Bio: The Lonely Ones play original folk that combines compelling songwriting and tight harmonies. Their sound is resonant of the American countryside, wide open and rich with storytelling. The Lonely Ones have appeared in upstate NY at the 2013 & 2014 Rochester Fringe Fest, Sticky Lips BBQ, the New York State Fair, the Corn Hill Arts Fest, Tango Cafe, the Clothesline Arts Fest, and Waterstreet Music Hall among others.
"Those times when your decision to take a chance and check out a performance you might not otherwise have given a second look pays off big time. For me, it happened when I decided to attend a performance by folk rock band "The Lonely Ones."
Adam Lubitow – City Newspaper
***
Gospel Brunch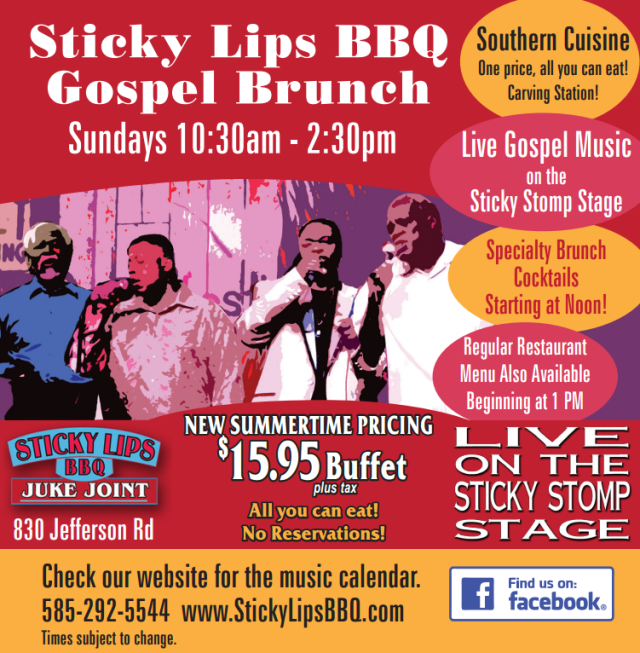 August 9, 2015
10:30am-2:30pm
Michael Bruce
Performing during the Sticky Lips BBQ Juke Joint Gospel Brunch