Dining for Dollars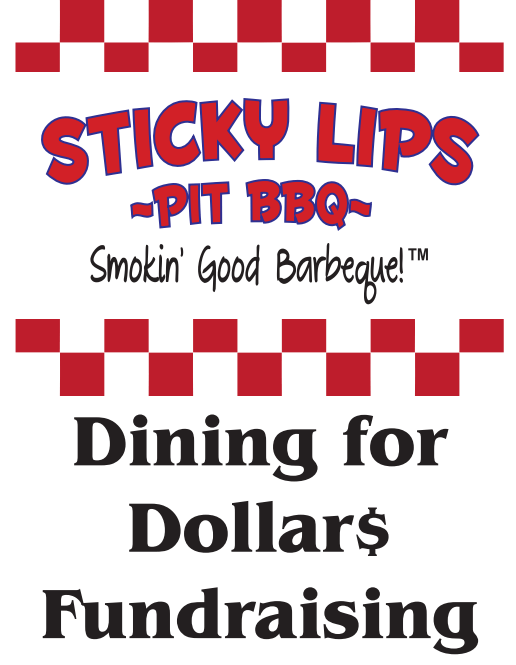 Let us make Fundraising fun! No more candy bars, wrapping paper or coupon books to sell!
With Sticky Lips Pit BBQ, all you have to do is pick a pre-approved date and hand out the convenient reminder coupons we provide you. Then simply enjoy dinner at Sticky Lips Pit BBQ on the designated day! We do the rest…
We're taking the work out of Fundraising!
Don't forget, Sticky Lips Pit BBQ is a local company with its headquarters right here in Rochester, NY.
Interested? Just print the application for the restaurant location of your choice, fill it out, and fax it to us at 585-288-6517
Or call one of the following:
Culver Road Catering Kitchen: 585-288-1900
Culver Road Restaurant: 585-288-1910
Juke Joint Henrietta Restaurant: 585-292-5544

How does it work?
Fill out the application and contact us.
Choose a day for your event (an approved Monday, Tuesday or Wednesday).
Distribute the Reminder Coupons for your event to friends and family.
Come to Sticky Lips Pit BBQ and have dinner OR place a To-Go order on the day of the fundraiser.
Present your Fundraiser Coupon to your server.
Sticky Lips Pit BBQ will donate 12% of your check (excluding tax, gratuity, beverages and alcohol) to your home group.
Have
FUN

 at your next 

FUN

DRAISER!

Reminder coupons to print: